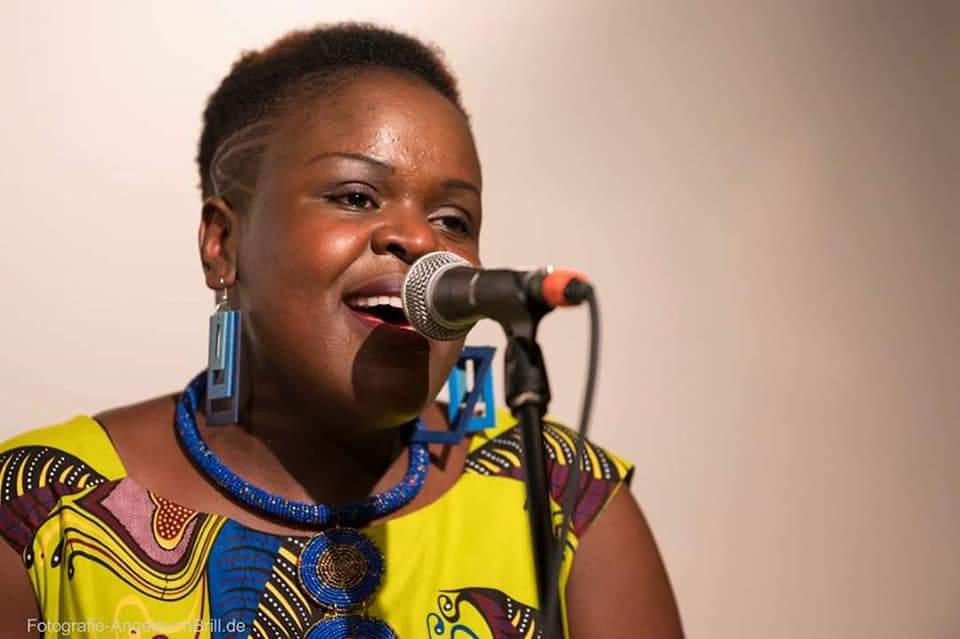 African community awards. AFRONEWS AWARDS 2023. Joy Wendo has been nominated for Best African Music Video in Germany at the AFRONEWS Awards 2023.
Who is Joy Wendo?
Joy Wendo is a Kenyan Musician, Software Engineer and mother living and working in Germany. She is currently working as a software engineer. She also the founding member of Harambee Live, an Afro-fusion band based in Osnabrück.
Joy is an Afro-fusion artist and her sound fuses other genres with Afrobeat. Pop to reggae, dance-hall to jazz, with endless possibilities. In her band(Harambee Live) the members are actually from different countries. The guitarist is from Brazil, Joy from Kenya, Bantu from South Africa, the percussionist is from Cameroon and the Bass player is from Gabon.
The music she puts out is meant to inspire love, positive energy, hope and dance. What makes it unique is that it carries an energy and a charisma in the music that fans appreciate.
Joy's hit song 'Noga' that has been nominated is a beautiful rendition of beats and an amazing sound with an upbeat feel that makes you want to get up and dance. The video features Joy and a love interest that shows how much her character is in love and being appreciated.
The video also has the talented artiste dancing to the tune with other dancers also depicted having a good time dancing to this amazing upbeat track.
"There was a time the name 'deadbeat dad' was used in Nairobi to mean absent fathers. That's what inspired me to write this song and I have refined the lyrics over time. Noga is a swahili word that would translate to 'well kneaded".
"When you're preparing dough, you use you're hands to knead the flour. When ready, it has 'nogad'. Now, the message here is going out to the dead beat dads. The love I have now is well kneaded. Please leave me alone. Don't come back after being an absent dad all these years."
'Noga' is an aspiring and motivational song for all the women in the world who are also single mothers and have had to manoeuvre being a parent and also finding love by someone who appreciates them and their child.
READ ALSO: Kenyan Germany-based music star Joy Wendo releases new hit song 'Noga' with an amazing message for women and men
CONTACT DETAILS OF THE NOMINEE
Website: wendojoy.com
Facebook: Joy Wendo
Instagram: storybywendo
YouTube: Joy Wendo
Facebook: harambeelive
Mobile: +4915257592799
What are the AFRONEWS AWARDS?
The AFRONEWS AWARDS celebrate and recognise the outstanding achievements of Africans in different fields in Germany. They are a way of appreciating and encouraging Africans who have excelled in different fields and are making a positive contribution to the German society.
The Awards also recognise the good work done by African organisations/associations and businesses to promote a positive image of Africa and Africans, facilitate integration of Africans in Germany, promote business opportunities and international cooperation between Germany and African countries, and above all, make Germany and the world a better place for all of us.
How to vote for your nominee
Public voting online for the official Award nominees is officially open on the 7th August 2023 here: AFRONEWS Awards Germany (2023) – VOTING IS NOW OPEN!!
How to sponsor the AFRONEWS Awards 2023 Gala Night
The Afronews Awards 2023 Gala Night is a high-level event that offers companies a variety of channels to increase their visibility amongst members of the African Community in Germany. To sponsor the event, please contact;
Stephen Ogongo,
Editor of Afronews Germany,
Tel/WhatsApp: +393333010654.
Email: editor@afronews.de
Or
Chris Black,
GMB Promotions
Email: gmbpromotions@musician.org
Tel/WhatsApp: +49 163 1254715
Sponsors of AFRONEWS Awards 2023
Ortel Mobile, Germany's leading prepaid sim cards provider for people with a migration background, is the major sponsor of the AFRONEWS AWARDS 2023.
The Awards are also sponsored by Taptap Send, an easy-to-use smartphone app that lets you send money to family and friends with just a few taps and a debit card.
The African Community in Germany Awards Gala Night 2023
The event will be held in Waiblingen, Stuttgart on 21st October 2023. The venue chosen for the Afronews Awards Gala Night 2023 is: Bürgerzentrum Waiblingen, Bürgerzentrum, An d. Talaue 4, 71334 Waiblingen, Stuttgart. The date is: 21st October 2023, from 17:30. Save the date!!
Booking to attend the AFRONEWS Awards Gala Night 2023
You are all encouraged to attend the Afronews Awards Gala Night to join us in celebrating achievers from our community.
Reservations are made on a first-come first-served basis. For further info on Reservations to attend the Awards Gala Night, please contact:
GMB Promotions
Email : gmbpromotions@musician.org
Tel/WhatsApp: +49 163 1254715