African Community Awards. AFRONEWS AWARDS 2023. Dr. Yvonne Uwamahoro has been nominated for a Lifetime Achievement in Germany 2023 at the AFRONEWS Awards 2023.
Who is Dr. Yvonne Uwamahoro?
Dr. Yvonne Uwamahoro is an African dentist in Germany. She come to Germany to study when she was 19 years old and living alone for the first time in Germany. Her life at first wasn't easy as she lost both of her parents by the time she was 24. Yvonne learnt to cope with the loss of both parents at a young age and this was an incredibly difficult thing to go through as she lost everything, struggled and was very depressed.
She had a dream to study at a university and came to Germany alone. This is without knowing anyone in Germany and not being able to speak German. She registered in a language school and learnt German.
At the age of 22 she started her studies at the university. It wasn't easy. She had to study and work a lot, her family at home in Rwanda supported her a bit, also financially. Nevertheless, she still had to work a lot to be able to pay rent, health insurance, etc.
Dr Yvonne's parents died in the middle of her apprenticeship. Both her father and mother passed away. This came as a shock to her as she had gone from having family to being an orphan in a flash and she battled with thoughts of quitting her education.
"I was desperate and devastated. But life had to go on somehow. I struggled and it wasn't easy. At one point I was even kicked out of a Catholic dorm because I couldn't pay the rent. It was the worst time of my life," she shared.
Despite many problems, Dr. Uwamahoro managed to successfully complete her studies, took her state exams and is now a practising dentist.
The message that Dr. Yvonne wanted to share with Africans in Germany especially is that 'It's not about starting an apprenticeship or studying, but about always having your goals in mind. And no matter what happens, you shouldn't give up so easily. The way is not always easy. Sometimes you don't pass an exam or exam, or the homework is too difficult, or you realise after two semesters that studying isn't fun, etc… You shouldn't give up too quickly and keep fighting, because it's really worth it.'
She had to be strong and a very hardworking person . She is now a successful dentist in Germany and is currently writing her biography.
CONTACT DETAILS OF THE NOMINEE
Instagram: Yvonne_Kavona
Email: uwayvonnek@yahoo.fr
Telephone no: +49 0176 25434525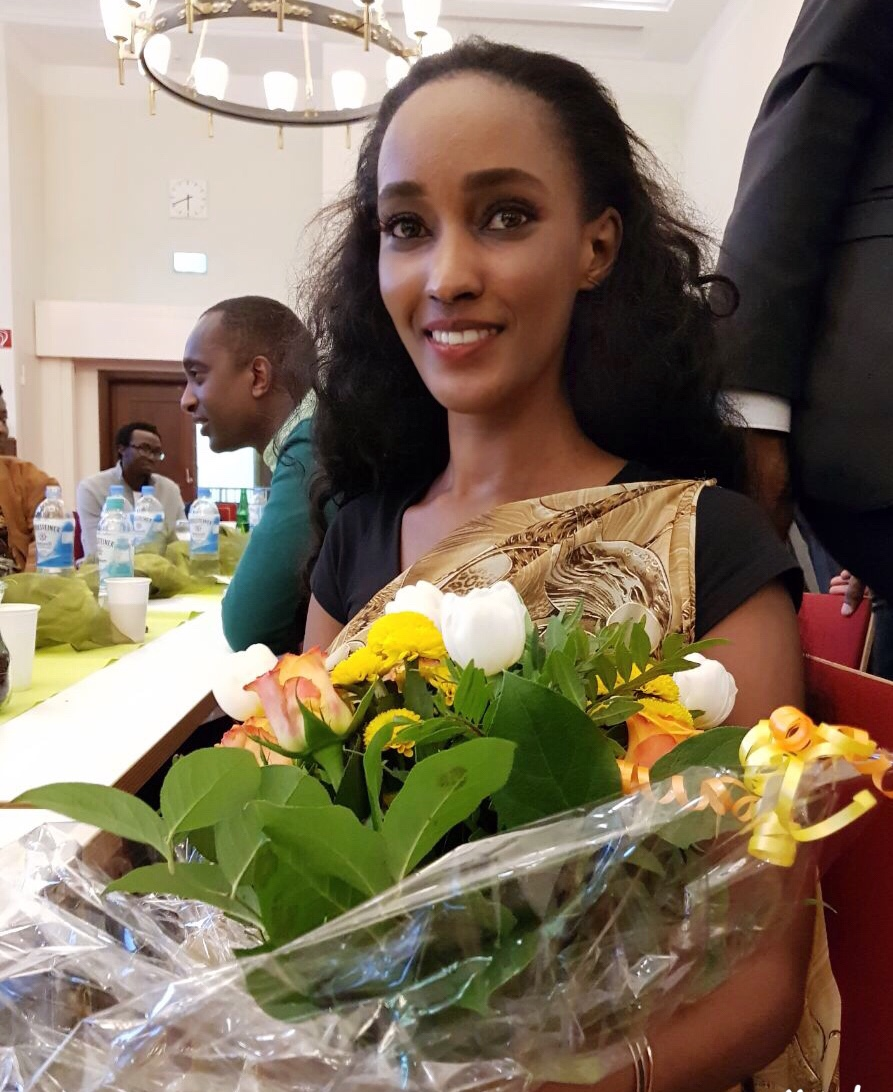 What are the AFRONEWS AWARDS?
The AFRONEWS AWARDS celebrate and recognise the outstanding achievements of Africans in different fields in Germany. They are a way of appreciating and encouraging Africans who have excelled in different fields and are making a positive contribution to the German society.
The Awards also recognise the good work done by African organisations/associations and businesses to promote a positive image of Africa and Africans, facilitate integration of Africans in Germany, promote business opportunities and international cooperation between Germany and African countries, and above all, make Germany and the world a better place for all of us.
How to sponsor the AFRONEWS Awards 2023 Gala Night
The Afronews Awards 2023 Gala Night is a high-level event that offers companies a variety of channels to increase their visibility amongst members of the African Community in Germany. To sponsor the event, please contact;
Stephen Ogongo,
Editor of Afronews Germany,
Tel/WhatsApp: +393333010654.
Email: editor@afronews.de
Or
Chris Black,
GMB Promotions
Email: gmbpromotions@musician.org
Tel/WhatsApp: +49 163 1254715
Sponsors of AFRONEWS Awards 2023
Ortel Mobile, Germany's leading prepaid sim cards provider for people with a migration background, is the major sponsor of the AFRONEWS AWARDS 2023.
The Awards are also sponsored by Taptap Send, an easy-to-use smartphone app that lets you send money to family and friends with just a few taps and a debit card.
The African Community in Germany Awards Gala Night 2023
The event will be held in Waiblingen, Stuttgart on 21st October 2023. The venue chosen for the Afronews Awards Gala Night 2023 is: Bürgerzentrum Waiblingen, Bürgerzentrum, An d. Talaue 4, 71334 Waiblingen, Stuttgart. The date is: 21st October 2023, from 17:30. Save the date!!
Booking to attend the AFRONEWS Awards Gala Night 2023
You are all encouraged to attend the Afronews Awards Gala Night to join us in celebrating achievers from our community.
Reservations are made on a first-come first-served basis. For further info on Reservations to attend the Awards Gala Night, please contact:
GMB Promotions
Email : gmbpromotions@musician.org
Tel/WhatsApp: +49 163 1254715