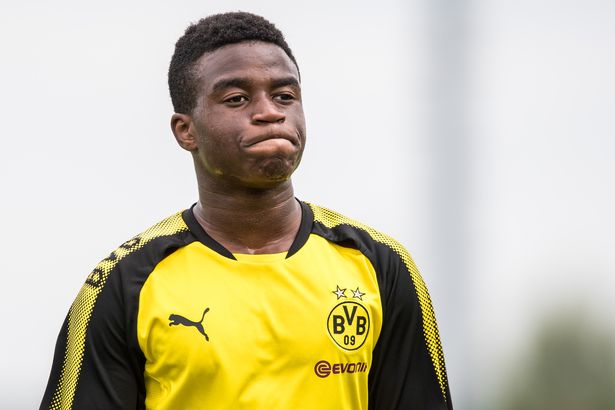 African footballers. Cameroon-born Borussia Dortmund and Germany star Youssoufa Moukoko 'caught up in age fraud storm amid claims he is 22 and not 18', reported Daily Mail.
Premier League clubs were put on alert with Borussia Dortmund star Youssoufa Moukoko was reportedly caught in the age storm that has rocked Cameroonian football.
Moukoko, who was born in Yaounde, Cameroon, before moving to live in Germany in 2014 where he was adopted, is alleged to be 22, rather than 18, according to claims in Germany.
This is sour news for the footballer as teams Newcastle and Chelsea had already expressed interest in the young striker but Premier League sides are understood to be ready to step back from talks following developments in an investigation into age fraud in the game. 
What led to the discovery?
Just last week Cameroon's under-17 side were preparing to play Central African qualifying games in the Nations Cup this month when it was discovered that 21 of the 30-strong squad failed age tests.
Fresh players were quickly drafted in by coach Jean Pierre Fiala but, in a further humiliation, it was  discovered that 11 of the additions were also over-age.
It has now been claimed in Germany that a birth certificate dated for the year 2000 with the name Yousouffa Mohamadou and attributed to Dortmund striker Moukoko was discovered in 2022.
Age or identity fraud continues to be a major source of concern for African football as a whole.
During 2021-22 there was also an issue regarding the age and identity of Gambian footballer Bakery Jatta that almost cost the player his career. We wrote about it here: The true story about Gambian HSV star Bakery Jatta's real identity.