It was good news for Gambian footballer Bakery Jatta as the court ruled it had rejected all openings of the main proceedings against him amid claims of a fake identity.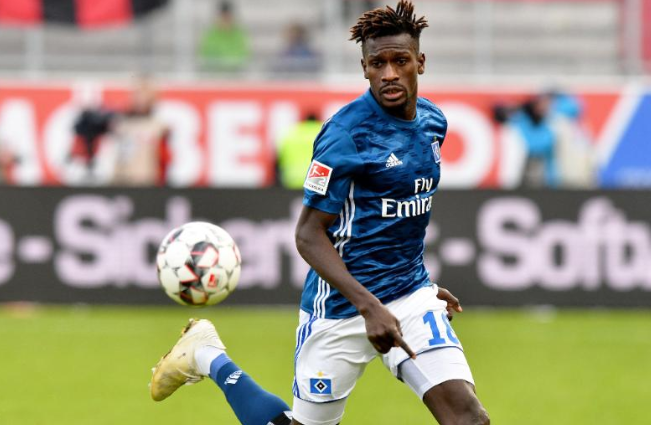 There is therefore no "sufficient suspicion" against the HSV striker.
BILD reported that an official statement from the Hamburg Judiciary stated that the district court of Hamburg-Altona had rejected the opening of the main proceedings because, based on the results of the investigation, it did not offer sufficient suspicion of the accused.
This means that Jatta is now officially innocent in the eyes of the law and did not obtain a residence permit by fraud.
In December 2021, the public prosecutor's office brought about charges of Bakery Jatta violating the Residence act. There were reports that the footballer was actually called Bakery Daffeh and that he was actually two years older than stated in his official documents.
READ ALSO: Gambian footballer Bakary Jatta facing charges of illegal identity swap, could lose his residence permit
Jatta denied the allegations and said he was not playing under a false identity and that these were rumours from people who did not wish him well in his career.
Jatta's lawyer, Thomas Bliwier had tried to prevent the opening of the main proceedings with an objection that led to his current success.
He told the German Press Agency (dpa) that the public prosecutors office could not prove that Jatta had deceived anyone or given false information.
The district court said, '"The ordering of subsequent investigations is not necessary. According to the results of the investigation, it must be assumed with sufficient certainty that the accused's name is Bakery Jatta and that he was born on June 6th, 1998."
READ ALSO: Gambian Footballer Bakary Jatta charged with illegal identity swap, lies about his age
Who is Gambian Footballer Bakery Jatta?
Bakery Jatta is a Gambian professional footballer in Germany who plays as a midfielder for 2. Bundesliga club Hamburger SV (HSV).
He was facing charges against an illegal identity swap and was also accused of breaking the residence act in four cases.
The University of Friborg carried out an investigation on a mandate from the Hamburg stat criminal Police Office who discovered his real name is Bakary Daffeh and his date of birth is November 6, 1995.
READ RELEVANT ARTICLE: Who is Bakery Jatta? All you need to know on the famous Gambian Footballer: biography, salary, identity, age, family, relationship, net-worth
Bakery Jatta entered Germany in July 2015 and said he is 17 which significantly increased his chances of being tolerated in Germany, as minors travelling alone enjoy special protection by the government.
Initially, neither the Federal Office for Migration and Refugees nor the local Hamburg authorities were able to confirm nor deny Jatta's identity.
Source: BILD