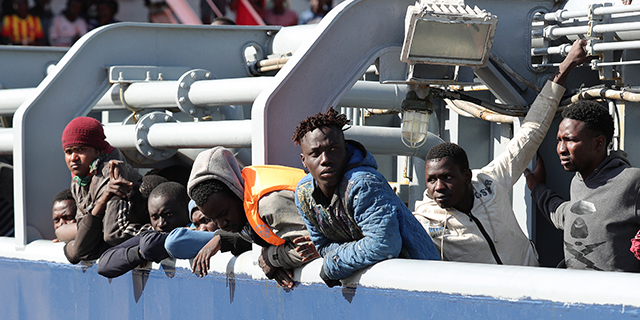 Refugees in Germany. A dangerous blame game is underway between German and Italian authorities on who should be responsible for the migrants rescued in the Mediterranean Sea by NGO vessels.
For almost two weeks now, the rescue ship Humanity 1 has been waiting for a place of safety for 179 people rescued from distress at sea in the Central Mediterranean. At least 104 of the survivors are minor children, mainly Gambians.
Humanity 1 is a German-flagged ship, operated by a German NGO SOS Humanity, seeking to disembark the survivors either in Italy or Malta. Requests for a place of safety sent to the relevant state authorities in Malta and Italy are yet to receive a positive response.
Italian authorities have however stood firm, insisting that Germany should be in charge of accepting the rescued migrants by the German-flagged ship Humanity 1.
Italy's Prime Minister Giorgia Meloni seems determined to ban NGO-run vessels from even entering its waters altogether.
"If an NGO ship flies, let's say, the flag of Germany, there are two possibilities: either Germany recognises it and takes care of it, or that ship becomes a pirate ship," Ms Meloni said. This statement underscores Italy's new approach to handling rescued migrants.
If Germany accepts to be responsible for rescued migrants onboard a German-flagged ship, then they could be allowed to disembark in Italy and then be transferred to Germany. The same should be applied to all vessels flying different countries' flags. Italy wants each vessel/ship to be treated as an extension of flag state territory. This means that asylum applications lodged onboard a vessel should be processed in that country.
At the moment frontline countries including Cyprus, Italy, Greece and Malta bear the full responsibility for rescued refugees and migrants. This is unfair. Since these countries are borders of the EU, all EU countries should be ready to share responsibility for migrants crossing the Mediterranean from north Africa.
Such responsibility for rescued refugees and migrants must not be left to the frontline countries. Countries like Germany must therefore be ready to share the responsibility for taking in migrants and helping them integrate.
READ THESE RELEVANT ARTICLES:

Gambian activist urges German authorities to welcome all refugees, calls for abolishing of camp life

25 Gambians to be deported from Europe, says Gambia Refugees Association