African Sport Celebrities. Who is Eliud Kipchoge EGH is a Kenyan professional long-distance runner and the world record holder in the Marathon with a time of 2:01:39 set on 16th September 2018 at the Berlin marathon, he is also the record holder for the INEOS challenge achieving a time of 1:59:40.
Eliud Kipchoge will be defending his Olympic marathon title from Rio de Janeiro at the Tokyo Olympics this Sunday 8th August 2021. (we wrote about it here).
Kipchoge announced in a post that he is very excited to be at the Olympic villages in Japan and that is is a great time to be able to compete despite the coronavirus pandemic.
Kipchoge, true to his skill, defended his reign wining the men's marathon with another Gold medal to him. He is the first athlete since 1980 to hold this position. Kipchoge is now just the third man in history to win consecutive Olympic marathon titles, adding yet another record to a glittering career. (read more below)
Here are a few answers to questions about Eliud Kipchoge like: what was his time at the INEOS challenge, how old is he? how much does he weigh? What is his net worth and when is his event at the Tokyo Olympics?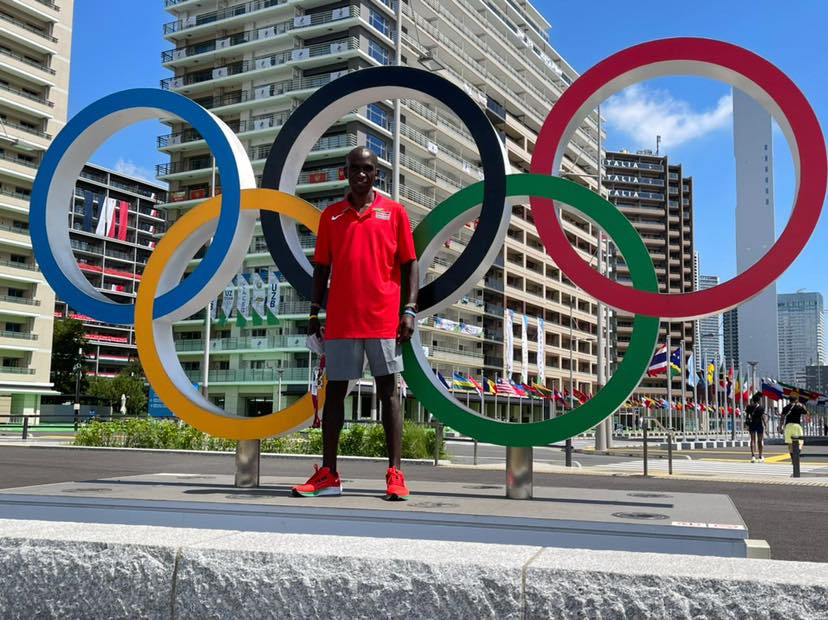 Who is Eliud Kipchoge? Personal Life
Full name : Eliud Kipchoge EGH
Date of birth: 5th November 1984
Place of Birth: Kasisiywa, Nandi County, Kenya
Height: 167 cm (5 ft. 6 in)
Weight: 52 kgs (115lb)
Occupation: Long-distance
Eliud Kipchoge was born on the 5th of November 1984 he is age 36. He was born in Kasisiywa, Nandi County, Kenya.
He graduated from Kaptel Secondary School in 1999 but did not run seriously then. He ran two miles (3.2 km) to school on a daily basis.
Kipchoge was raised by a single mother (a teacher), and only knew his father from pictures. He is the youngest of four children.
He met his trainer Patrick Sang (a former Olympic medallist in the steeplechase) in 2001 at the age of 16.
Kipchoge's wife and three children live in Eldoret, Kenya. He lives and trains in Kaptagat, 30 km (19 miles) from Eldoret
Kipchoge's career in the field of Long-distance runner
Update: Eliud Kipchoge, the world's greatest marathoner ever, broke his own world record by winning the Berlin Marathon, clocking 2:01:09 to lower the previous record time of 2:01:39 he set in the German capital in 2018. Read about it here: Kenyan long-distance Marathon runner Eliud Kipchoge breaks world record in Berlin, Germany
He is the world record holder in the marathon with a time of 2:01:39, set on 16 September 2018, at the 2018 Berlin Marathon. His run broke the previous world record by 1 minute and 18 seconds. He has been described as "the greatest marathoner of the modern era".
Eliud won his first individual world championship title in 2003 by winning the junior race at the IAAF World Cross Country Championships and setting a world junior record over 5000 m on the track.
At the age of eighteen, he became the senior 5000 m world champion at the 2003 World Championships in Athletics with a championships record, then followed with an Olympic bronze for Kenya in 2004 and a bronze at the 2006 IAAF World Indoor Championships.
A five-time World Championship 5000 m finalist, Kipchoge took silver medals at the 2007 World Championships, 2008 Summer Olympics and 2010 Commonwealth Games. (read more below)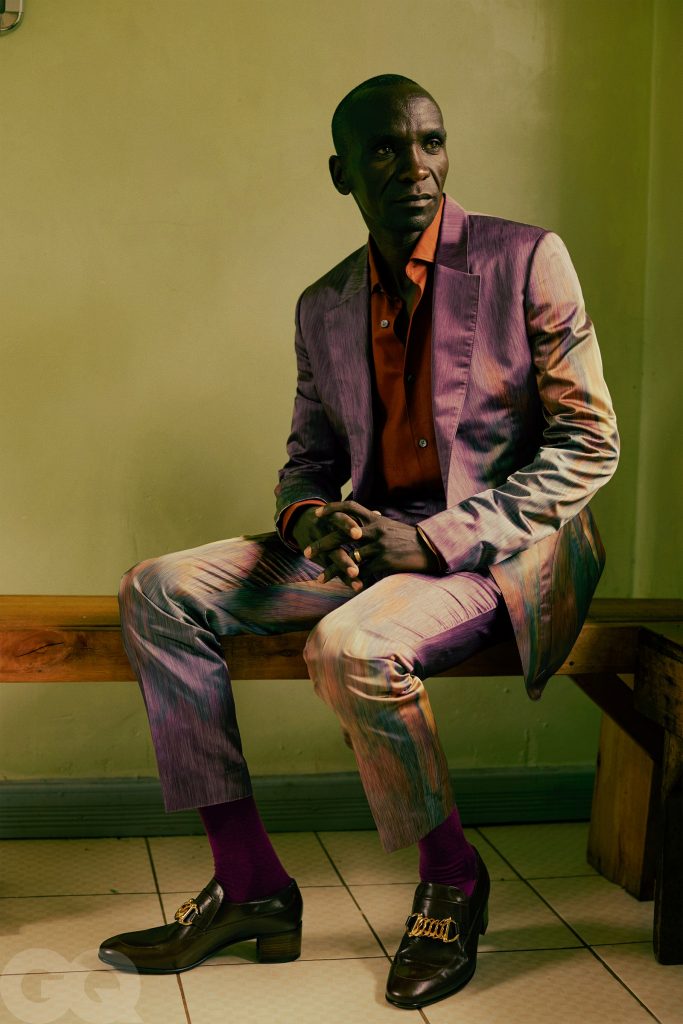 He switched to road running in 2012 and made the second-fastest half marathon debut ever, at 59:25. In his marathon debut, he won the 2013 Hamburg Marathon in a course record time. His first victory at a World Marathon Major came at the Chicago Marathon in 2014, and he went on to become series champion for 2016, 2017, 2018 and 2019.
He won the London Marathon a record 4 times, and won the Olympic marathon in 2016. His only losses in a marathon were a second-place finish behind Wilson Kipsang Kiprotich at the 2013 Berlin Marathon, where Kipsang broke the world record, and an eighth-place finish at the 2020 London Marathon.
On 12 October 2019, Kipchoge ran the marathon distance at a special event in Vienna, Austria, achieving a time of 1:59:40. The run did not count as a new marathon record, as standard competition rules for pacing and fluids were not followed and it was not an open event.
Random facts about Eliud Kipchoge
Kipchoge was cited as one of the Top 100 most influential Africans by New African magazine in 2019.
Read also: Olympic medalist Eliud Kipchoge's secrets of success
Kenyan long-distance marathon runner Eliud Kipchoge receives best male athlete of the Tokyo 2020 Olympics at Association of National Olympic Committees (ANOC) Awards 2021