Ineos winner Eluid Kipchoge, 35, shared his secrets as to how he broke a world record of running 26.2 miles in under two hours in an interview with GQ magazine.
This resulted in a series of very commemorative pictures of the hero in very extravagant wear.

The champ talked about his life while in Kenya in his home town. He boast of a soon-to-be forest that he is cultivating and talks about being around his people with such nostalgia and pride.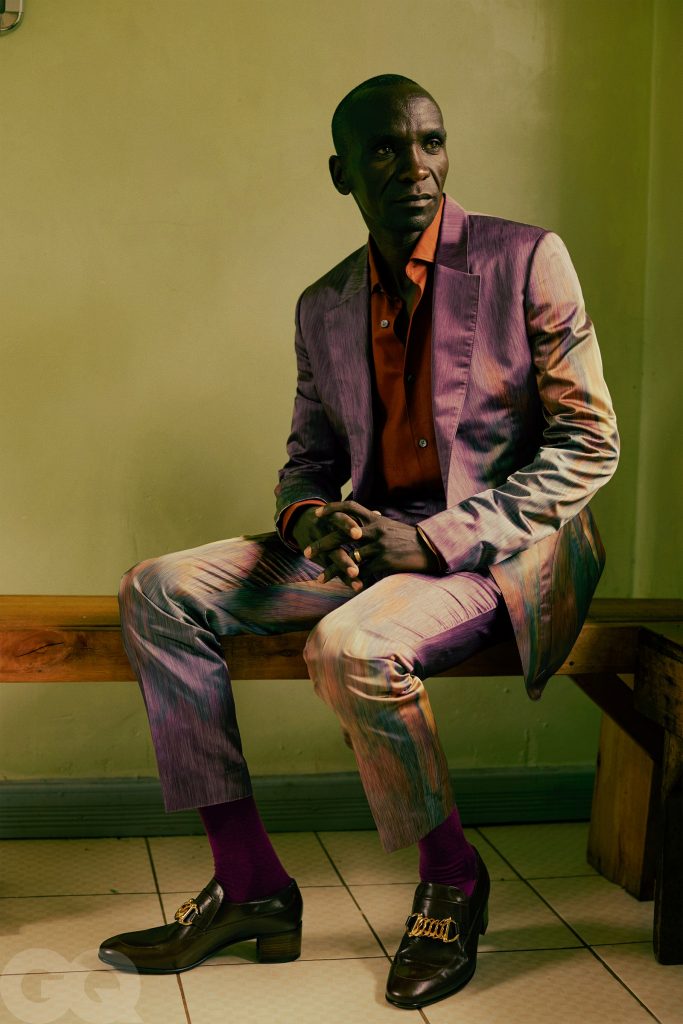 And while Kipchoge remains the people's favourite he is no stranger to chores which he does at his training camp to the extent of mopping bathrooms and scrubbing them.
Kipchoge might be the greatest runner in history, but he's still mopping the bathroom, just like everyone else.
He teaches those around him the beauty of togetherness.
"You cannot live alone in this world," Kipchoge explains. "The way to enjoy life is to meet people like you, to exchange ideas, to learn from each other."
Kipchoge's regimen is simple: easy running on Monday, Wednesday, and Friday; speed workouts on Tuesday and Saturday; a long run of up to 25 miles on Thursday.
On Sunday, rest. He approaches these sessions with devotion, recording his times for every workout in a notebook. "If you don't have faith in your training, then it's nothing," he says.
"You don't go to a dictionary and find the meaning of the faith. You need to define the faith in your own vocabulary."
Kipchoge aimed to run at the Tokyo Olympics that got postponed to next year with slight rumors of him maybe being too old.
A lot of athletes face the pressure of age closing in and retirement is something that cannot be avoided but Eliud keeps running showing that no man, is really limited.
Kipchoge is likely to face another aging superstar—Kenenisa Bekele, the 37-year-old Ethiopian world-record holder in the 5,000 and the 10,000 meters, the owner of the second-fastest marathon time in history (a mere two seconds behind Kipchoge's official record).
He is Kipchoge's sole rival as the greatest male distance runner of all time.
Consistency. The dedication to becoming great.