French President Emmanuel Macron has admitted French responsibility in the Rwandan Genocide during a visit to the Rwandan capital, Kigali on Thursday. The 1994 massacre resulted in the death of around 800,000 people.
Macron in a speech at the Kigali Genocide Memorial where more than 250,000 Tutsi are buried said, "Standing here today, with humility and respect, by your side, I have come to recognise our responsibilities."
He admitted that France had a duty to admit the 'suffering it inflicted on the Rwandan people by too long valuing silence over the examination of the truth.'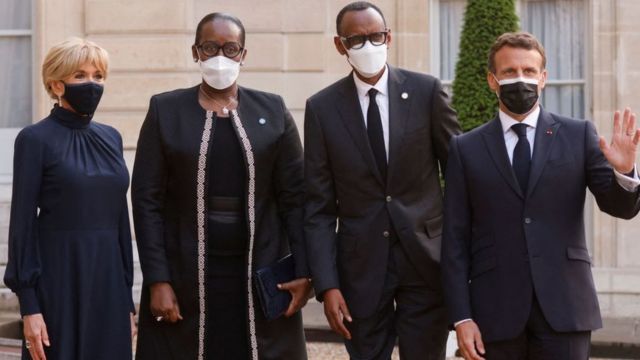 Since the 1994 genocide, Macron is the first French leader to visit the country in 10 years in a bid to strengthen relations that dwindled.
Macron said only Rwandans could forgive France for its role in the genocide: "On this path, only those who went through that night can perhaps forgive, give us the gift of forgiving."
France did not listen to those who warned it about the impending massacre in Rwanda and stood de facto by a genocidal regime, Macron said- DW.
But France "was not an accomplice" to the genocide, Macron added.
The French president has been facing criticism with many Rwandans claiming that it was not an appropriate apology. The Ibuka association, which comprises of Rwanda's main genocide survivor group, said it was not a clear apology nor was he asking for forgiveness.
Rwanda for its part has accused more than 30 French politicians, officials and military officers of supporting the genocidal regime, including the late president, François Mitterrand.
Rwanda had switched its official language from French to English in a move that was said to be a break off from their colonial masters. Rwanda's ruling party, The Rwandan Patriotic Front (RPF), sought to distance itself from it's Franco-Belgian colonial roots due to the complicity in the 1994 genocide.
READ ALSO: Judge rules Belgium to return tooth of murdered Congolese leader Patrice Lumumba

Nigeria's looted Benin bronzes to be returned home from Germany

Nigerian Artist Emeka Ogboh draws attention to looted Benin Bronzes in city museum in Dresden with 'missing' poster campaign
The switch was assumed to be a shift in the power dynamic as the African country wanted to be better aligned in trade with it's East African counterparts that already spoke English while others said it was a political move to benefit English speakers in key positions of influence .
Many accuse France of acting in a matter of sheer interest in the country as Rwanda continues to grow gradually becoming an economic power house in Africa.
France wants to strengthen ties so as to benefit from Rwanda's progressive state.
France still holds power over several of its former protectorates. A relationship that is very one-sided and crippling to the ex-Franco-phone states that still continue to pay 'taxes' to Paris despite their 'independence'.