Victoria Inyama, a veteran Nollywood actress has revealed that she is battling the dreaded COVID-19.
The actress shared a video of herself on a hospital bed, where she can be seen wearing a mask and plugged onto a ventilator with a drip line running through her arm.
Inyama said that she tested positive of the virus three weeks ago and has since been in isolation.
The veteran actress hails from Enugu State, in the south-eastern part of Nigeria. She began her acting career in 1990.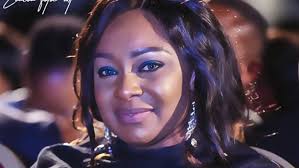 "I can't even explain. So exhausting, 3 weeks and still counting. Thanks to @ldn_ambulance Kent zone, @darent_valley_hospital @tiko4guvnor @drtonero @wonuola.akintola. This too shall pass."
Victoria Inyama, who is a mother of three, said she was grateful that it was her and not her children battling COVID-19.
READ ALSO: NIGERIA'S KEMI OLUNLOYO HITS BACK AT FAN WHO CALLED HER 'BABY'
''Covid-19 is a terrible terrible virus, I can't even explain. So exhausting. 3 weeks and still counting. I couldn't have been more careful with the kids going to school. I would rather go through this than my children,'' she said.
Victoria Inyama was formerly married to Godwin Okri and have three children together, but the marriage hit rock bottom due to abuse.
She has since been her social media platforms to encourage other individuals not to fall victim of domestic abuse and to speak out.
Recently Paul Okoye, 39, a Nigerian music star and former member of the P-Square duo tested positive for the coronavirus. He also shared the news on his social media disclosing that he had been battling the virus for ten days.
He warned people against taking lightly the measures put in place to keep the virus at bay.
"Y'all better be careful out there, if you like believe me, if you like don't, believe me, you can as well wait for your own experience by playing ignorance Goodluck God help us all," Okoye said.
Read all news about Afro Celebrities here: