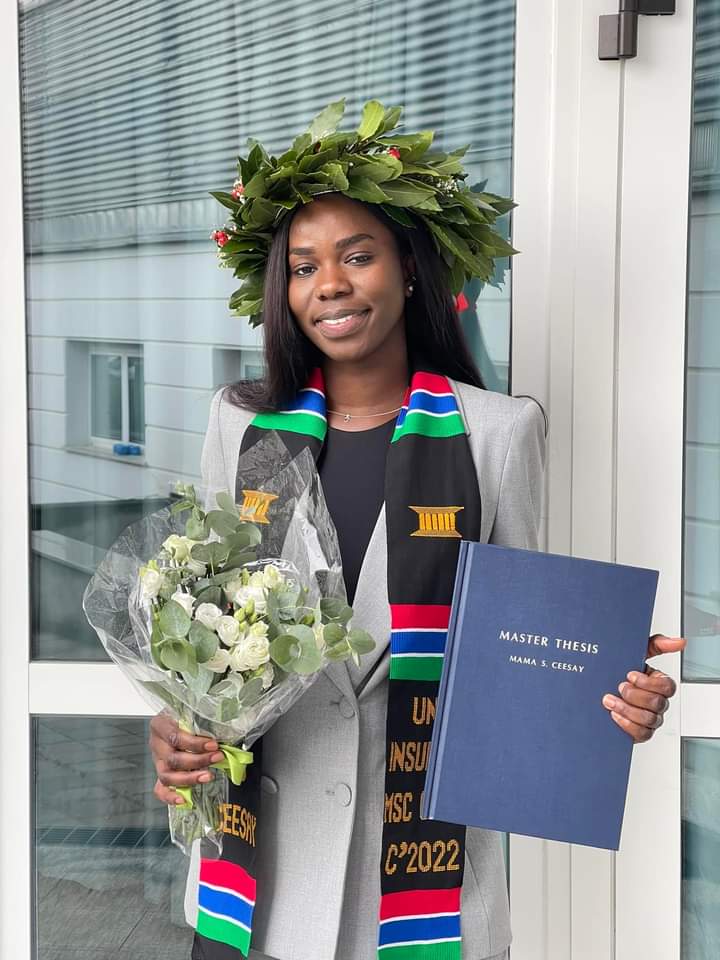 Africans in Italy. Gambian men are soaring higher in education in different levels in Europe and we have taken time to appreciate them, but Gambian women are also not being left behind. Meet the amazing, Mama S. Ceesay, a Gambian based in Italy who recently conferred a double Masters degree title from Università degli Studi dell'Insubria & Universität Jena.
Ms. Ceesay, a former Internal Control officer at First International Bank Gambia, with a double degree Masters in Global Entrepreneurship, Economics and Management with a focus on the Economics of Innovation.
"My education journey to a double masters has ended with a heartfelt gratitude for both schools and my colleagues. Moving to another country was hard for me at first because of my connection to family but during these years I have learnt a lot and have had the opportunity to live in both Italy and Germany," she pointed out.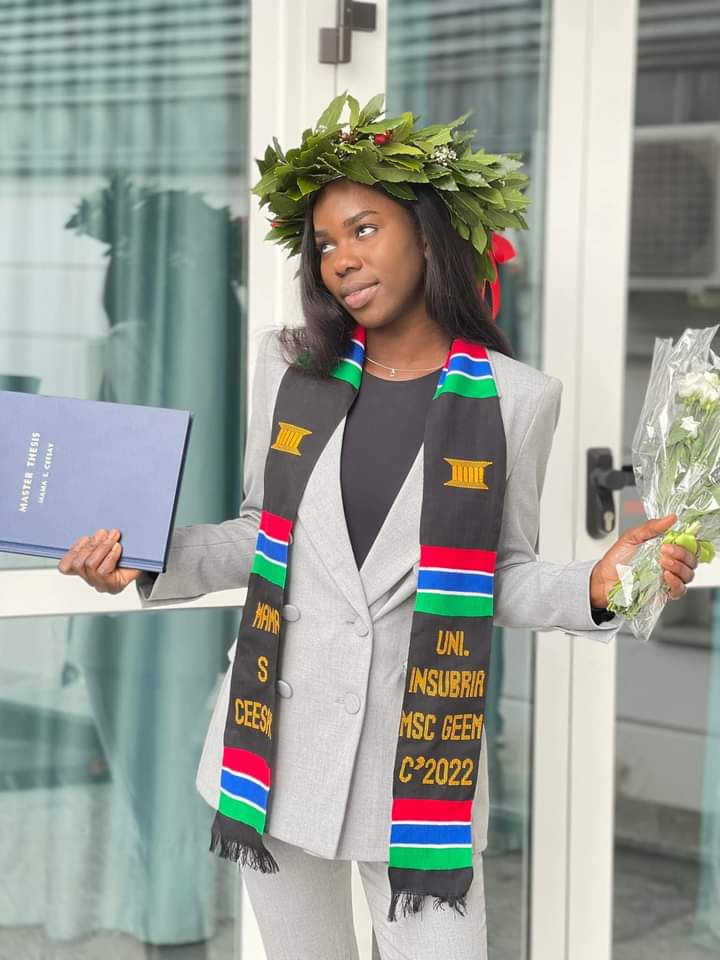 She explained that she had learnt not only about school, but also about different cultures and experienced diversity in every form of life. She had also made life long connections and learnt to respect and live with others in harmony and peace.
According to her, she is the first BSc. Degree Holder in her family and now an MSc. title just got added to the list.
READ MORE: Meet Omar Marong, from refugee to degree in political science with dream of becoming a diplomat

Meet Lamin Drammeh, refugee turned musician, actor, cultural mediator and accountant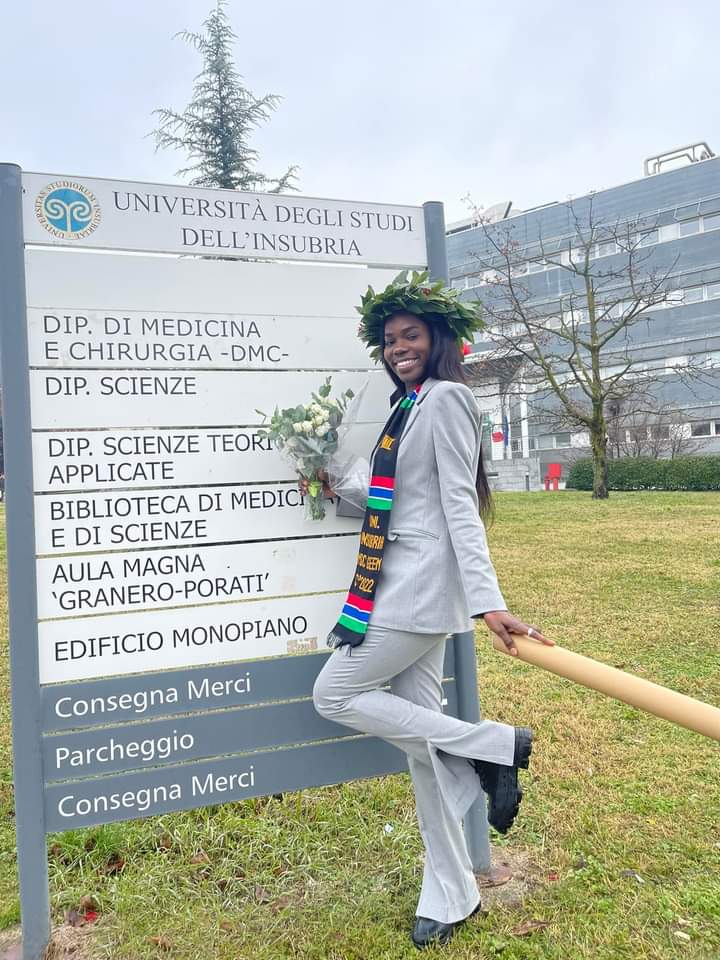 "They said I couldn't do it, because I am the first daughter of my family and I will have to get married and stop learning. I told them to WATCH THIS SPACE! I'm glad I delivered a good show. I did this for all the girls and women told they are not enough! You are enough and you can do anything you put your mind to. I had to dedicate my thesis to this curse. I hope we all take education seriously to free our minds and bodies from all the shackles life sends our way just because of our nature"
"I hope I serve as an inspiration to girls in The Gambia to keep working hard and know that only hard work and determination can get you there"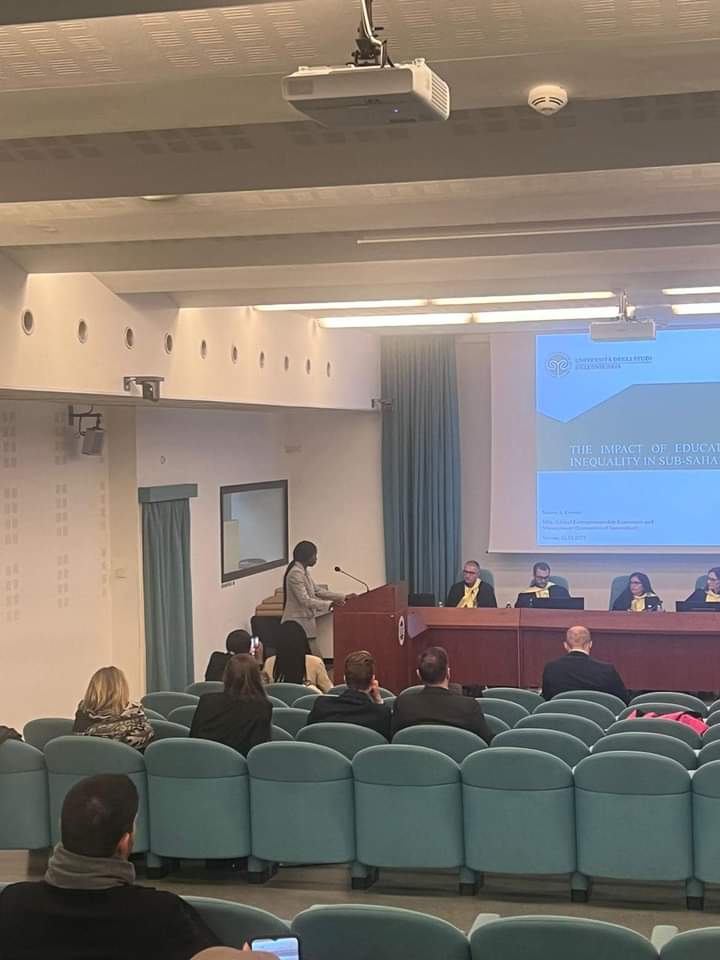 READ MORE: From high school dropout in Gambia to Degree holder in Turin, Italy

Why Senegambians in Germany are celebrating new 'long-term residency' law
Mama S. Ceesay thesis focused on the impact of education on national development and states the output cannot be overemphasised. Female literacy is believed to spur economic growth and development by fostering human capital for the next generation, improving maternal health-care and increasing labour productivity due to the extremities that arise from education.
The thesis investigates the impact of education on gender inequality using panel data for 29 sub Saharan African countries from 2000-2019.