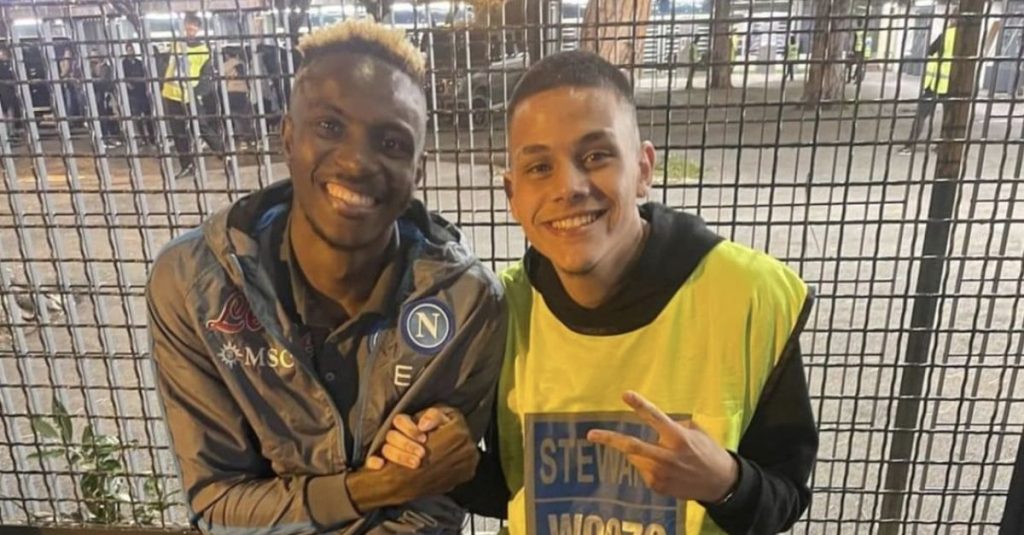 African footballers. Nigerian footballer Victor Osimhen. Matteo, a young 18-year-old steward in his first experience at the Olimpico, will no longer work when Roma play at home for saying goodbye and taking a selfie with his idol, Victor Osimhen.
The boy of Ethiopian origin was in the area reserved for families with the yellow bib, when he approached Oma Akatugba (journalist and friend of the football player) to ask why he was in a restricted area. The reporter explained that he was waiting for Osimhen as he was a great friend of his. Matteo's eyes widened because Victor is his idol and took the opportunity to ask him to get to know him and take a picture together.
"After a bit of a wait, I was introduced to Victor. He took me by the arm and I sat next to him, right where Tammy Abraham was sitting just before. My hands were shaking at that moment, my dream had come true at that moment. I showed him all the photos of him, the videos of him, he really enjoyed. I am obsessed with him, always looking for hidden anecdotes. He even got excited looking at my eighteen year old cake" Matteo told the Series-A news website.
Everything was going great when the area manager arrived ordering Matteo to hand over the bib and badge. He had talked to a player and as a result could no longer serve. Victor got up asking the manager for an explanation for her reaction towards the boy. "What are you doing, what's going on? He's my friend".
Shortly after he asked Matteo how much they were paying him, and was shocked to discover how little he was earning to be treated in such a manner. Victor then asked the boy for his contact information promising to find him a job.
"He insisted on letting me stay with him, he was worried I was losing my job. He is a golden person, an incredible guy and not the usual VIP," said Matteo.
Last year Osimhen had taken a Nigerian girl off the street, who was selling water at the traffic lights with an amputated leg. We wrote about it here: Nigerian Footballer Victor Osimhen ends search for woman selling water on the streets through social media help- 'I too was like that as a child'
Read also: Footballer Victor Osimhen's sister and husband accuse him of debt worth million
Victor Osimhen advised to stay at Naapoli by Christian Obodo, former Nigeria midfielder
Victor Osimhen shares pictures in designer outfit with tweet showing humble beginnings in Nigeria
Source: LEGGO