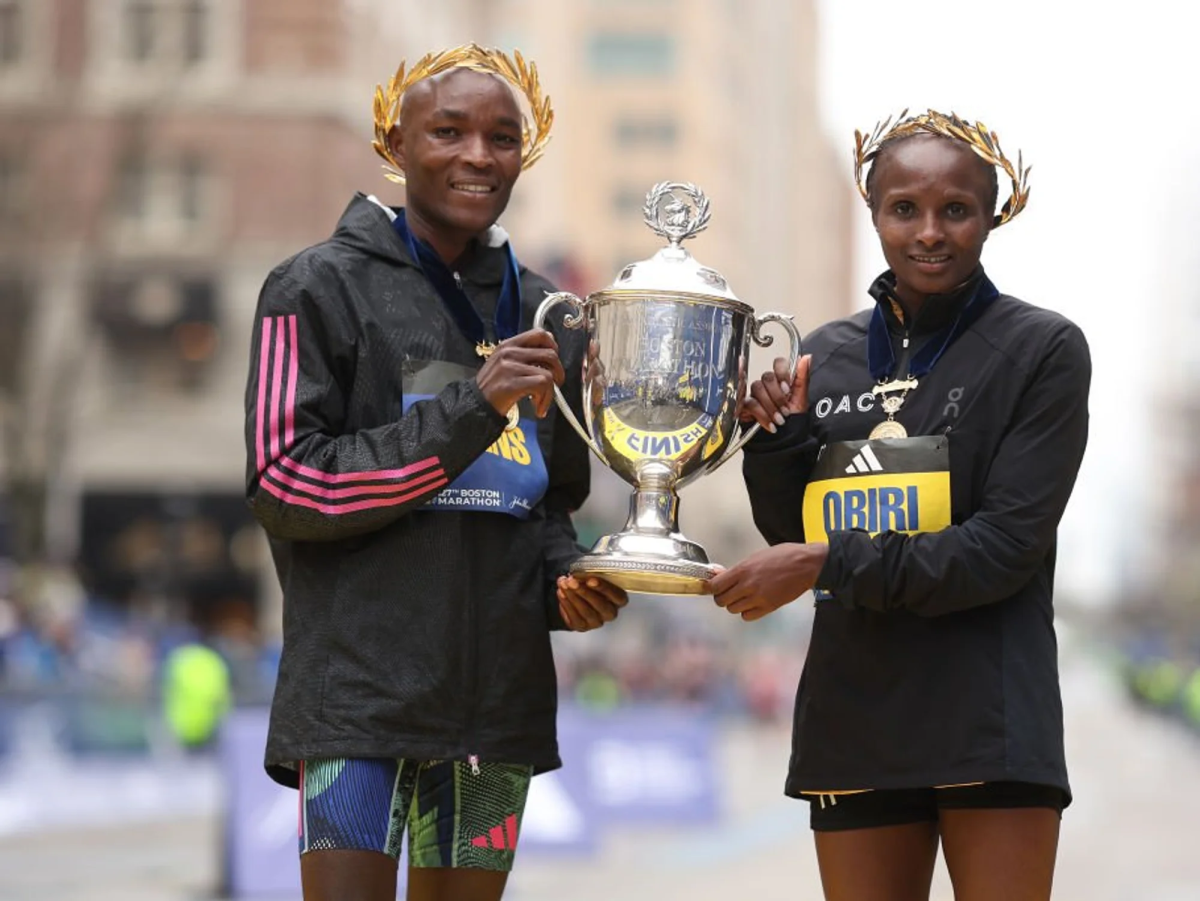 African Sport Celebrities. Kenyan runners Hellen Obiri and Evans Chebet have been crowned the winners of the men's and women's races in this year's Boston Marathon.
Obiri secured her first Boston Marathon victory with a fierce time of two hours, 21 minutes, and 38 seconds. While Chebet scored his second consecutive Men's elite title win, checking in with a time under two hours, five minutes, and 54 seconds—the fastest time in Boston's history.
Fellow Kenyan athlete Eliud Kipchoge made his highly anticipated Boston debut and was the sixth person to cross the finish line.
Chebet put on a stellar performance on Monday morning, beating his winning 2022 record of two hours, six minutes, and 51 seconds by 1 minute and 13 seconds.
The ever expanding sportsman is the first to win back-to-back Boston Marathon races in over 15 years, beating Tanzania's 26-year-old Gabriel Geay's second and Kenyan long-distance runner Benson Kipruto's third in the final stretch.
Two-time Olympic medievalist Kipchoge has been deemed the world's greatest marathon runner in the past. And the star athlete looked poised to dominate as he led the crowd for the first 17 miles, before being humbled by Boston's hilly terrain. We wrote more about Kipchoge here: Who is Eliud Kipchoge, the greatest marathoner ever: all about his pace, age, shoes, net worth and family.
Kipchoge has lost only two out of his 17 meets, still making him one of the greatest runners in the world. During his win at last year's New York City marathon, Chebet commented on how demanding Boston's course is, only to return undefeated.
While with the ladies, Obiri fortuitously pushed through to triumph over the rest, with Ethiopia's Amane Beriso making a close second place. This is the two-time silver Olympic medallist's second marathon ever, having finished in sixth place during New York's Marathon in 2022. The Kenyan duo beat out 30,000 racers from across the United States and the world.
This year's race marked 10 years since the harrowing Boston Marathon Bombing which took place on April 13th, 2013. Three deceased, and over 200 injured participants were honoured as organisers remembered the appalling event that took place on the finish line.