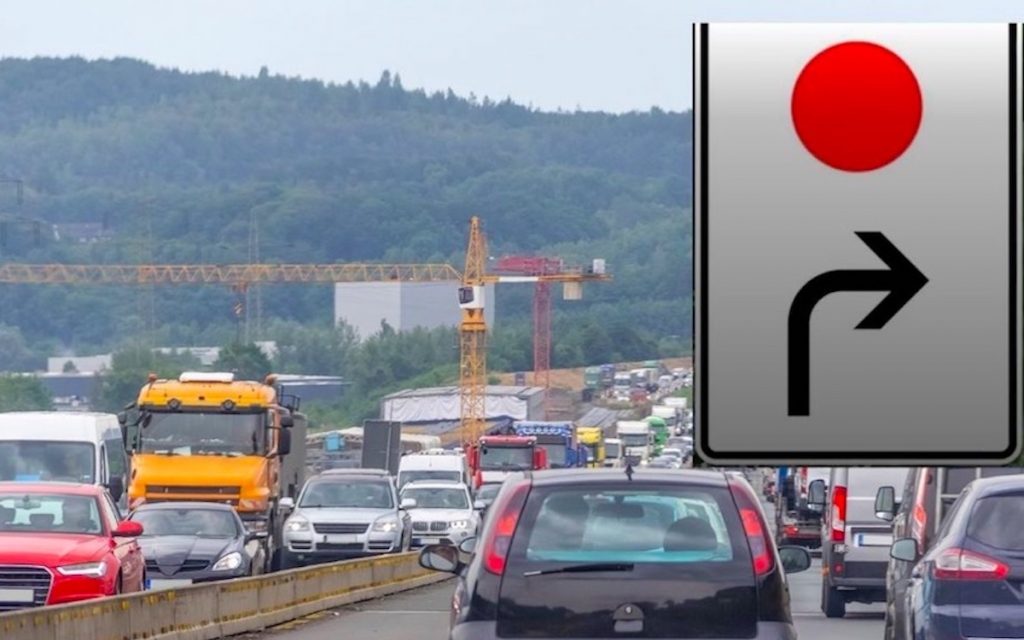 Living in Germany: Road sign with a red dot in Germany. Motorist driving on the highway encounter a road signs with a red dot. This sign is often found on signs with arrows and on direction signs on highways and other main roads.
Over 500 different road signs regulate traffic in Germany. However, due to the large number of different symbols, road users are often faced with road signs that they do not know or have misinterpreted. Individuals with a driving license should theoretically know all road signs and their meaning, but some characters are new and others are less common.
Additionally, Polish drivers may not be familiar with the signs that are only found in Germany. We wrote about a road sign with an orange arrow on the German highway, which is extremely important and native Germans often know its meaning. The road sign with three arrows and a line also causes a lot of trouble for drivers. Another road sign that amazes drivers in Germany is the one with a large red dot. This dot is most often found on signs with arrows and on direction signs on highways and other main roads. The red dot is usually placed next to the city name.
The red points are part of the so-called "red route", which is a bypass route. It enables travellers to get to the next highway exit to their destination as quickly as possible. The bypass is designed to avoid road sections where long traffic jams are particularly common. In Bavaria, such a route can be found near Regensburg (Bavaria), near the "Pfaffensteiner tunnel", where drivers often stand in long traffic jams for hours.
New road signs in Germany
New signs have appeared on the roads in Germany since changes in traffic regulations in April 2020 and November 2021. Some are intended to make life easier for cyclists, while others are aimed at drivers of passenger cars and small electric vehicles.
Read also: Orange arrow on the German highway and what it means
Germany: Red round sticker on the car and what it means
How to check for mileage manipulation when buying a used car
Source: Nordbayern.de