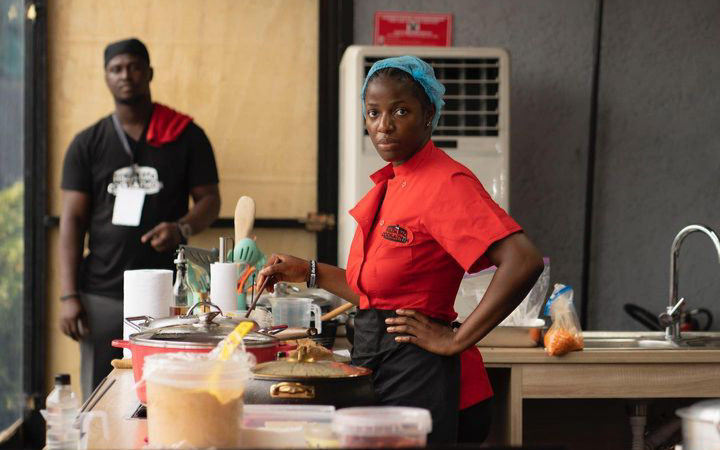 Nigerian Chef, Hilda Bassey Effiong, popularly known as Hilda Baci, breaks Guinness world record for longest cooking time.
The 27 year old chef surpassed the previous record of 87 hours, 45minutes and 00 seconds set by Lata Tondon, an indian chef, in 2019. She began her cooking challenge on Friday at the Amore Gardens, Lekki, Lagos State, and by 8pm on Monday May 15, she set a new Guinness World Record for the longest hours cooking at 100 hours.
She cooked round the clock with no sleep, and in some instances rested for about 30 minutes. During the 'breaks', her team would check her blood pressure, temperature and gave her foot massages.
The Chef has received massive support throughout the challenge from Nigerians , celebreties and politicians i the country. Nollywood actor, Charles Okocha; actress, Kate Henshaw; singer, Tiwa Savage; media personality, Enioluwa, and many others appeared at the event.
According to the The Guinness World Record, they have to review evidence of the Nigerian chef Hilda Baci's cooking before confirming the record has been broken.
"We're aware of this amazing record attempt, we need to review all the evidence first before officially confirming a record," GWR said in a tweet.
What are the rules of the marathon?
Must stand while cooking, sitting is prohibited
Consumption of coffee, stimulants, or energy drinks to enhance energy and strength is strictly prohibited
Cook continuously without any sleep, working through the morning, afternoon, evening and night
Only 5 minutes of rest per hour, resulting in an hour long break every 12 hours.
All the food made is shared with the attendees at the venue free of charge; not sold.
Baci is not new to cooking competitions, she was a participant in the maiden edition of the Jollof Face-off Competition in 2021. The talented chef made Nigeria proud by winning the competition and walking away with a grand prize of $5000.
Read also:
Tiwa Savage makes history, becomes first Nigerian musician invited to perform at British monarch coronation
Nigerians mourn veteran Nollywood star Saint Obi
Nollywood star Yul Edochie takes son to church for dedication while still facing backlash over 2nd wife
Nollywood actor Yul Edochie wants to be Nigeria's president
Source: Dailypost