Breastcare, a free multilingual breastcare app with comprehensive information on breast cancer and early detection is now available.
It is an extremely important app that can save lives of all women in German, be they German-speaking women or women with other linguistic and cultural backgrounds.
The breastcare app has been launched by Pink Ribbon Germany, a non-profit organization that has been campaigning for more early breast cancer detection in Germany for over 10 years.
The main goal of this project is to reach every woman in her native language. The app is available in the following languages: German, English, French, Spanish, Turkish, Arabic and Farsi. It will soon be available in other languages as well.
The breastcare app offers, among other things, a menstrual cycle calendar that reminds women to check their own breasts every month.
The breast selfexam is explained with illustrated instructions. There are also links to public sector entities, such as offices for migration and integration and certified breast centers, which women can contact for more information or if they have questions about their options in the German healthcare system.
The breastcare app is now available in the Apple and Google app stores or via the website: www.breastcare.app.
There are no so-called in-app purchases and as a non-profit project the app is ad-free. At no point do users have to enter personal data that is stored outside their mobile device. All functions of the app can be used without registration.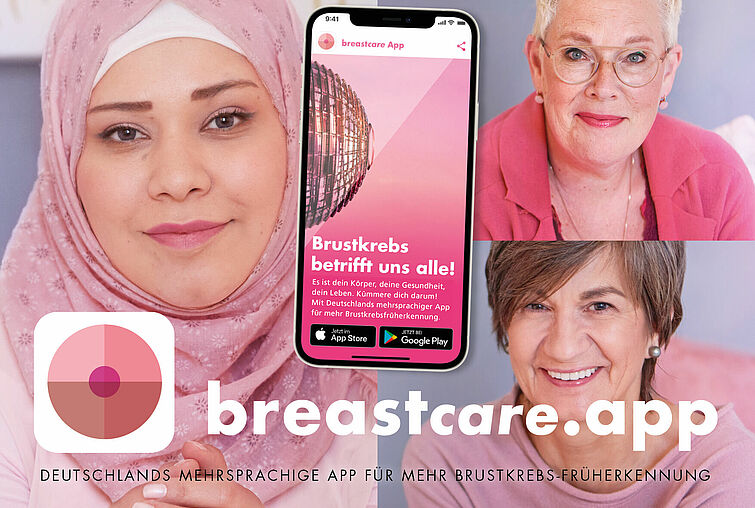 The campaign's slogan in Germany is: "Early detection of breast cancer? Palpate, don't look away!". This is meant to remind women that doctors recommend annual preventive examinations for women from the age of 30 and that these are also paid for by statutory health insurers.
In addition, women can help to detect potential cancer in good time by palpating their breasts themselves every month – around 80 % of breast carcinomas are detected by self-scanning.
The app uses the preset user language of the cell phone. This means that if the cell phone is set to French, for example, the app is automatically loaded in this language. If a language is not available yet, the English version is loaded automatically.
If the user changes the phone's system language, the app's language will change automatically as well. It might be that the app needs to be closed and restarted again. There is no need of reinstalling the app.
The breastcare app was made possible by the support of Philips Foundation.
It important to always remember that early detection of breast cancer can save lives. We encourage all our female readers to download the app. Our male readers can save the lives of women dear to them by forwarding to them this information and encouraging them to download the breastcare app.