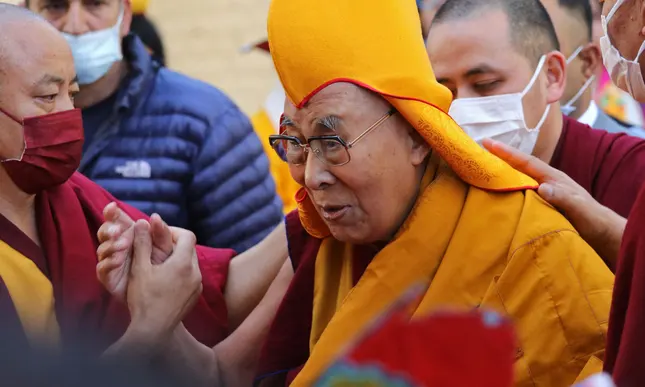 World news. Indian Religious leader Dalai Lama has been facing backlash and has apologised after kissing boy and asking him to 'suck my tongue' in front of people and cameras.
The video, that has gone viral, shows an interaction that took place in late February at the Dalai Lama's temple in Dharamshala has been condemned as 'inappropriate' and 'scandalous' and has led to terrible accusations.
The event was attended by about 100 young students who had just graduated from the Indian M3M Foundation. The Dalai Lama, Tenzin Gyatso, is the holiest figure in Tibetan Buddhism and has lived in exile in India since 1959, when Tibet was annexed by China.
Why did the Dalai Lama kiss the young boy?
In the video, one of the young male students approached a microphone at the event and asked the Dalai Lama: "Can I hug you?"
The Dalai Lama, 87, told the boy to come up to the platform where he was seated. Motioning to his cheek, he is heard saying "first here", after which the child kissed him and gave him a hug.
According to the Guardian, the Dalai Lama kept hold of the boy, saying "I think here also" and then planted a kiss on his lips. "And suck my tongue," the Dalai Lama then said, sticking out his tongue, forehead to forehead with the student. The boy quickly stuck out his own tongue and went to move away while the Dalai Lama laughed and pulled the boy in for another hug, as the audience laughed.
As the video spread across the internet it was condemned by many, who called it "inappropriate", "scandalous" and "disgusting". The controversy prompted an apology from the office of the Dalai Lama, who said his behaviour had been "innocent and playful".
READ MORE: Nollywood Actress Juliet Ibrahim reveals terrifying rape ordeal as she urges victims to report abusers

More than 50 women in DRC sexually assaulted by WHO Ebola aid workers
It said in a statement: "His holiness wishes to apologise to the boy and his family as well as his many friends across the world, for the hurt his words may have caused.
"His holiness often teases people he meets in an innocent and playful way, even in public and before cameras. He regrets the incident."
The Dalai Lama has faced previous controversies. In 2019 he caused an outcry after suggesting that if the Dalai Lama returned as a woman "she should be more attractive", for which his office apologised.