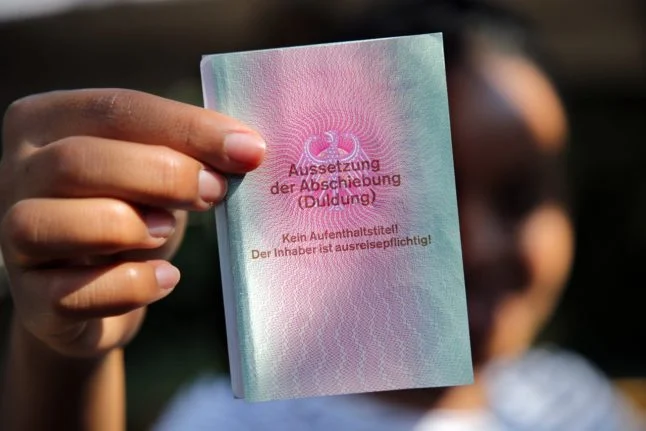 Residency in Germany. Germany's government has passed a law that will see people with a 'tolerated stay' gain a new path to permanent residency in Germany. Here's what it means for those living in Germany and what it means for migrants?
After much debate the Bundestag passed a law that will gain the right of opportunity to stay (Chancel-Aufenthaltsrecht).
In the parliamentary vote, 371 MPs from the traffic-light coalition parties – the Social Democrats (SPD), Greens and Free Democrats (FPD) – voted in favour of the bill. A total of 226 parliamentarians voted against, including 157 CDU/CSU MPs, 66 MPs from the far-right Alternative for Germany (AfD) party and three independents.
The new law aims to provide a new path to residency for people who have lived in Germany on a 'tolerated stay' permit for at least five years by October 31st, 2022. This group will now be given 18 months to fulfil the criteria for permanent residency.
This will include proving you have at least B1 German language skills and showing that they can financially support themselves.
Who does NOT qualify for the new residency permit?
People who have committed crimes or given false information about their identity won't have the opportunity to apply for a residence permit.
What is the meaning of Duldung or 'tolerated stay'?
A tolerated stay permit, or Duldung, is granted to people who have been barred from staying in Germany but are in practice, unable to leave. We wrote about: Germany: What 'Duldung' means for Refugees in Germany
Their reasons could be due to their health, caring duties, the situation present in their home country or having a lack of identification papers. In Germany, it is estimated that around 136,600 people have been living in the country on this status for at least five years, including people who have sought asylum but whose applications have been turned down.
Germany has historically dealt with these tricky situations by suspending deportation and choosing to instead offer 'Duldung', which allows the person in question to stay for the time being.
Some migrants who end up in vocational training or work have been awarded special statuses that enable them to enter training or employment while living on a tolerated stay permit.
The situation for most migrants remains undecided and since the 'tolerated' status is temporary, authorities often end up issuing multiple permits over time causing stress and uncertainty for many. This is very evident in the case of a refugee who committed suicide because of the uncertainty surrounding his decision to stay in Germany, we wrote about it HERE.
How will life change for migrants who gain this new residency?
For those who speak a bit of German and have a secure livelihood, things could become a lot easier in future.
Those who have been living in Germany for at least five years will be given an 18-month permit which will give them time to switch from a tenuous tolerated status to official permanent residency. In addition, people aged 27 or under and particularly well-integrated adults will be given this opportunity after just three years of residence.
This allows them to take up work or training, becoming self-employed, start a business and claim social benefits.
What benefits do they gain?
Skilled workers who come to Germany will also have an easier time bringing their family over in future as the government has permanently waived language requirements for spouses of highly qualified workers.
Germany wants to make language and integration courses more available and speed up the process of applying for asylum in future.
People who have committed crimes or considered dangerous will be removed from the country more easily.