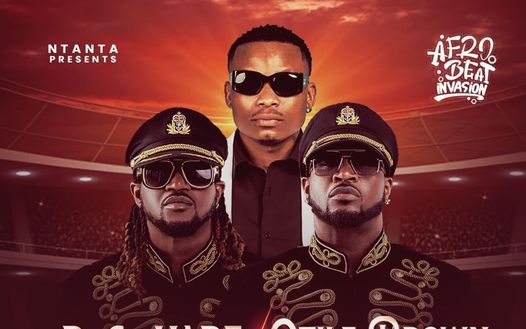 African Festivals in Germany. Nigerian music group, P-Square, are set to perform live in München, Germany at the Afrobeatz Invasion event and this is the first time the duo are performing since their breakup.
The Afrobeat Invasion will be taking place on 11th March from 8pm till dawn at the Audi Dome Arena in München, Germany and will be accompanied with an after-party.
Africa's Biggest & Most Exciting Performers as you know them from way back, I am King Grudy and Peter P-square, are back together and will be headlining the Afrobeatz Invasion Concert in München.
The Afrobeatz Invasion event will also be hosting other big African stars such as Kenyan Bongo artiste, Otile Brown, who is expected to spice up the night – especially for the East-African crowd.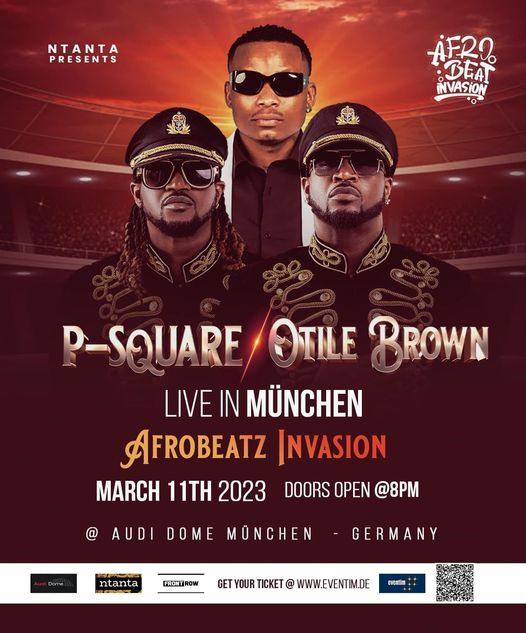 Event organisers, Ntanta Entertainment, promise more artist will be added to the line-up to entertain guests at this amazing event and fans should stay tuned for more!!
Tickets are available here
Who is P-Square?
P-Square is a Nigerian music duo consisting of the twin brothers Peter Okoye and Paul Okoye. They produced and released their albums through Square Records In December 2011, signing a record deal with Akon's Konvict Muzik label.
In May 2012, P-Square signed a record distribution deal with Universal Music South Africa. On 25 September 2017, numerous media outlets reported that the group disbanded. Reports about a breakup surfaced after Peter reportedly sent a termination letter to the group's lawyer. Prior to this report, the duo disbanded in 2016, supposedly over a disagreement about the role of their manager.
On 17 November 2021, the duo ended their long time feud and reconciled.
On 21 July 2022, P-Square released two new singles titled "Jaiye (Ihe Geme)" and "Find Somebody" as a worldwide hit for their reconciliation.
Who is Otile Brown?
Jacob Obunga popularly known as Otile Brown is a Kenyan independent R&B singer, songwriter, guitarist and actor. He gained media attention after the release of his hit single "Imaginary Love" which features Khaligraph Jones. He released his debut studio album, Best of Otile Brown, in April 2017.
The album was supported by the singles "Basi", "Alivyonipenda", "Shujaa Wako", "DeJavu" and "Aiyolela". Brown had also collaborated with artists such as Sanaipei Tande, and Barakah The Prince, King Kaka among others.
He is the last born in a family of four- three brothers and one sister. Otile started singing and writing songs at age 13.