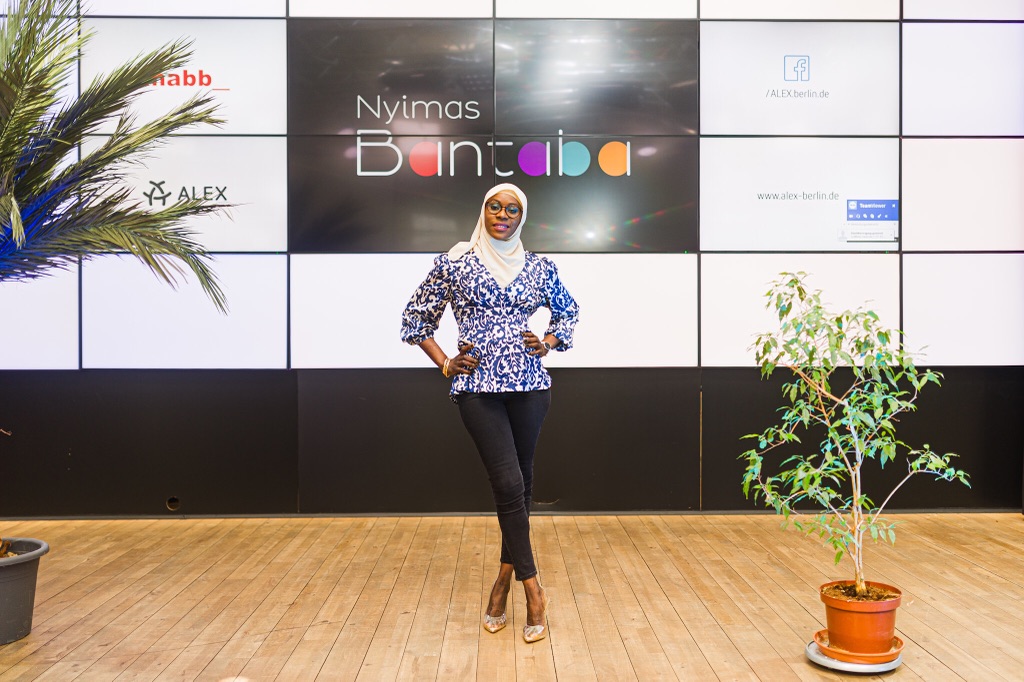 Africans in Germany. Nyima Jadama, a journalist who dedicates her social life to activism in Germany, has been awarded for her work against racism, exclusion, discrimination, and right-wing extremism in Berlin.
The Silvio Meier Award 2023 was presented to Ms. Jadama and the Peace Train Association on Thursday in an award ceremony characterised by a live music performance at the Youth (Resistance) Museum in Berlin.
The award winners were selected by a jury panel of civil society representatives, public officers in the district office of Friedrichshain-Kreuzberg in Berlin, and the district council of Friedrichshain-Kreuzberg.
"We received numerous award-worthy nominations that reflected the lively and diverse commitment in our district," said the president of the jury panel, who is also the head of the district assembly of Friedrichshain-Kreuzberg, Mr. Werner Heck.
"We are very pleased to be able to honour the journalist and activist Nyima Jadama, and the Peace Train association, two award winners working in different ways for migrants and people with refugee experience, especially young people and children."
In the award citation, Ms. Jadama is recognised for her outstanding commitment, both professionally and voluntarily, against racism and discrimination and for standing for people of colour that are on the move.
Mr. Mathias Hoffman, who nominated Ms. Jadama for the Award, said he had worked with her on a project called 'Partnership for Democracy' where they worked against racism and other forms of discrimination in the Friedrichshain-Kreuzberg district of Berlin.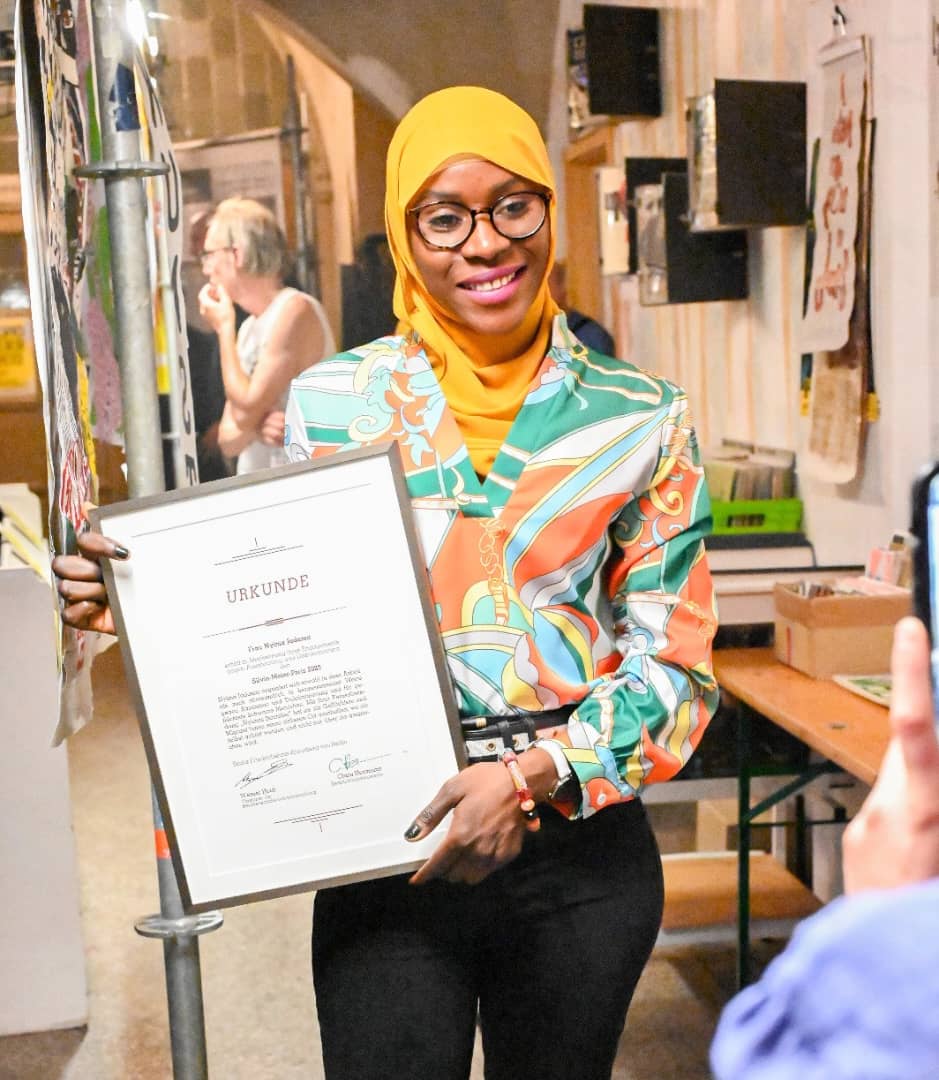 "During this period, I observed many good qualities in Nyima, which is why I nominated her," he explained. "One of the reasons is that Nyima can professionally interact with people of different statuses.
This is amazing because many Germans can only talk to people close to them or those in the same level or social class. But Nyima accepts no class borders; she can talk, with complete respect, with a feeble man, and the next moment she is talking with a very rich woman. And she is emphatic and professional in all her dealings.
Speaking of the Award, she told Afronews Germany she was so happy to receive the prize, she never saw it coming. Out of passion, she chose to stand for refugees and immigrants and against racism and other discrimination against migrants.
"Honestly, I did not expect to receive such an honour at all," Ms. Jadama said. "I did not see it coming because when I do something, I do it wholeheartedly without expecting any honours. However, I am glad my work has been recognised by the people I support and the whole community, especially at a district level."
She dedicated the Award to the people she serves: the refugees and other immigrants who live with stories of racism and discrimination.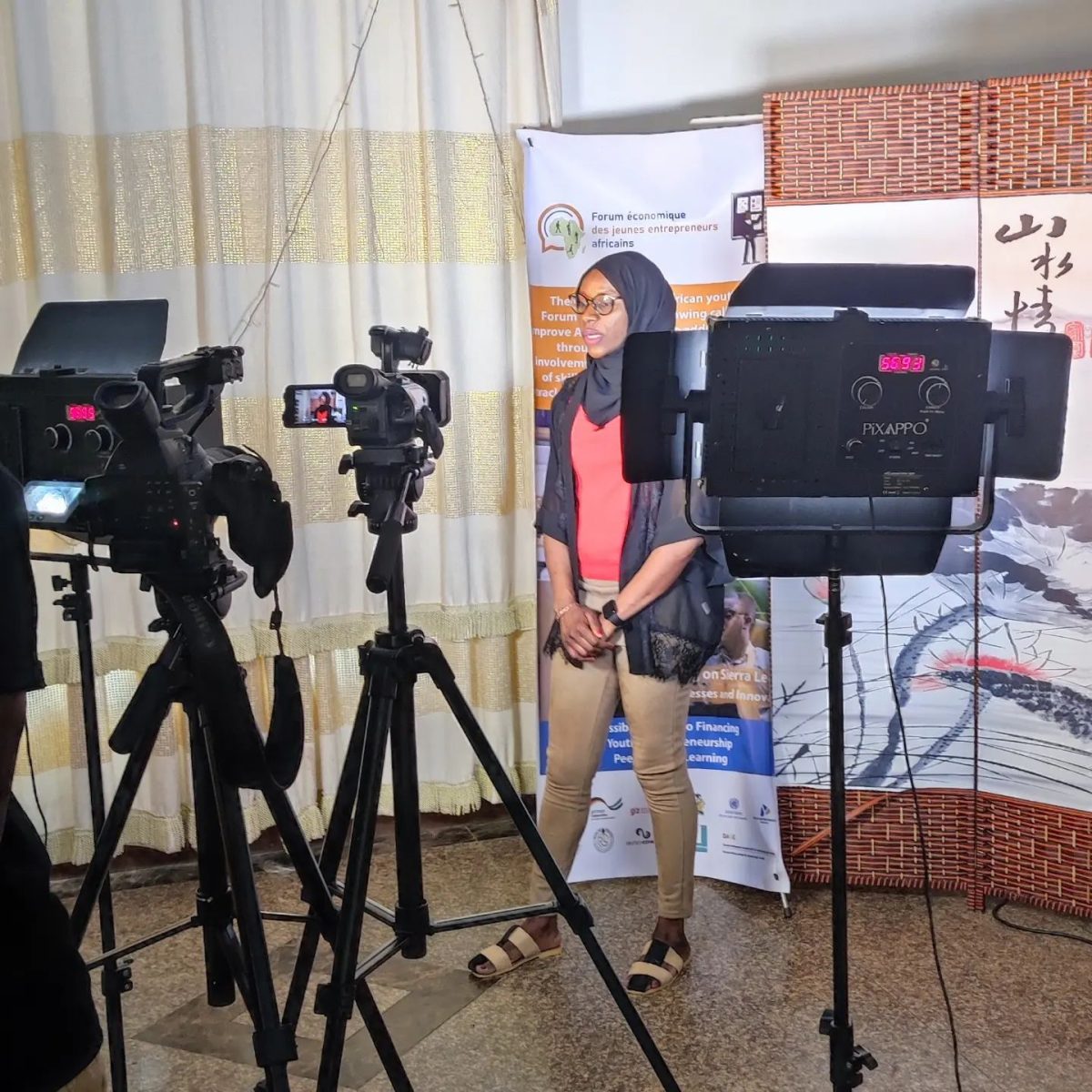 Who is Nyima Jadama?
A Gambian by nationality, Nyima Jadama was a practicing journalist in The Gambia. She used to write for The Standard newspaper before traveling to Germany in 2015, where she has lived ever since.
In Berlin, she worked, among other occupation, as a social worker at Gangway e.V., where she offered support to migrants, refugees, and homeless people. She co-initiated the annual' Görli Jam' music festival at a famous Görlitzer Park in Berlin. She is also the organiser of the annual 'Kids Bantaba,' where children of African descent are exposed to different African cultures and traditions. And she also voluntarily supports the Gambian Association in Berlin. 
With her TV show 'Nyima's Bantaba' on ALEX Berlin, a bilingual (German-English) TV, Nyima created a safe place for refugees and migrants to speak on migration, women's empowerment, culture, racism, and discrimination.
Nyima was the 2022 African TV Personality of The Year at the African Community in Germany Awards/AFRONEWS Awards. (Link below)
FIND OUT MORE ABOUT THIS HERE:
Nyima Jadama wins Best African TV Personality in Germany at AFRONEWS – Ortel Mobile African Community in Germany Awards 2022
In 2021, she was selected as the first refugee advisor for the German government at the 'High-Level Official Meeting (HLOM)' in Geneva, Switzerland. She is a member of the Global Refugee Led Network and a board member of the European Coalition of Migrants and Refugees.
That same year, she was recognised among the 60 'Most Outstanding African Men and Women' during the pandemic by the African Women in Europe, a network of African women and youth from all over Europe.
About the Silvio Meier Award
The Award bears the name of Silvio Meier, a passionate fighter for freedom and political emancipation, and honours individuals, groups, initiatives, or projects that actively campaign or have campaigned in the district of Friedrichshain-Kreuzberg against social paternalism, incapacitation, discrimination, social and cultural exclusion.
Silvio Meier was a person who courageously stood up for freedom and democracy. He was just as active in Berlin's peace and human rights movement as he was in his commitment against right-wing extremism. Unfortunately, he was stabbed to death by neo-Nazis in 1992 at the age of 27.
With the Silvio Meier Award, the district of Friedrichshain-Kreuzberg commemorates a courageous person who passionately stood up for tolerance and took a clear stand against right-wing extremism, racism, exclusion, and discrimination. In its 8th year, the Award encourages active, non-violent advocacy for freedom, and political or cultural emancipation, regardless of origin, race, or religion.
READ MORE: List of top Africans in Germany and Afro-German YouTubers to follow with amazing content