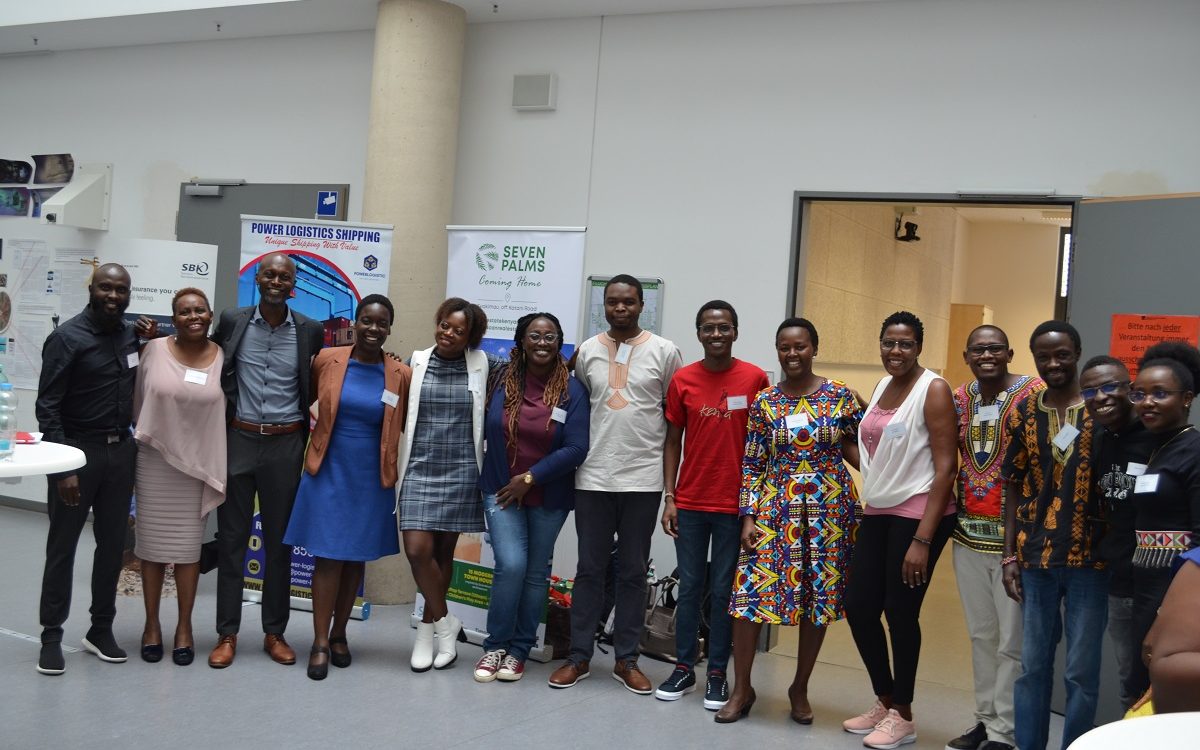 Africans in Germany. The AG-Career Hub, the largest network for Kenyan Professionals in Germany, is inviting all to the End of Year 2022 Career & Business Meet-Up in Frankfurt.
During the meetup, the group will have the chance to review the models attendees should apply to enable them to evaluate and measure the success/failure of the goals they have set.
Several Kenyan Professionals, Students and Business Founders will be in attendance to share their career journey with all. The event will help one answer questions like, what factors should you consider when setting career and business goals?
This amazing event is to take place on the 10th December 2022 at Frankfurt, DJH Jugendherberge Frankfurt, Deutschherrnufer 12, 60594 Frankfurt am Main.
Who will be the speakers at the event?
Kizito Odhiambo – CEO & Founder of agriBORA
Wanjiku Mwaurah – Journalist, Deutsche Welle, Germany
Angelo Ngugi Becker – UI/UX Designer & Entrepreneur
Joy Wendo – Software Developer & Musician
Daniel Ogutu – Medical Doctor Founder of Doki's Advice
Wambui Kamande – Teacher (Special Educatn in Germany co-founder of KAAAL and TWMB & musician)
Arikose Beha – Integration Officer Stadtverwaltung in Furtwanged
Rachel Njau – Project Coordinator Life & Mindset Coach for Women
Panellists – Working in Germany, Work-life Balance & Conflict Management:
Anita Kisilu Psychologist, Moderator, Conflict Management & Communication Trainer Afrika Kommt Fellow
Collins Ronoh – Agile Transformation
Evalyne Mungai – Customer Success Manager Drees & Sommer
Phil Samoei – Technical Manager Sumup
Click here to see the insights of the last event on 27 August 2022 in Nürnberg: Gallery
What is included in the Career & Business Networking Meet up Program: Agenda
The program will include;
Transforming Farming in Africa, Kizito Odhiambo
Changing the narrative of Africa through Media, Wanjiku Mwaurah
Transforming the Health Care Sector in Kenya through Skills and Knowledge Transfer, Dr. med Daniel Ogutu
When is the best time to start with investments? How do I diversify my risks? Angelo Ngugi
IT Skills needed in the job market & Remote Jobs, Joy Wendo
Erasing deficit-oriented pedagogy, Wambui Kamande
Empowering Communities, Inspiring Change, Arikosi Beha & Rachel Njau
The Kids-Corner
During the event, there will be a Kids-Corner where STEM activities will be conducted like art work and many others. There are limited slots for children so book your slots here!!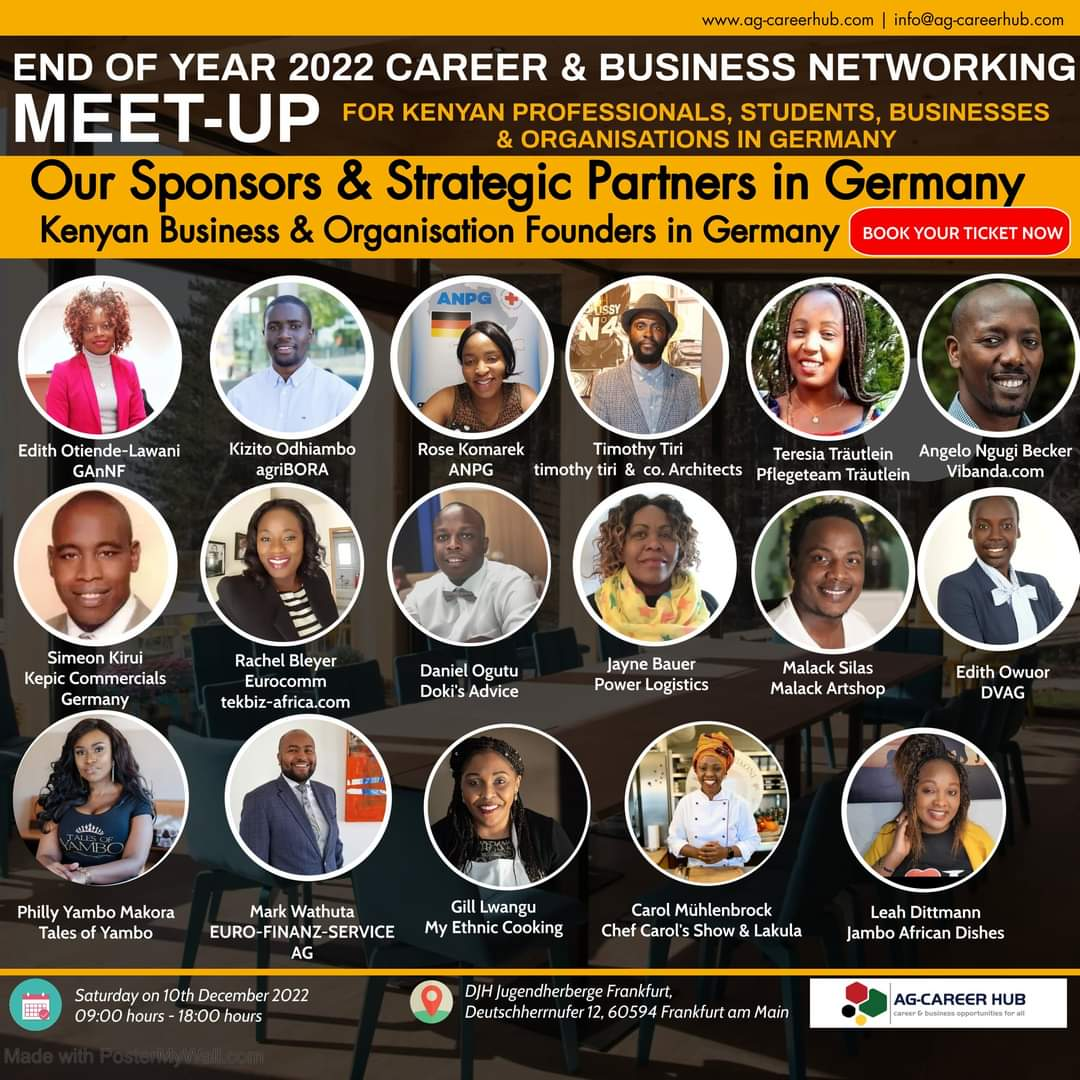 All you need to know about AG-Career Hub
AG-Career Hub, founded by Kenyan Professionals based in Germany, is an information and consulting platform with a key focus of establishing linkages to facilitate partnerships and collaborations with companies, universities and diaspora communities in Germany and in Africa.
The organisation was founded in 2018 and is the largest network for Kenyan Professionals in Germany. Together with its team and a pool of experts and mentors, the group creates linkages, mentors, coaches, trains young professionals and shares career and business opportunities in Germany and in Africa.
The community is made up of companies, students and professionals who studied, trained, worked in Germany or are in self employment and some have relocated back to their countries of origin.
AG-Career Hub was nominated for Best African Association in Germany Award 2021, at the AFRONEWS – Ortel Mobile African Community in Germany Awards 2021. Read more about AG-Career Hub HERE.
For any inquires e-Mail: info@ag-careerhub.com