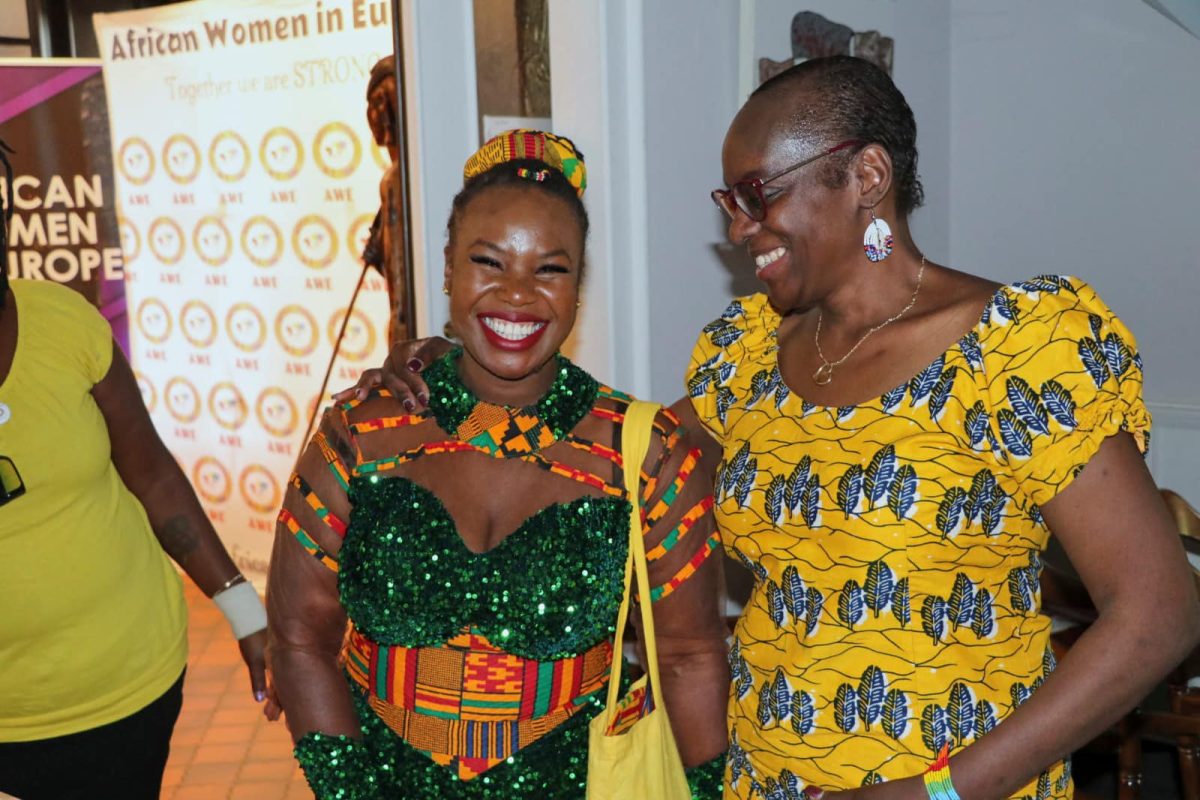 Africans in Germany and Europe. The African Women in Europe (AWE) Summit 2023 is set to go down in Brussels, Belgium this year bringing African women, men and youth from all over Europe under one roof with one common goal.
The theme for this year's AWE SUMMIT 2023 is Diaspora Inclusion in the Value Chain which will shed light on women, men and the youth who form the clogs and gears that contribute unwavering support towards the growth and development of the African continent.
The summit will be taking place on the 3rd of June 2023 at 13:00 to 24:00 CET and the venue is nhow Brussels Bloom Hotel, Rue Royale – Koningsstraat, 250, 1210 Brussels , Belgium. All AWE members friends, fans and supporters are invited to the Summit.
The AWE Summit is held every other year and brings together African Women, Men and Youth from all over Europe to one place with one cause, mainly, the unification of Africans towards a common goal.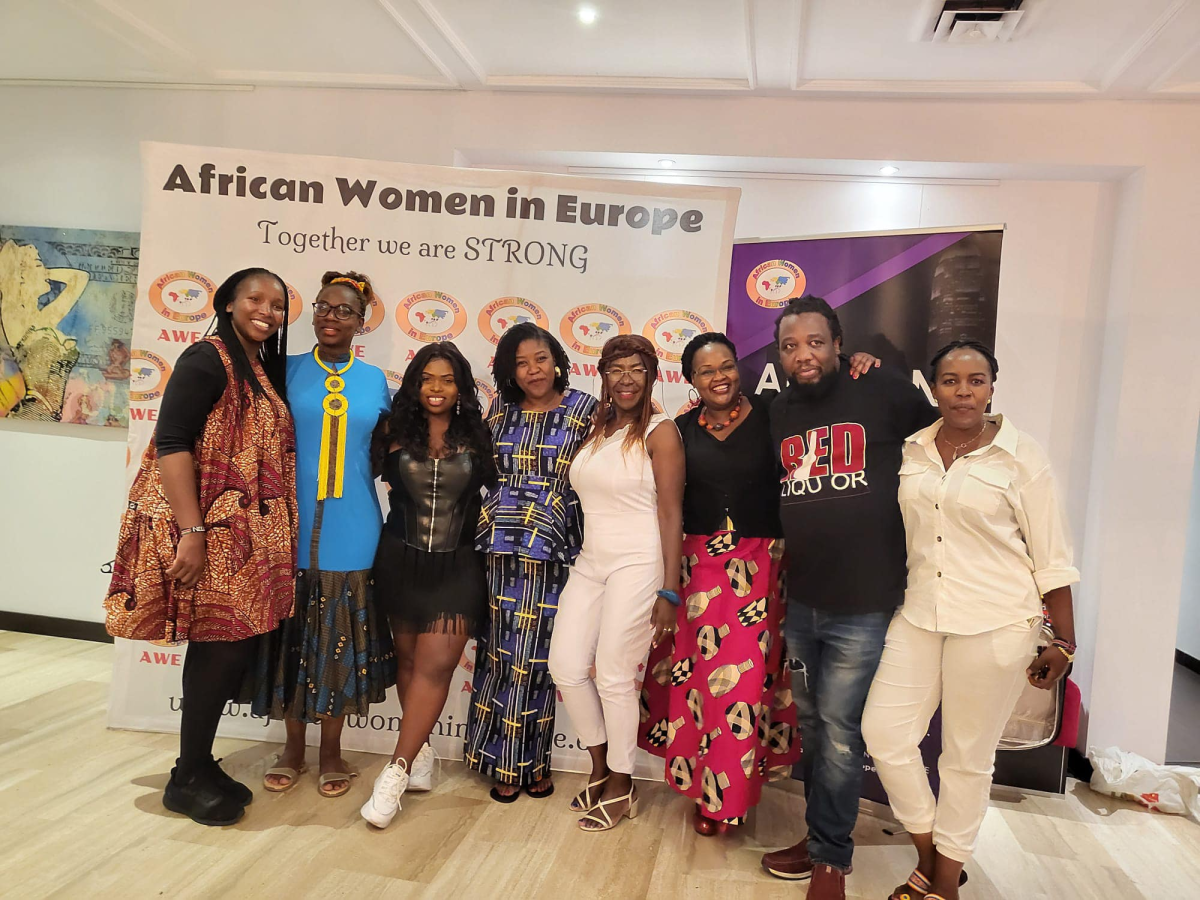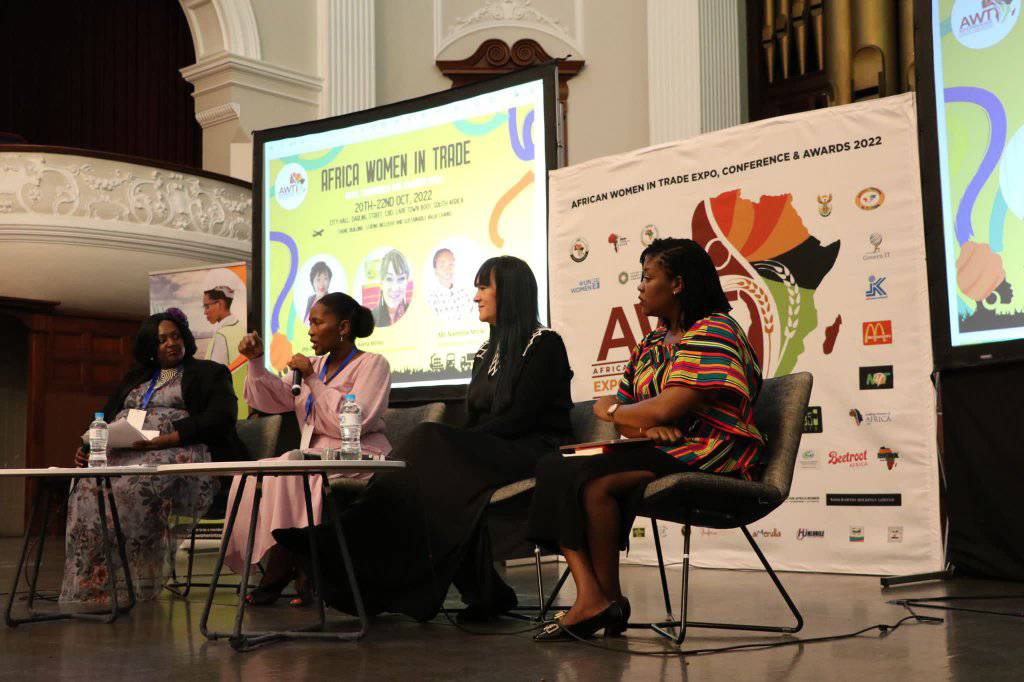 Following the Theme of the year "Diaspora Inclusion in the Value Chain" the event will be recognising and awarding Diaspora women, men and youth who are involved in supporting the African continent economically; either in their community in Africa or in the diaspora. This will include all sectors.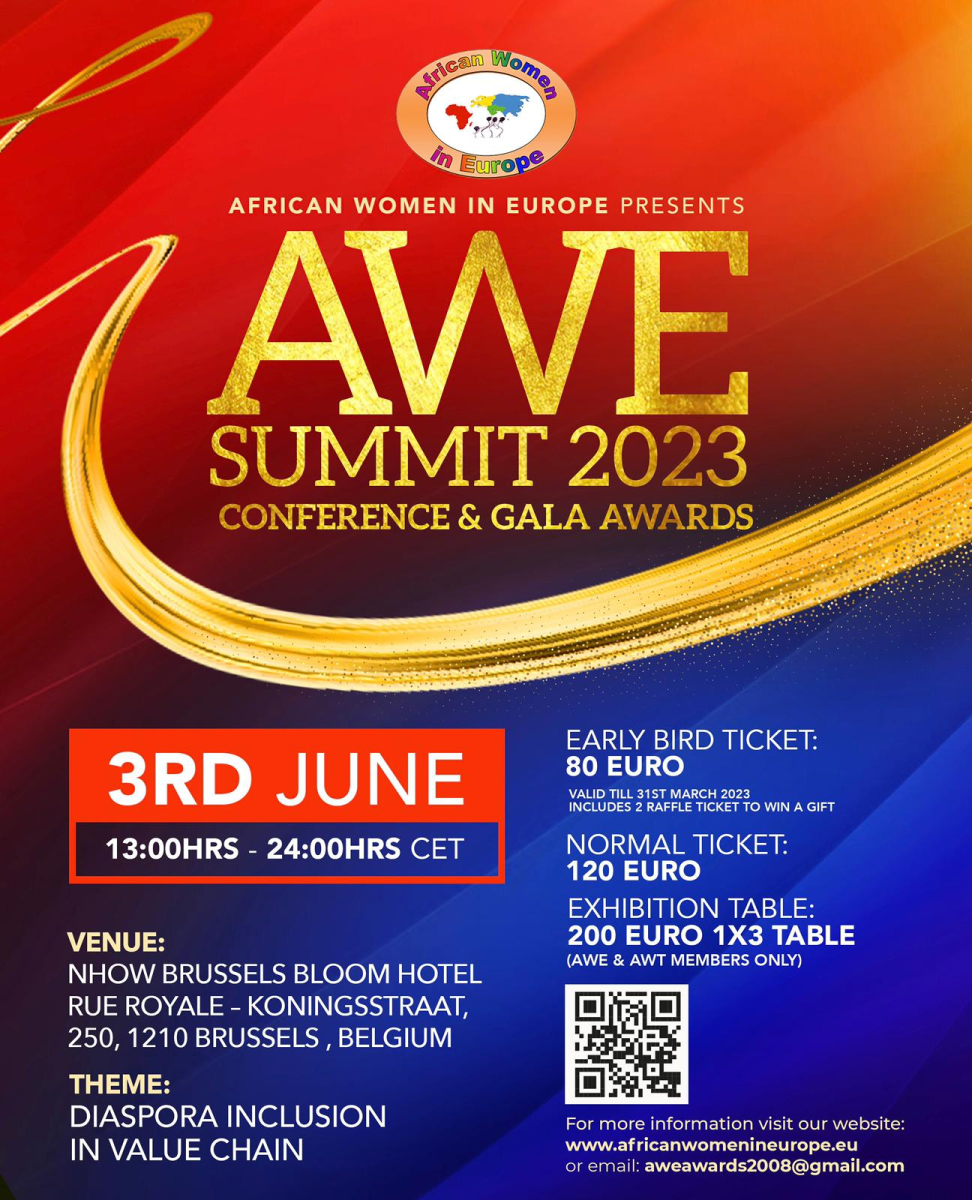 The AWE Summit 2023 will kick off with an educative and informative conference, after which it will culminate into the famous AWE Gala Awards.
What will be topics of discussion at the AWE Summit 2023?
"Building Bridges: Understanding the African Business Landscape" – Presentation that provides an overview of the African business landscape, including the challenges and opportunities. The workshop will explore the various ways the diaspora can get involved, including investment opportunities, entrepreneurship, and partnerships with existing businesses.
"Partnering for Success: Matchmaking between the Diaspora and African Businesses" – Presentation that connects diaspora entrepreneurs and businesses with their African counterparts. The workshop will provide a platform for matchmaking, networking, and the sharing of business ideas and experiences.
"From the Diaspora to Africa: Navigating the Legal and Regulatory Landscape" – Presentation that provides practical advice on how to navigate the legal and regulatory environment in Africa and Europe. The workshop will cover topics such as company formation, intellectual property protection, and compliance with local laws and regulations.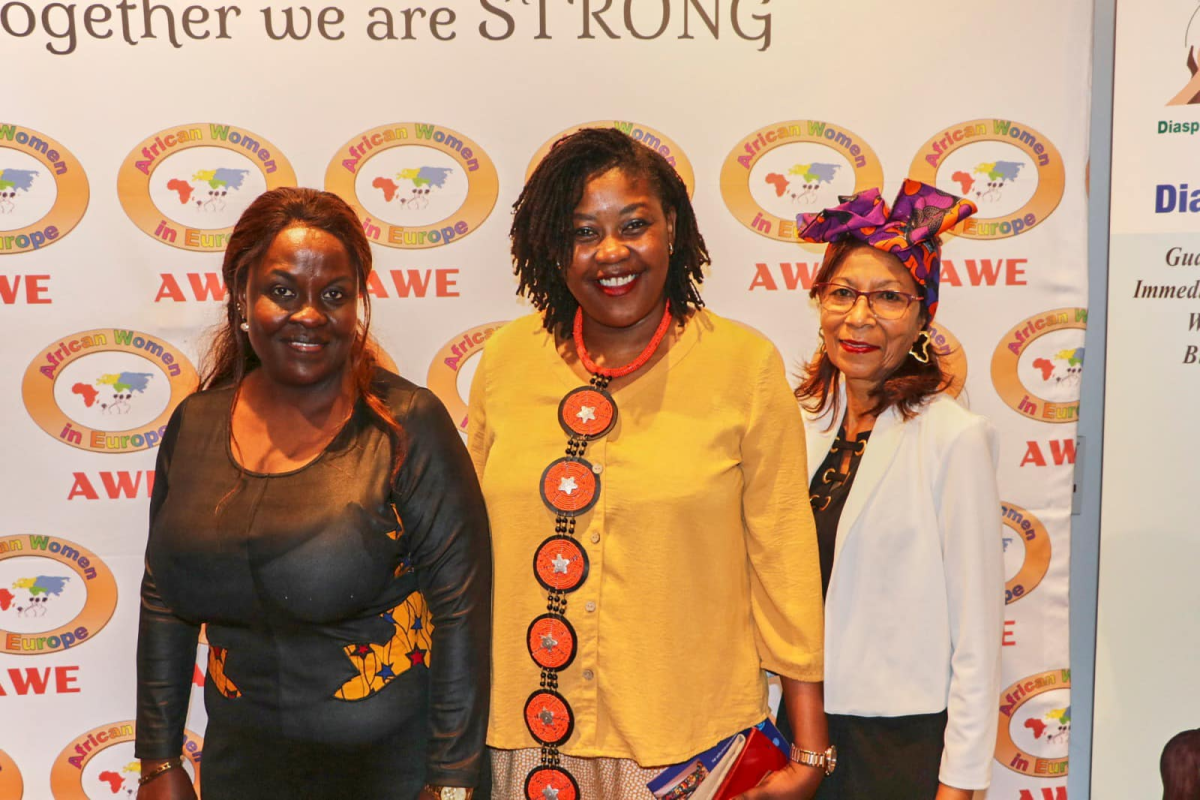 "Fostering Cross-Cultural Collaboration: Strategies for Successful Business Partnerships between the Diaspora and Africa" – A workshop that focuses on the cultural differences and challenges that arise when partnering with businesses in Africa. The workshop will provide strategies for overcoming these challenges and fostering successful cross-cultural business partnerships.
"Sustainable Investing in Africa: Understanding the Social and Environmental Impact of Diaspora Investments" – A workshop that explores the impact of diaspora investments on the social and environmental well-being of African communities. The workshop will provide practical advice on how to invest in Africa in a responsible and sustainable manner.
We talked to Joy Zenz (AWE & AWT founder) who shed some light on the event and what people, and especially Africans in Europe, should look forward to;
What is expected to be different about this year's summit 2023 as compared to former ones?
This year is a special year where we merge all countries to meet in one country and the first AWE Summit.
Can you share what noticeable efforts hosting the summit will make towards supporting the African continent?
The summit theme : Diaspora Inclusion in the Value chain, was a result of one of AWE projects that was launched in 2021 – Africa Women in Trade (AWT) with the aim of supporting women and youth in business under the AfCFTA Agreement.
What is the motivation behind hosting the summit and why is it important for everyone, especially Africans in Europe, to attend?
The networking and knowledge sharing is an added advantage to anyone attending the event . We welcome all Africans in the diaspora in Europe to come with open minds to learn something new.
We will be also hosting an Award ceremony to celebrate achievements of AWE members who own Africa business in Europe or Africa .
This year's stakes will be higher as the organisers of the summit promised a lucky attendee who books their early bird ticket a chance to win 2 raffle tickets to win a flight to Africa. The announcement read:
Book your Early Bird Ticket!!
Ends 31st March 2023 and win 2 raffle tickets to win a flight ticket to Africa.
Book your tickets here: AWE SUMMIT 2023 TICKETS
For more Info on the event please contact :
Email: info@africanwomenineurope.eu
Website: africanwomenineurope.eu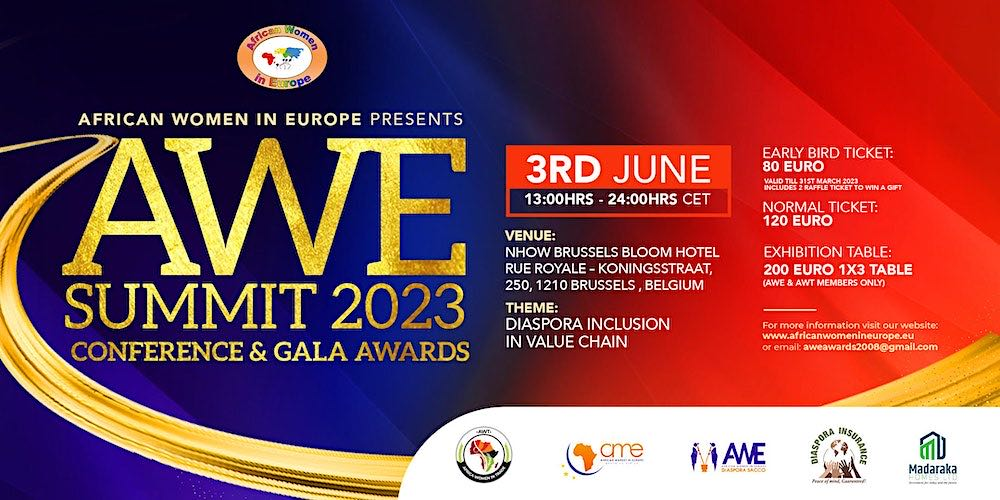 What is African Women In Europe (AWE)?
African Women in Europe (AWE) is an organisation founded by Joy Wanjiru Zenz, a Kenyan Woman in Germany together with other African women. It is meant to empower African women, support upcoming and existing entrepreneurs and positively reflect the image of an African woman.
African Women in Europe has over the years grown to a membership of over 6,000 African women in Europe and globally, over the past 14 years. These are women who support, encourage and inspire each other while investing both in Europe and in Africa in support of Africa's economic development.
READ RELATED NEWS: African Women in Europe (AWE) releases new app