Players from Paris Saint-Germain PSG-Istanbul Basaksehir match warmed up wearing T-shirts with "No To Racism" written on them and then took a knee together with the match officials before their Champions League game resumed on Wednesday.
This was a day after walking off the field in protest. The players returned to the Parc des Princes and knelt together with match officials in a display of unity against racism.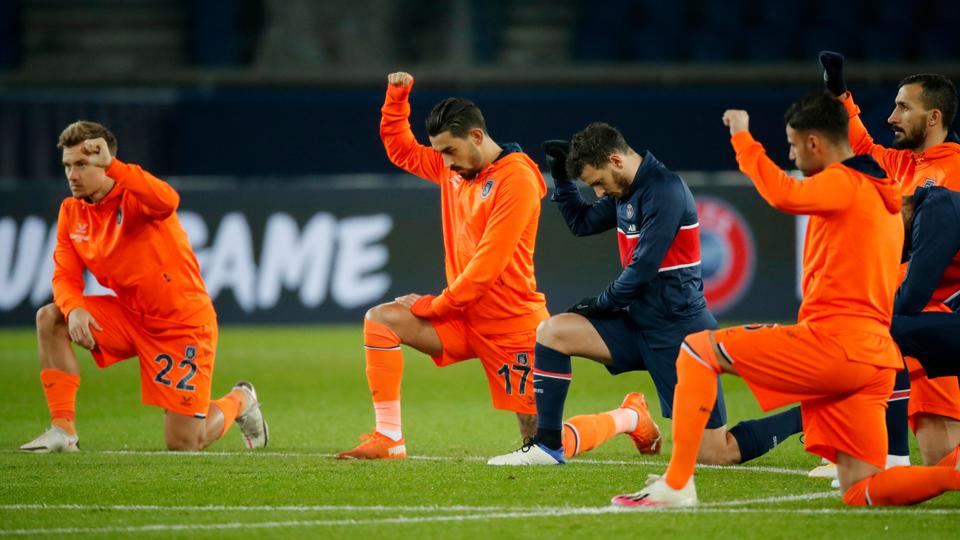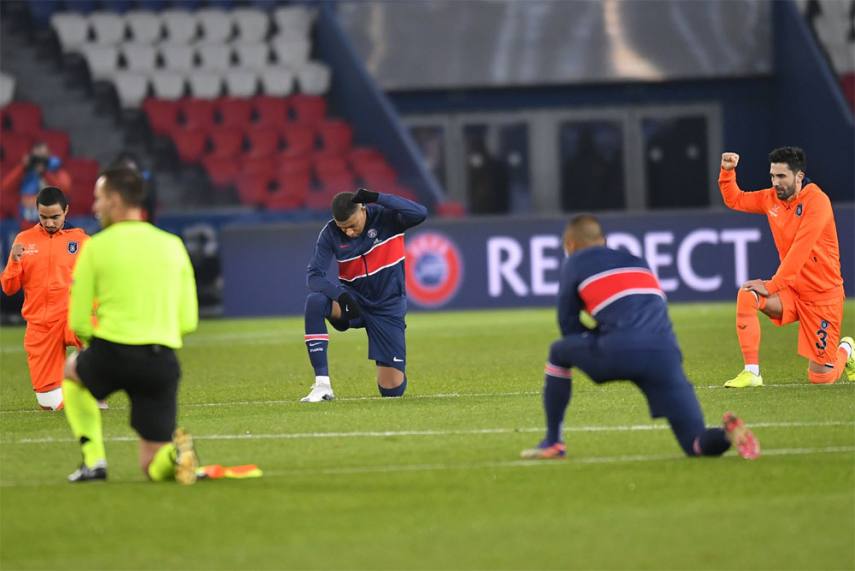 What prompted the PSG-Istanbul Basaksehir match players to take a knee?
This stand was taken in support of halting racism in European soccer. In an unprecedented incident in European football's elite club competition, Basaksehir players walked from the Parc de Princes pitch after the Romanian fourth official Sebastian Coltescu allegedly referred to assistant coach Pierre Webo, the former Cameroon striker, using a racist term. We wrote about this here>>.
Webo reacted angrily, shouting at Coltescu: "Why did you say negro?"
The Romanain referee, Ovidiu Hategan, appeared to ask his countryman who he was supposed to give the red card to from the bench and the fourth official, Coltescu, allegedly said "the black one."
Basaksehir's substitute forward Demba Ba was heard saying to Coltescu: "You never this say 'this white guy', you say 'this guy', so why when you mention… listen to me… so why when you mention a black guy [do] you have to say 'this black guy'?"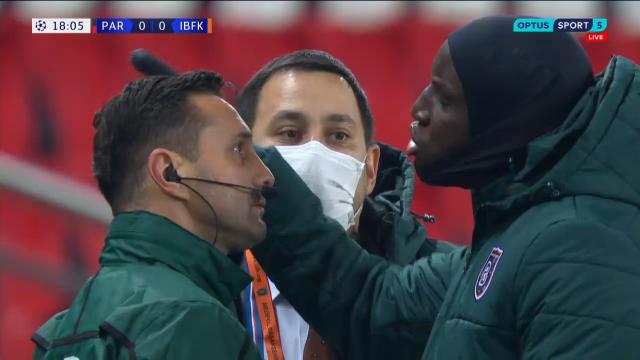 "Nothing beats actions. We're tired of this, we never want to experience this again," PSG striker Kylian Mbappe told broadcaster Telefoot. "We weren't disappointed about not playing [on Tuesday], we were proud of it. Because if you let this kind of thing happen then it becomes the norm."
There were two banners side by side in the stadium with a message against racism, written in English and French, and another supporting Webo, who also wore the T-shirt when he warmed up with the squad.
The game restarted with the clock at 13 minutes, 30 seconds with a free kick for Basaksehir. That was the moment when play was suspended with the score at 0-0 after PSG-Istanbul Basaksehir match players walked off the field.
They were enraged at the language used by Coltescu when identifying Webo to referee Ovidiu Hategan, who had asked which assistant coach should be sent off.
Basaksehir coach Okan Buruk said "you are racist" to Coltescu, asking him to leave the field, while PSG striker Kylian Mbappe was heard saying he did not want to play unless Coltescu left.