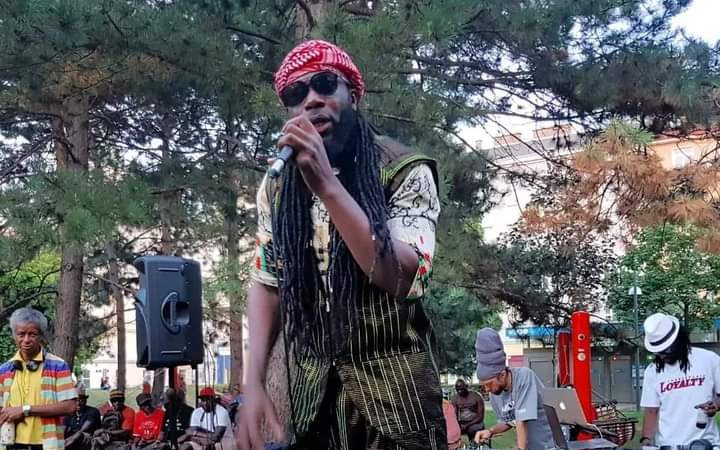 African music. Black Thunder, Switzerland based Gambian afro-Reggae dancehall artiste, has released a new album called 'Jah on your way' available on all digital platforms worldwide.
Black Thunder is set be performing live on stage in Napoli Italy, alongside Deejay Ousk of RockVibz and DJ Guezite Bruno, in At Ex Sabore Latino via Monte Santo 59 on 3rd September 2022.
The eleven-track album's rythm was made by Pac music and Hardcore Production and mixed and mastered by GSC Records and produced by Black Energy Records. 
Thunder is currently on an European tour and has so far performed in Germany, Austria and Switzerland and he is billed to play in Italy, Finland and Malta.
'The album depicts messages of inspiration, encouragement and solutions to global peace with equity and fairness, he told AfroNews Germany. ' The album pays tribute to great African Warriors and urges young people people to stick to African cultural norms and values'
READ MORE: T-Smallz-Suso, Gambian International Musician wraps-up 2022 Europe tour in Malta
He explained that after two years of a pandemic it was time to put a smile on the faces of humanity to smile again through music. " I am touring all over Europe to spread the messages of oneness peace love and unity as a solution to global peace," he said.
He noted that the tour is expected to continue in Africa in the winter in various cities across the continent as proper messages are needed to inspire the young people in this toxic world.
Below you can stream the album live on various digital platforms worldwide here.
Youtube: Black Thunder
Spotify: Black Thunder
Amazon: Black Thunder
By: Bakary Ceesay
READ MORE: Gambian musician Black Thunder releases new song "Tonyaa Kesso" with a powerful message for politicians