Winners of the AFRONEWS – Ortel Mobile African Community in Germany Awards Gala Night in Eschborn on 22nd October 2022 were beyond excited to bag their awards and we managed to get some reactions from them shared online. Here is how they feel about winning: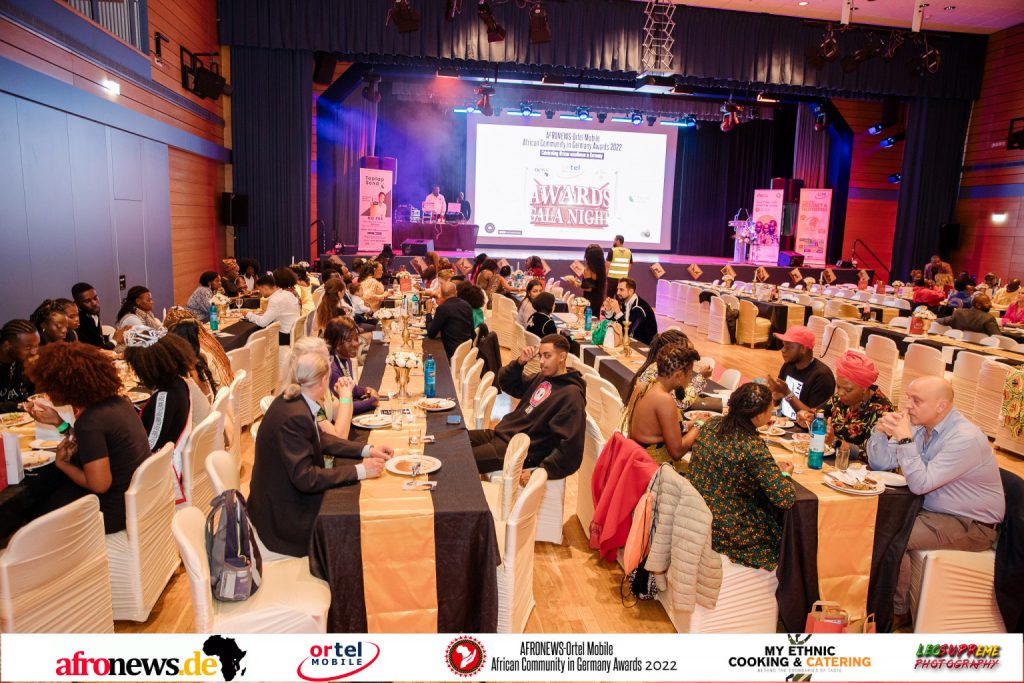 The winners of the AFRONEWS – Ortel Mobile African Community in Germany Awards 2022 are:
• The Best African Business/Entrepreneur in Germany 2022: Kumbirai Chipadza
• The Best African Radio Station in Germany 2022: Radio R FM
• The Best African Author in Germany 2022: Diana Mac Omolo
• The Best African Gastronomy – Restaurant/Caterer in Germany 2022: Mary Ikhuoria
• The Best African Fashion Designer in Europe 2022: Roselyne Ogonya
• The Best African Events Organiser in Germany 2022: Christopher Mendy (Chris Black)
• The Best African Actor in Germany 2022: Prince Ogugua Igwe
• The Best African TV Personality in Germany 2022: Nyima Jadama
• The Best African Association in Germany 2022: Kultur und Evangelium Musik Expo e.V.
• The Best African Teacher/Coach in Germany 2022: Evelyne Waithira Mueller
• Best African Musician/Band in Germany 2022: Joy Wendo
• The Best African Beauty & Hair Salon in Germany 2022: Joyce Avoka
• The Best African DJ in Germany 2022: Babajide Moibi (DJ Freegah)
• Lifetime Achievement Award 2022: Elizabeth Horlemann
Prince Ogugua Igwe won best African Actor in Germany and the talented Nollywood actor shared some touching words about his win and what it meant to him, his fans and Africa as a continent.
Mr Ogugua posted these words on his social media page: 'Promoting Nollywood Worldwide!! Making Igwe-Nwa-Ede, Emene Nike community, Enugu State, Nigeria and Africa proud. Thanks so much to you, you and you for being there for me. Without you, there will be no me!! God-win.'
Here is a picture of Prince receiving his award the Gala Night.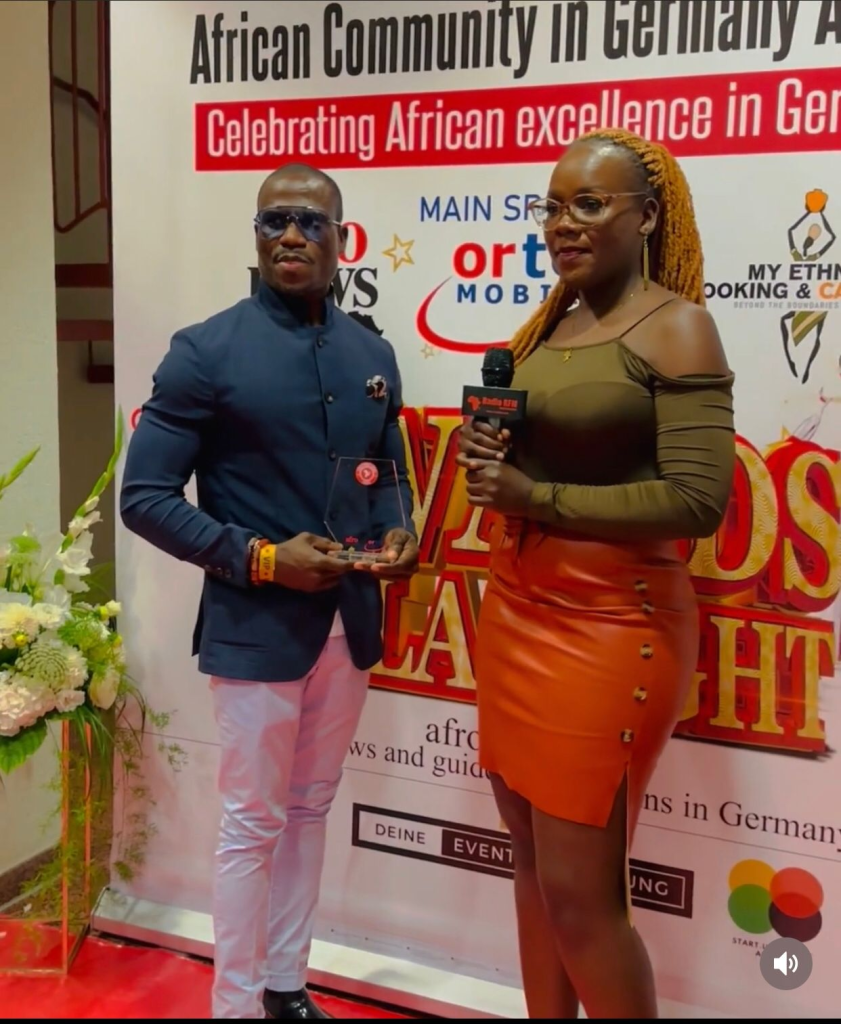 The Best African TV personality 2022 went to Nyima Jadama who shared that being awarded was a great step towards her media career and that she was grateful for all the support rendered towards her journey. Be if from family, friends and colleagues.
"This accolade is a challenge for me to thrive hard, as finding a space in the German media isn't an easy thing to do despite one experiences, it takes a lot of hard work and dedication to be able to penetrate or at least find a space. This is mostly due to either a language barrier and the fact that it is not as diverse as we think it is."
Nyima challenged other African immigrants and especially women with media/journalism background to work hard and never give up when pursuing their goal.
'Every million miles starts with a step.'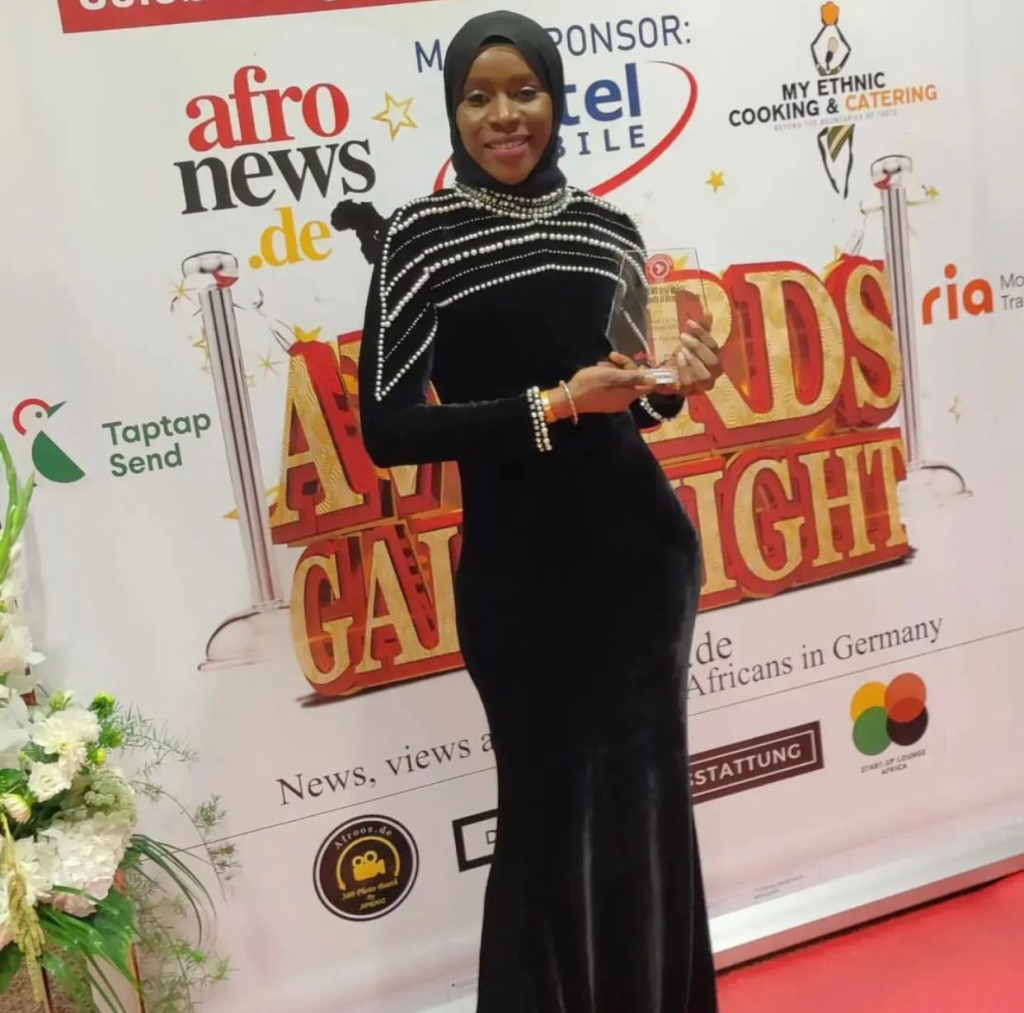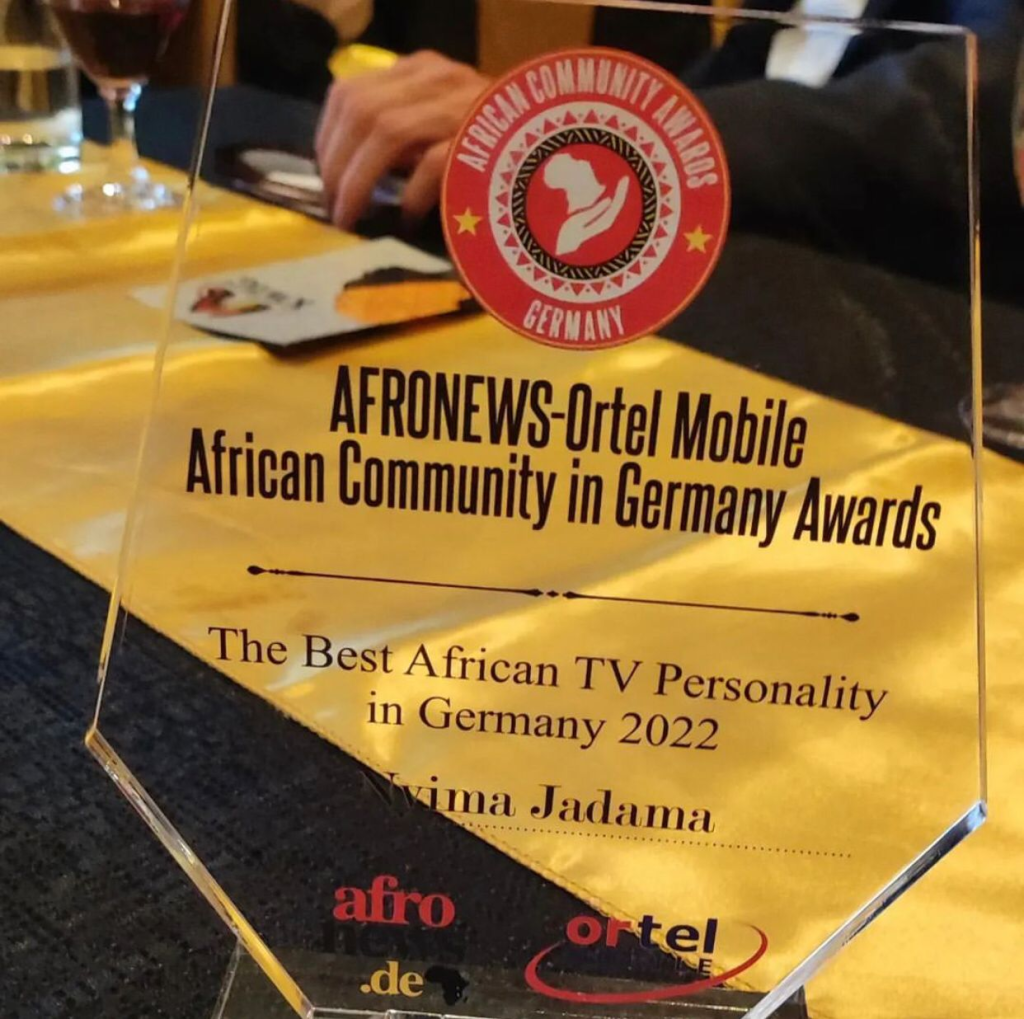 Amazing MC, singer, performer and winner of best Musician/Band in Germany 2022, Joy Wendo, had nothing short of an amazing tribute to share with Afronews and her fans.
Joy shared that: It has taken me 3 days to calm down from the overwhelming congratulatory messages you sent, I am not even done responding to all of you so in case you wrote and haven't heard from me just yet, I'm still composing myself and being grateful for your support behind the scenes.
She added that she was particularly proud of all the nominees because even being awards for an award already speaks volumes about ones' achievements and their hard-work.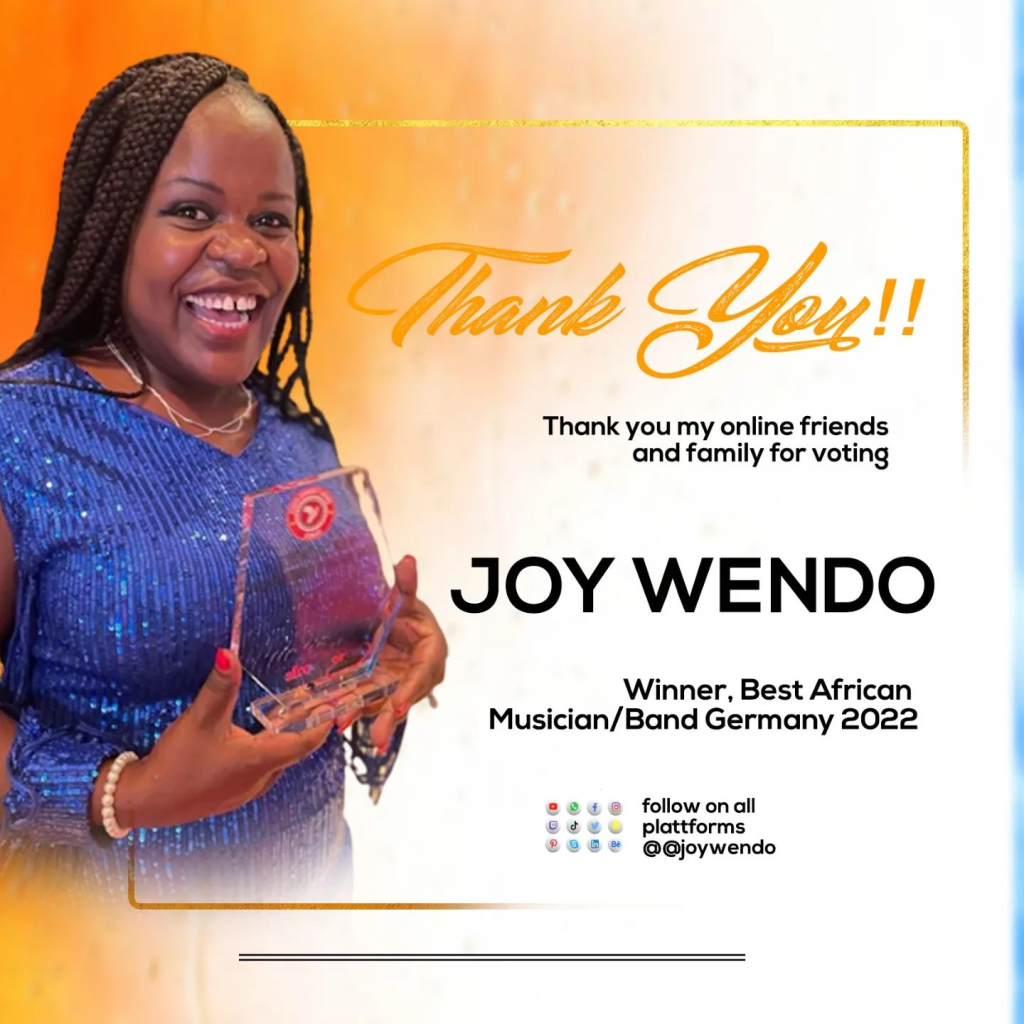 She finished by congratulating all the winners at the Gala Night and urged them to keep soaring higher and working harder to represent the African continent across the globe.
Joy Wendo also thanked AFRONEWS and Ortel Mobile for organising the event whose sole purpose is to recognise African people living in Germany.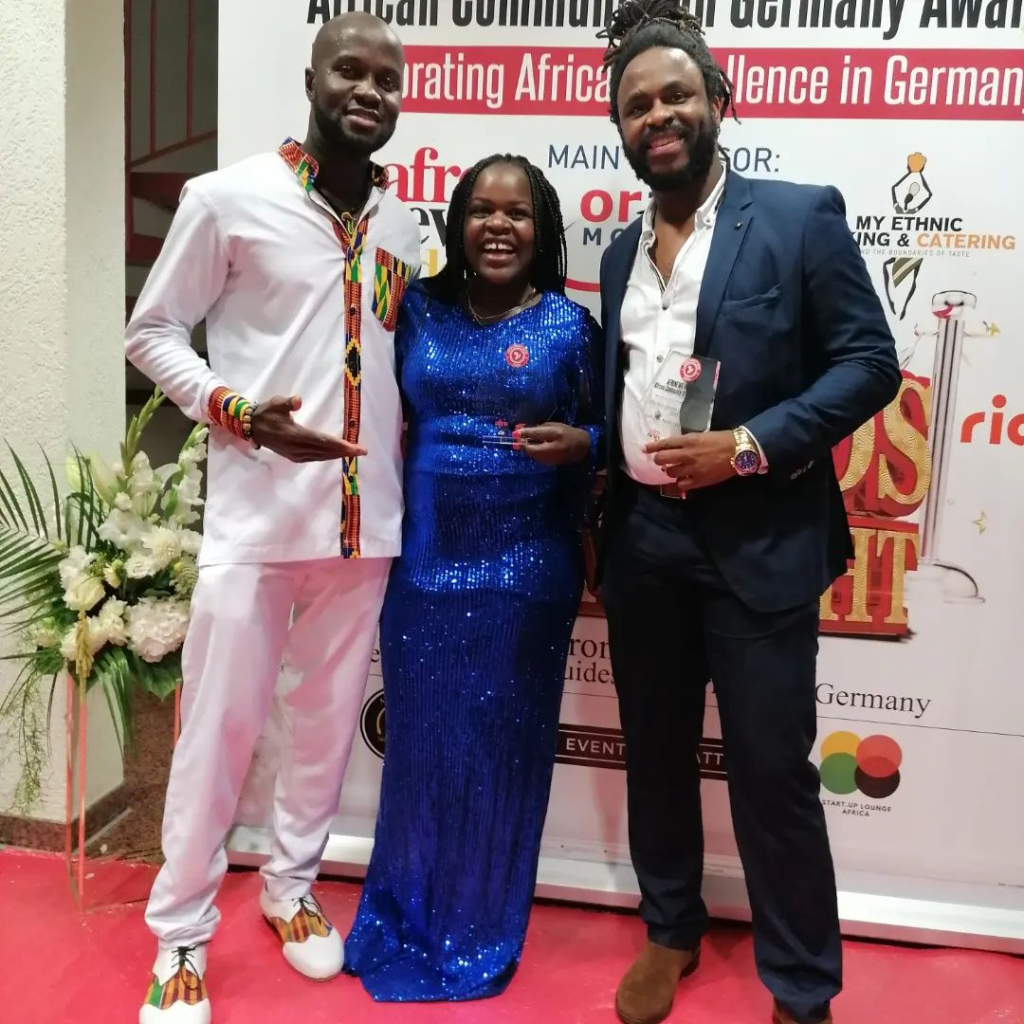 "Although there are still so many African people doing amazing things here, those known and the unknown ones, there's still a huge gap between the numbers and the initiatives like this one who recognise the work that the amazing Africans do. You are closing the gap and this is so amazing of you."
Representing the Kenyan community in her win for Best Author was Diana Mac Omolo who thanked everyone for being wonderful fans of her book 'Love Comes to Munich'.
"I feel thrilled, recognised and empowered because you All made it happen in one way or the other. Thank you Organisers and the Afronews Germany Team for putting such a platform enabling Africans to Celebrate themselves, their deeds and the Achievements that set pace for the upcoming generation. We are a wonderful Community. We are a wonderful Community.'
She also thanked Afronews for doing a 'great job telling stories to empower, educate and uplift.'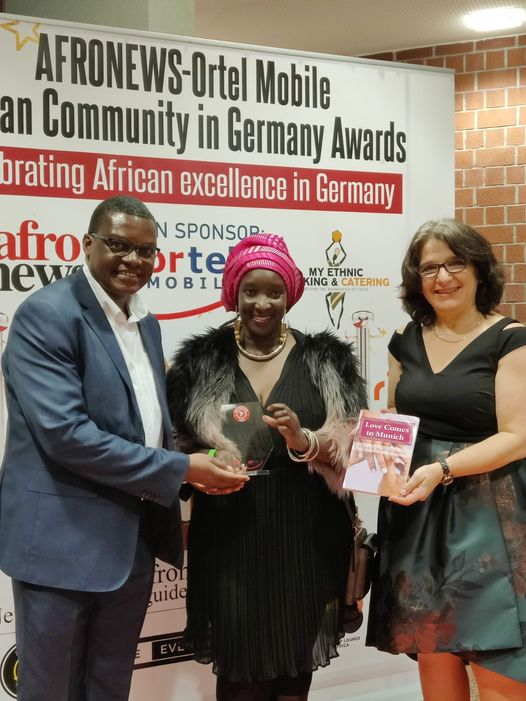 READ THESE BOOKS BY DIANA MAC OMOLO: "Jerome The Coolest Kicker", story book for kids shows how sports can facilitate integration

"Love Comes to Munich", a sizzling, romantic and spicy love affair novel published
Inter-respect training founder Mohamed El Boujaddaini came in second for Best teacher in Germany 2022 runners up. Mohamed was also a key figure in the organisation of the awards.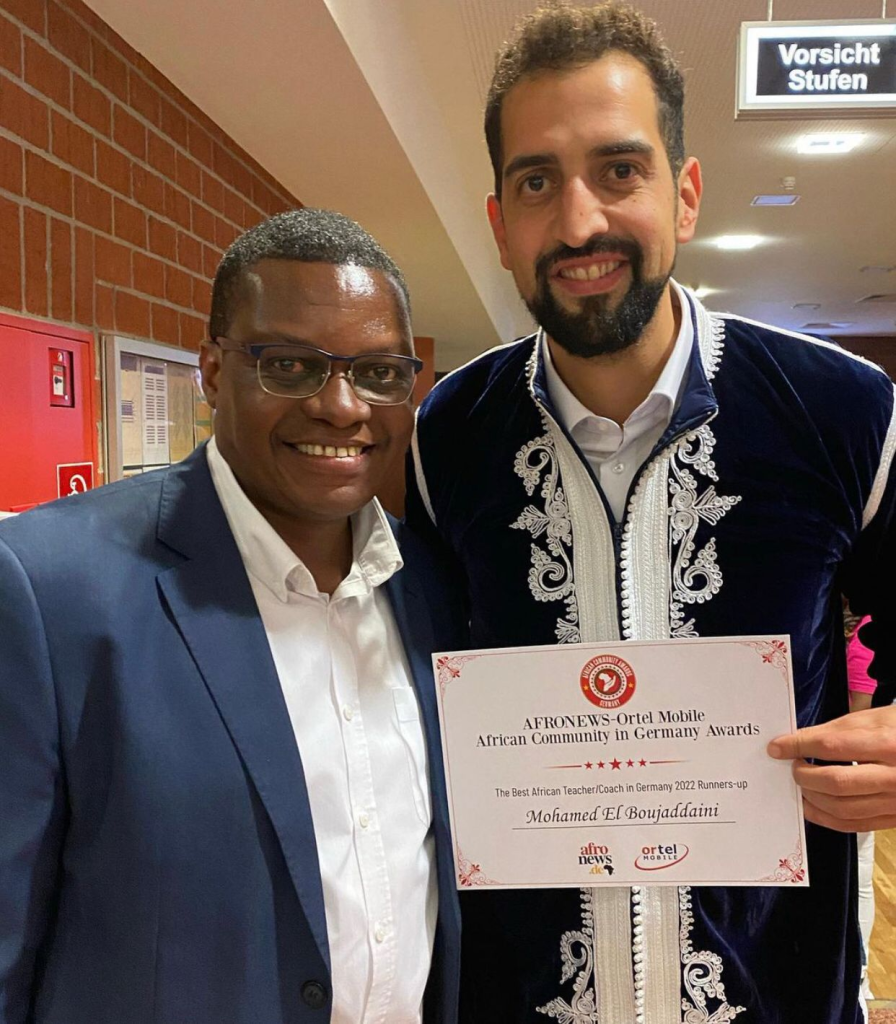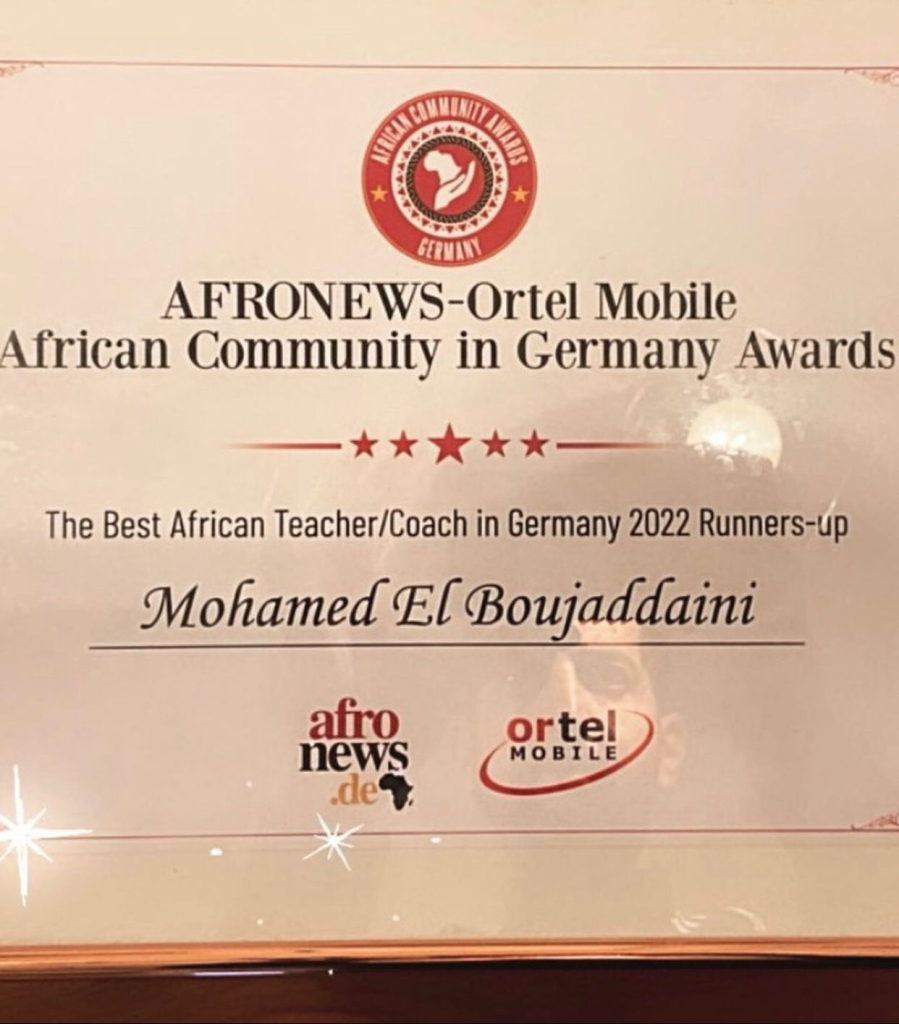 The best African Radio station in Germany 2022 was taken home by Radio99.2 FM. The radio station shared this on their post:
"Firstly thank you to almighty God for planting the seed, thank you to all the listeners because without you there is no Radio RFM, thank you to the Radio RFM family in Germany and Kenya that work tirelessly daily and Weekly to create new content and broadcast to the world, thank you to all the Artists, Promoters and Creatives that have walked through our Studio doors, thank you to the Radio RFM Patrons, thank you to all the people that voted for us and lastly thank you to the African Community Awards, Afronews.de and Ortel Mobile for including us in your Nominations."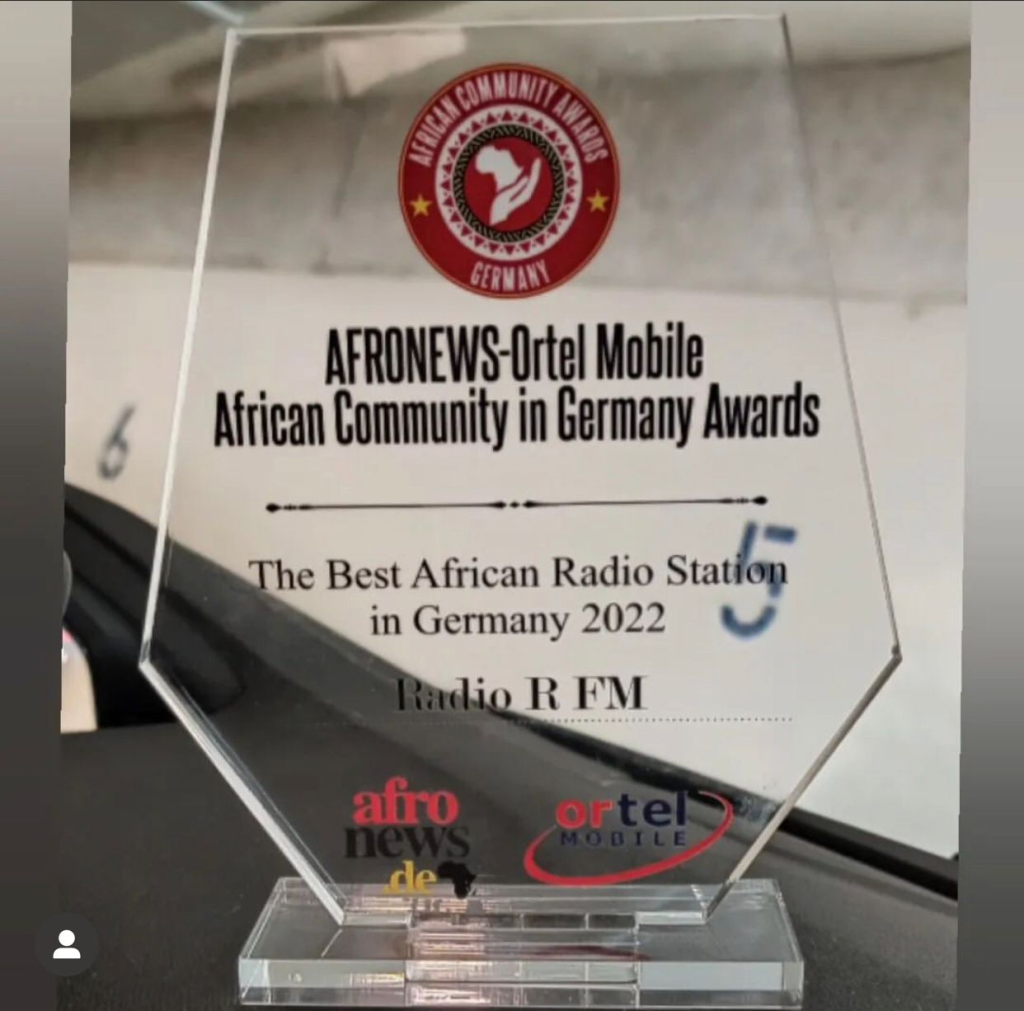 Evelyne Waithira Mueller bagged the best teacher/coach in Germany representing Africans and also Kenyans in Germany. This amazing lady is am amazing life coach and psychologist empowering women with a migration background. She also teaches;
Achieving happiness and a fulfilling life
Keeping one's confidence and,
Self-worth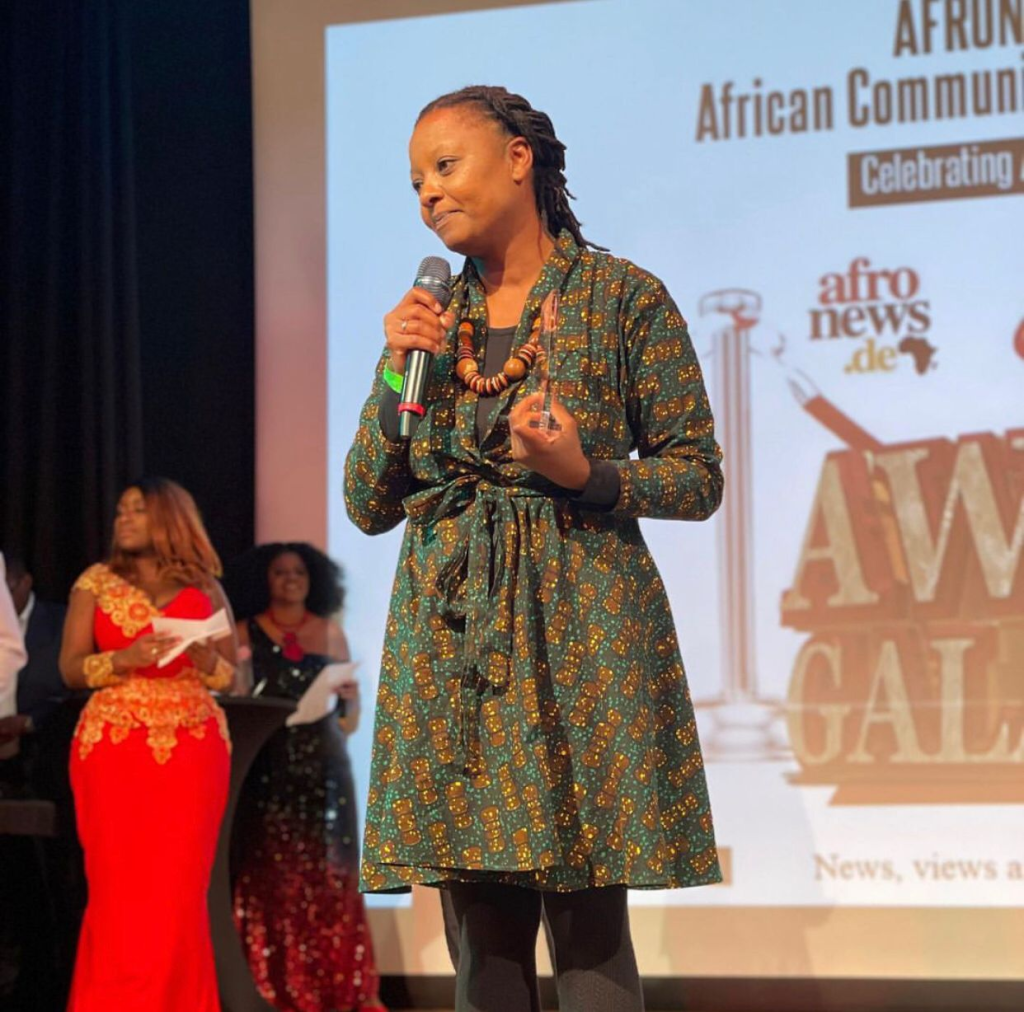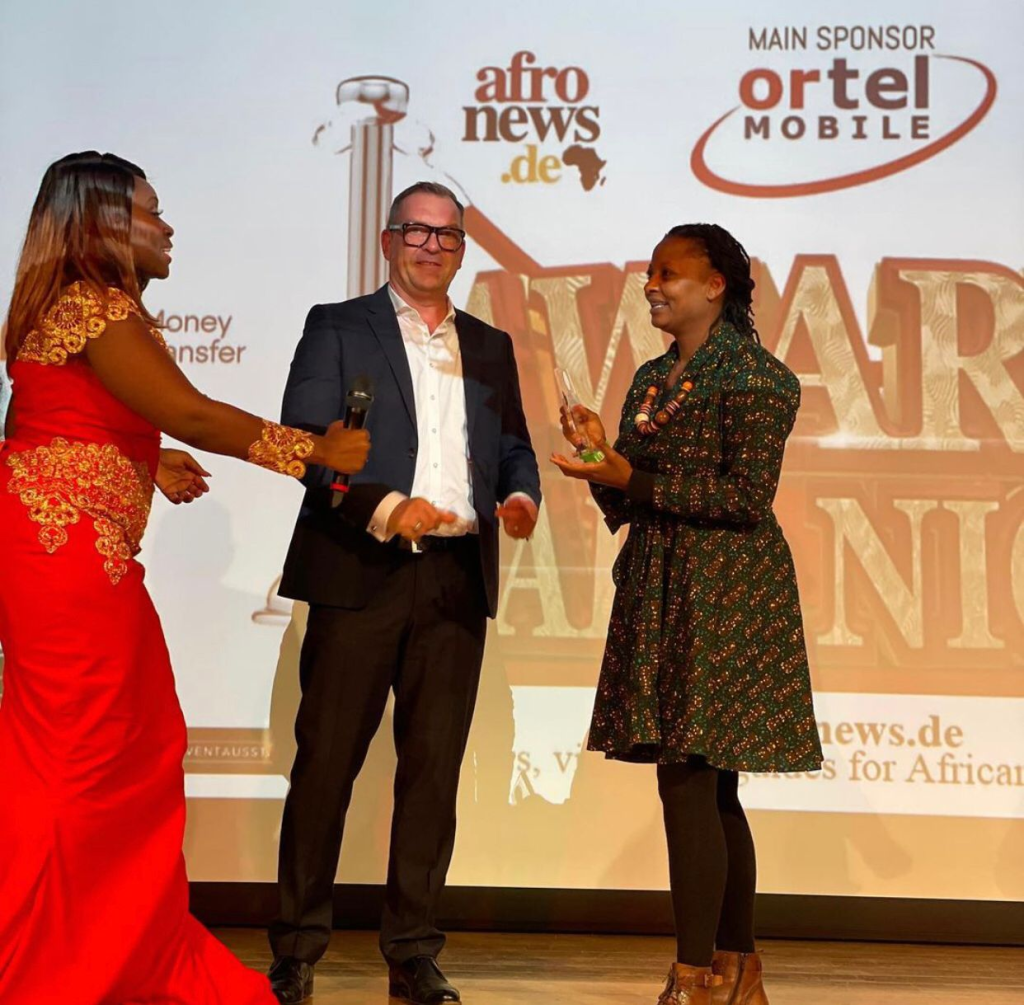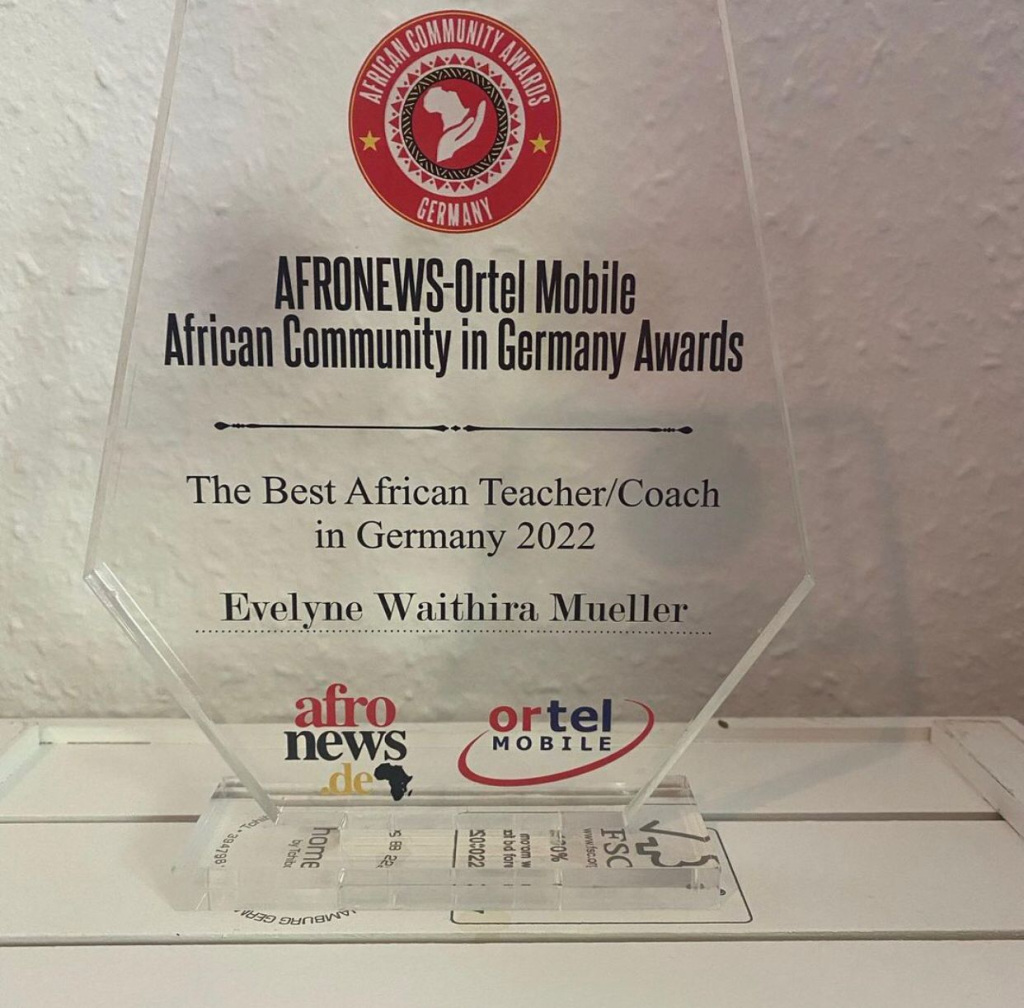 Best African DJ in Germany 2022 went to the talented Babajide Moibi AKA DJ Freegah who danced his way to his award. He posted some amazing words and dedicated his trophy to his fans!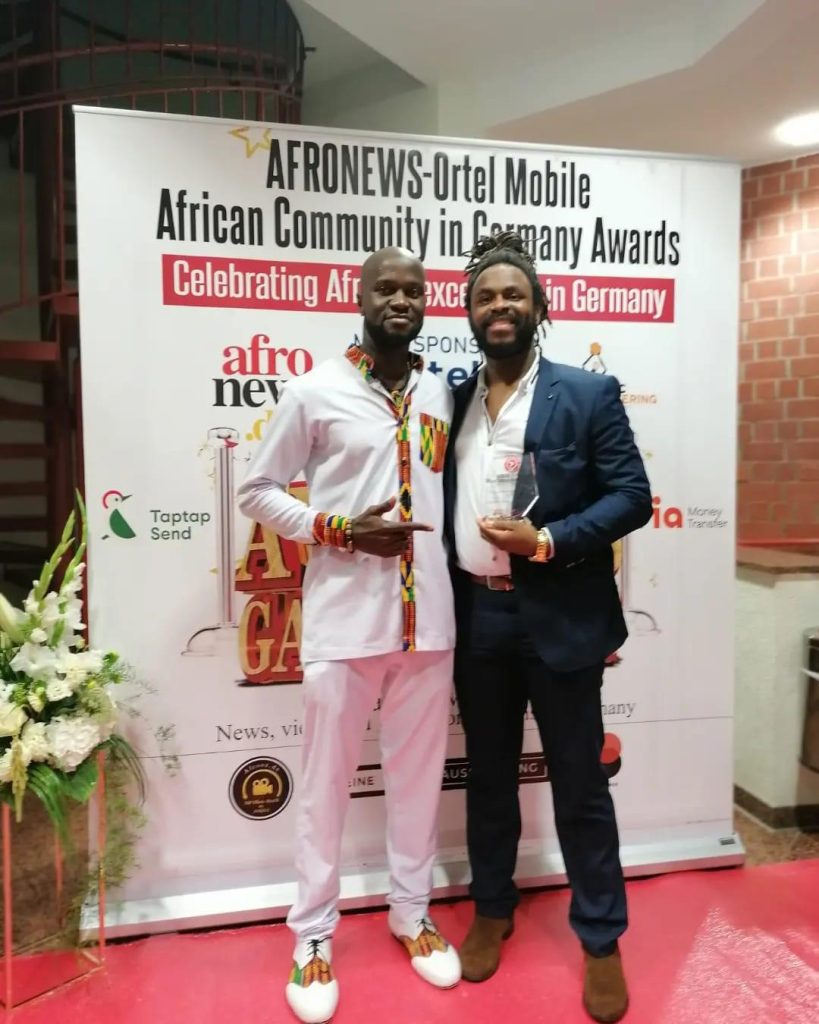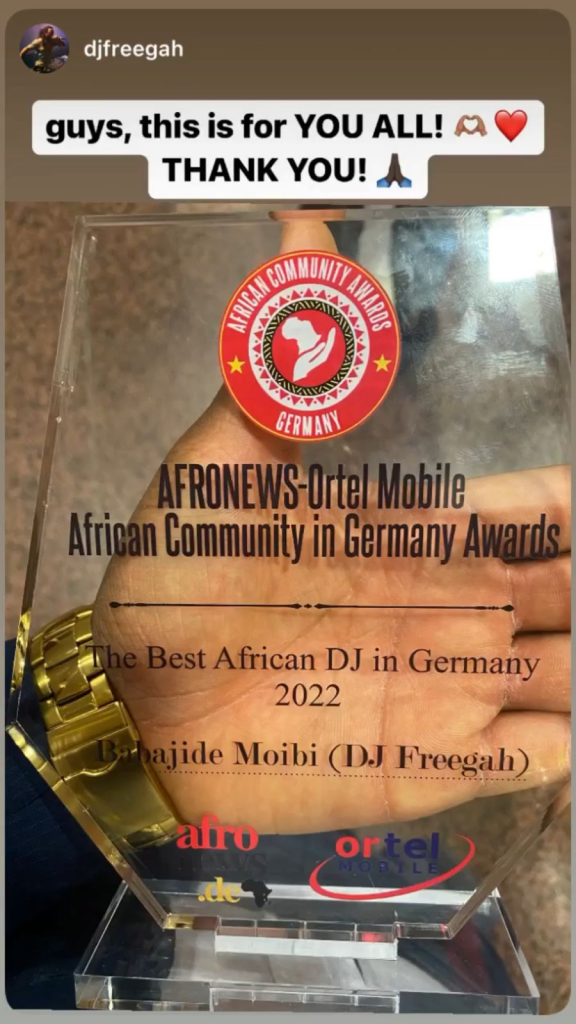 READ ALSO: DJ Freegah nominated Best African DJ in Germany at AFRONEWS – Ortel Mobile African Community in Germany Awards 2022
Best African Business/Entrepreneur in Germany 2022 went to Kumbirai Chipadza who thanked everyone for voting for him. He shared his amazing story here:
"Its very humbling for someone who came to Germany 6 years ago as a Refugee to receive such an honour. Along the way we have formed (www.deutsch-connect.com) and the (www.deutschconnect.academy. I come from a small mining town in Zimbabwe called Zvishavane and I hope this will inspire young people from similar backgrounds. I would like to thank everyone who has been with me through my entrepreneurial journey from my mentors, advisers, prayer warriors and critics."
He finished by saying: 'To everyone out there who dares to dream and work hard consistently. You will fail many times but always keep eyes on the ball.'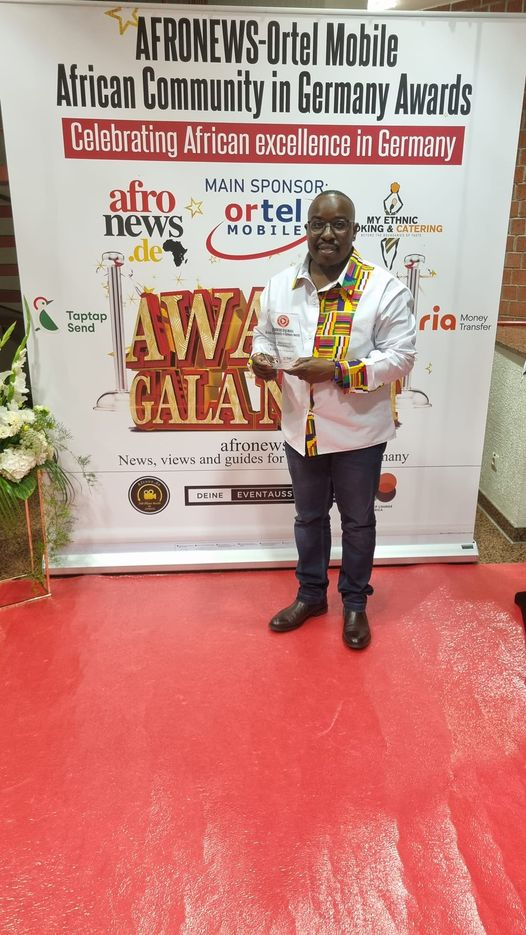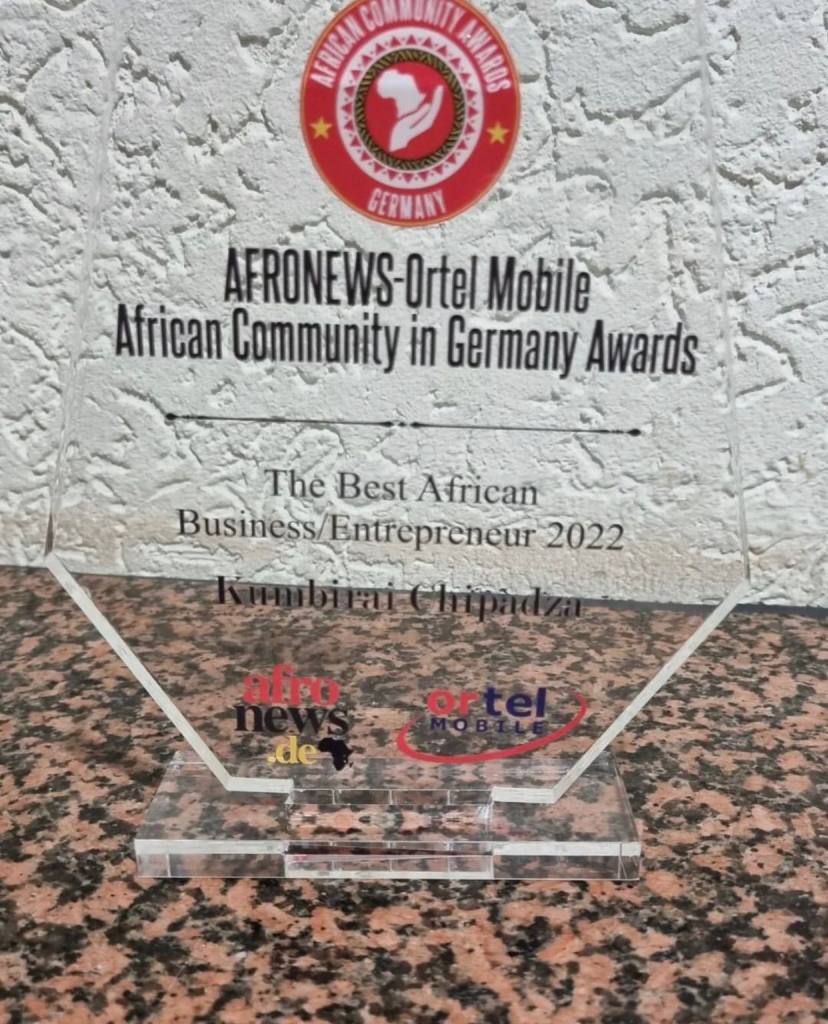 Winner of best African Entrepreneur in Germany Kumibirai Chipadza was congratulated by writer Tsitsi Dangarembga.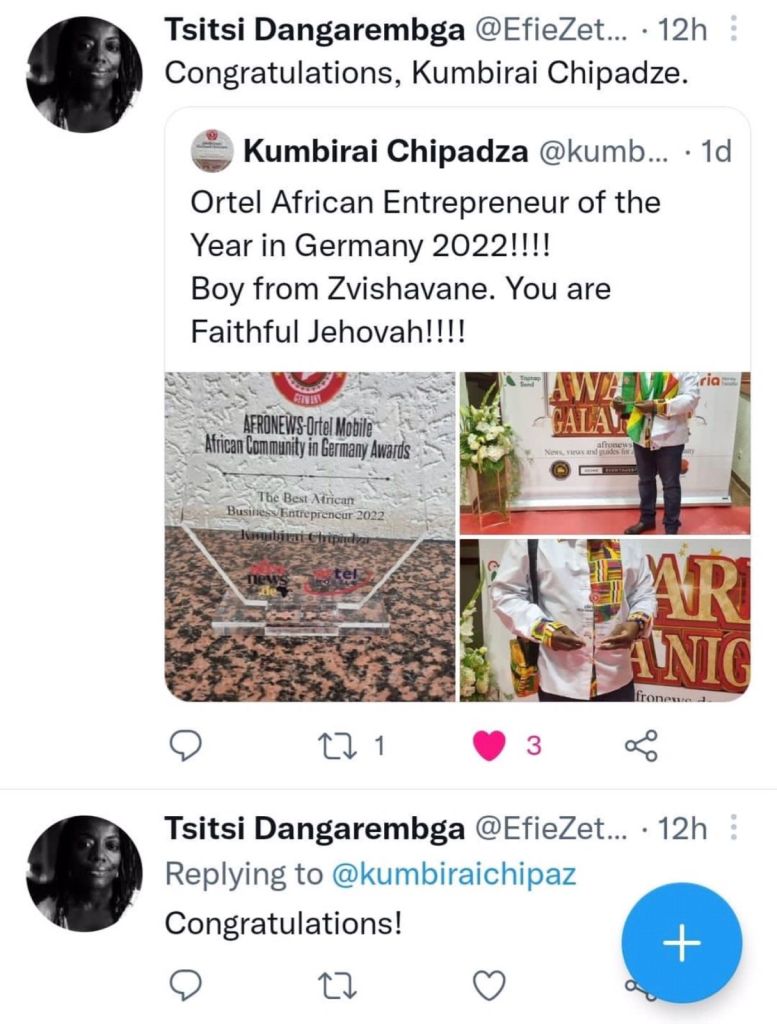 We wrote about TsiTsi Dangrembga in these articles: Zimbabwean author and activist Tsitsi Dangarembga facing trial in home country

Zimbabwean writer and filmmaker Tsitsi Dangaremba receives German peace prize.
Sponsors of African Community in Germany Awards 2022
Ortel Mobile, Germany's leading prepaid sim cards provider for people with a migration background, was the major sponsor of the African Community in Germany Awards 2022.
The Awards were also sponsored by Taptap Send, an easy-to-use smartphone app that lets you send money to family and friends with just a few taps and a debit card, and Ria Money Transfer, a subsidiary of Euronet Worldwide, Inc. (NASDAQ: EEFT), a global leader in the money transfer industry.
Start.Up Lounge Africa, a management consulting firm connecting and promoting businesses in Africa and Europe were also a part of the sponsors to this amazing event.