Africans who have excelled in different fields in Germany were recognised and celebrated at the AFRONEWS – Ortel Mobile African Community in Germany Awards Gala Night in Eschborn on 22nd October 2022.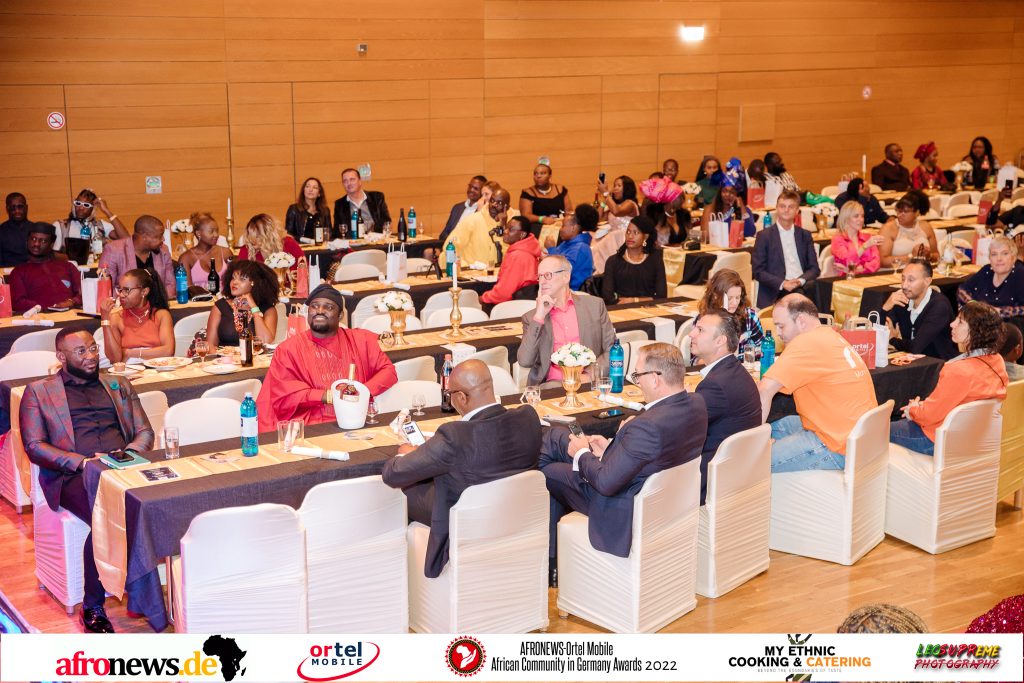 The high-class, amazing, glamorous, superb and exceptional event was graced by
Mrs Bärbel Grade, the First Councillor of Eschborn, MMr Allison O. Valentine – First Secretary (Information, Culture and Education) – Embassy of the Federal Republic of Nigeria to Germany, Mr Prince Makurudze – Minister Counsellor, Embassy of the Republic of Zimbabwe to Germany, Mrs Melanie Nolte – Vice President of the Frankfurt Chamber of Industries and Commerce, Mr Gregor Fränzel – the CEO of Ortel Mobile and the main sponsor of the event, Mr Dimitrios Tsakiroglou – Ria Money Transfer Retail Manager, Germany, and Mr Kofi Adu Frimpong – Taptap Send Growth Launcher.
The winners of the AFRONEWS – Ortel Mobile African Community in Germany Awards 2022 are:
The Best African Business/Entrepreneur in Germany 2022: Kumbirai Chipadza
The Best African Radio Station in Germany 2022: Radio R FM
The Best African Author in Germany 2022: Diana Mac Omolo
The Best African Gastronomy – Restaurant/Caterer in Germany 2022: Mary Ikhuoria
The Best African Fashion Designer in Europe 2022: Roselyne Ogonya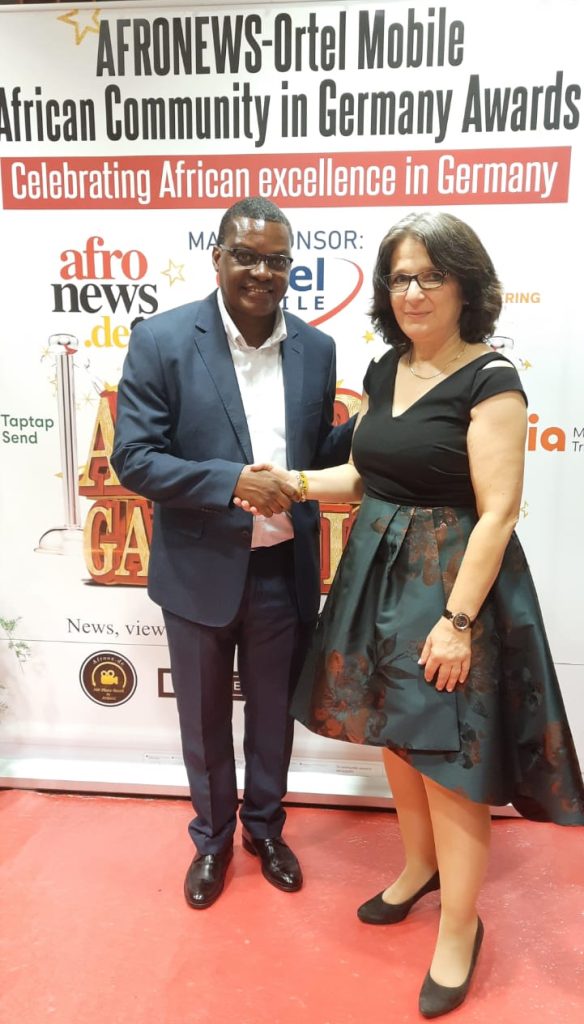 The Best African Events Organiser in Germany 2022: Christopher Mendy (Chris Black)
The Best African Actor in Germany 2022: Prince Ogugua Igwe
The Best African TV Personality in Germany 2022: Nyima Jadama
The Best African Association in Germany 2022: Kultur und Evangelium Musik Expo e.V.
The Best African Teacher/Coach in Germany 2022: Evelyne Waithira Mueller
Best African Musician/Band in Germany 2022: Joy Wendo
The Best African Beauty & Hair Salon in Germany 2022: Joyce Avoka
The Best African DJ in Germany 2022: Babajide Moibi (DJ Freegah)
Lifetime Achievement Award 2022: Elizabeth Horlemann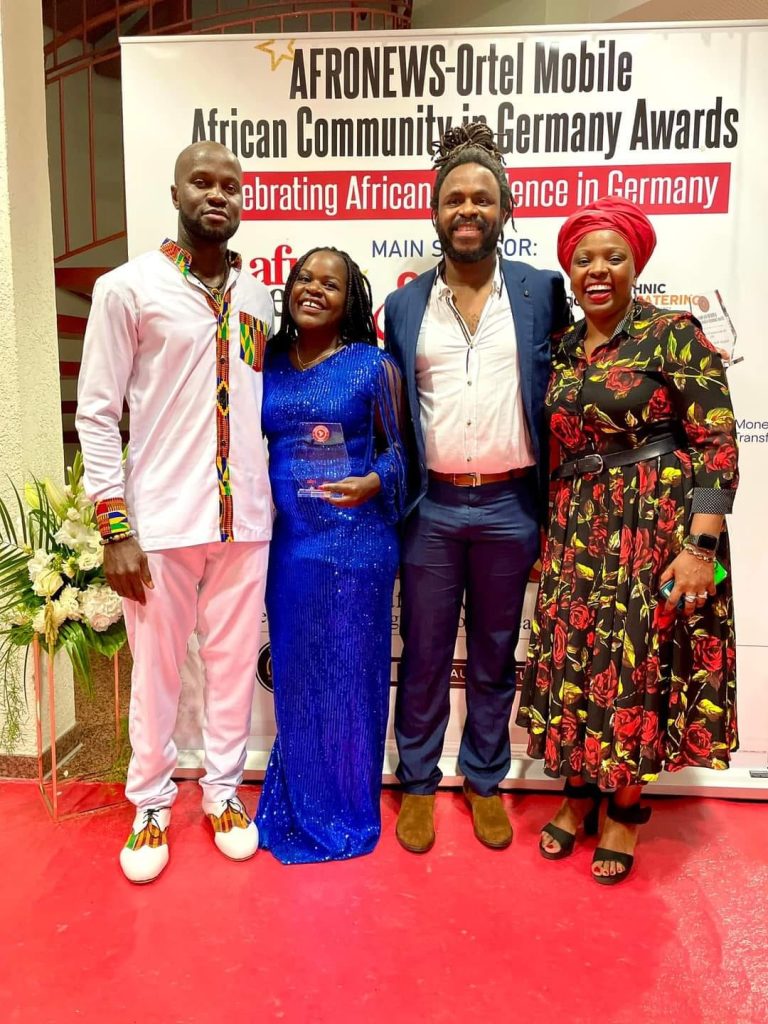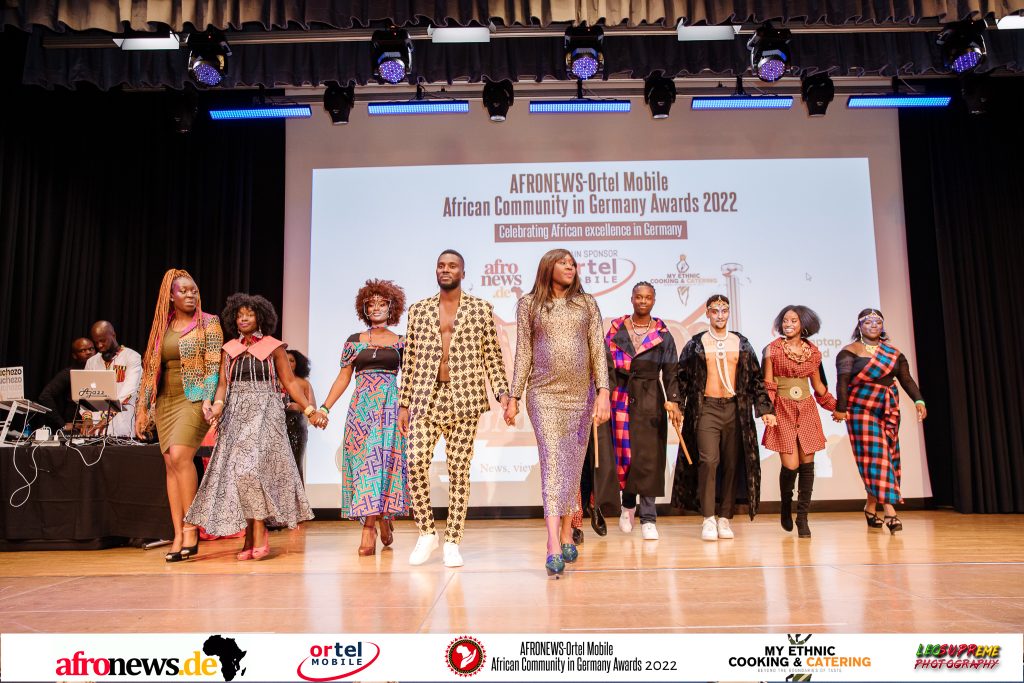 The African Community in Germany Awards celebrate and recognise outstanding achievements of Africans in different fields in Germany. They are a way of appreciating and encouraging Africans who have excelled in different fields and are making a positive contribution to the German society.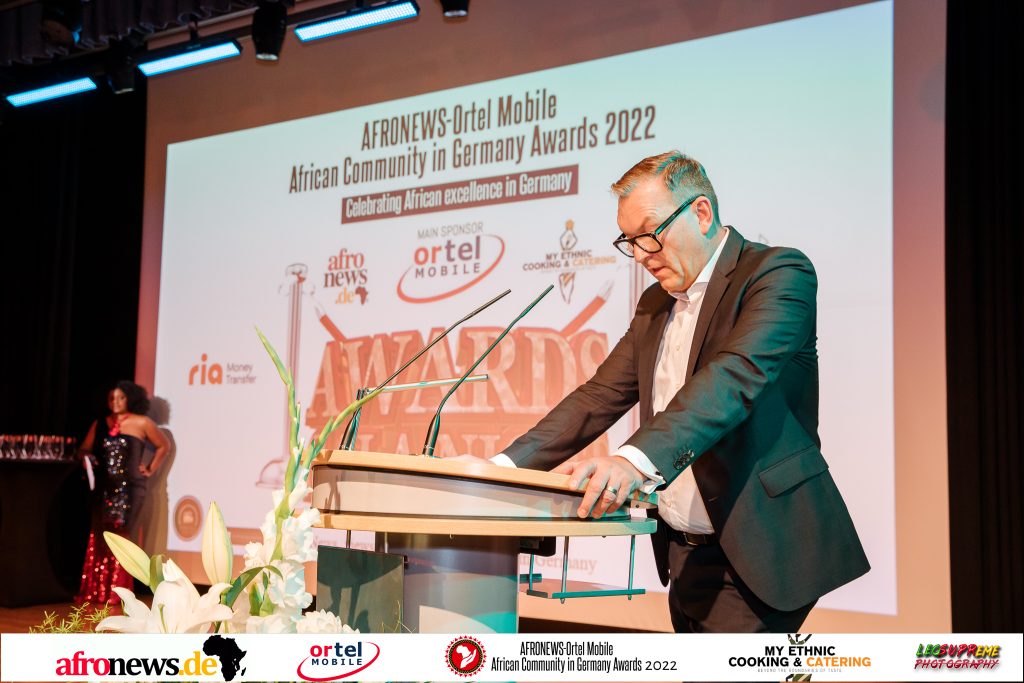 The Awards recognise the good work done by African organisations/associations and businesses to promote a positive image of Africa and Africans, facilitate integration of Africans in Germany, promote business opportunities and international cooperation between Germany and African countries.
High-class African dinner served at the Gala Night was prepared by Gillian Lwangu Piroth, the CEO of My Ethnic Cooking & Catering (MEC) and her team of chefs.
Philly Yambo Makora, a talented Corporate Communication Expert and Menoosha, a singer and songwriter were the MCs at Awards Gala Night, we wrote about it HERE.
DJ Buuchezo, DJ Ajazz and DJ Franckey were on decks to entertain the guests.
There was an amazing Fashion Show by stylists Assick Ebai Nyenty, the founder of House of Graces (HoG) and Roselyne Ogonya, the founder of MOG Couture, we wrote about this HERE.
Togolese superstars Toofan sent the guests wild with their captivating live performance. The guests were also entertained by musicians Anthony Sky and Joy Wendo.
Find out how your nominees performed here: AFRONEWS – Ortel Mobile African Community in Germany Awards (2022) – VOTING NOW CLOSED!
Sponsors of African Community in Germany Awards 2022
Ortel Mobile, Germany's leading prepaid sim cards provider for people with a migration background, was the major sponsor of the African Community in Germany Awards 2022.
The Awards were also sponsored by Taptap Send, an easy-to-use smartphone app that lets you send money to family and friends with just a few taps and a debit card, and Ria Money Transfer, a subsidiary of Euronet Worldwide, Inc. (NASDAQ: EEFT), a global leader in the money transfer industry.
Start.Up Lounge Africa, a management consulting firm connecting and promoting businesses in Africa and Europe were also a part of the sponsors to this amazing event.