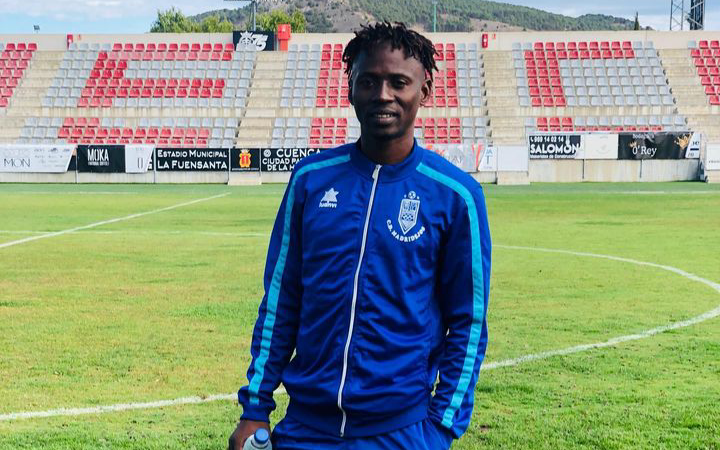 African footballers. Football fans were left shocked by the untimely death of CD Madridejos player who collapsed and died during League game.
The 21-year-old Nigerian footballer identified as Ado Hadi, was playing against SP Cabanillas at home on Sunday when he suddenly slumped and died.
According to a statement from the the Castilla-La Mancha Football Federation on Sunday, in the 39th minute of the game, Hadi collapsed "for no obvious cause". The medical personal on-site did all they could to revive him but failed. Hadi was declared dead dead shortly afterward.
The statement from the Spanish club reads: "The Castilla-La Mancha Football Federation and Castilian-La Mancha football, with its President Pablo Burillo at the helm, are totally dismayed at such an event. For this reason, the federative body remains at the disposal of CD Madridejos for everything it needs in these difficult times."
Causes surrounding his death remain unknown as investigations are underway.
Club Deportivo Madridejos is a football club based in Madridejos, Castile-La Mancha in Spain. Founded in 1968, the team plays in Tercera División Group 18. The club's home ground is Nuevo Estadio, with a 2,000-seat capacity.
According to transfer outfit Transfermarkt, Hadi joined the NPFL team, Jigawa Golden Stars, on May 1, 2021. He made nine league appearances before he left Nigeria.
Before his death, Hadi was one of four Nigerian players plying their trade at CD Madridejos.
Read also:
Cameroonian-German footballer Youssoufa Moukoko 'caught up in age fraud storm'
Was Cameroonian footballer Vincent Aboubakar's contract terminated to make way for Christiano Ronaldo?
Racist Danish TV compares Moroccan players hugging mothers to monkeys, issues apology
'Racist and dangerous': German news anchor compares Moroccan players to ISIS members
Source: Punch