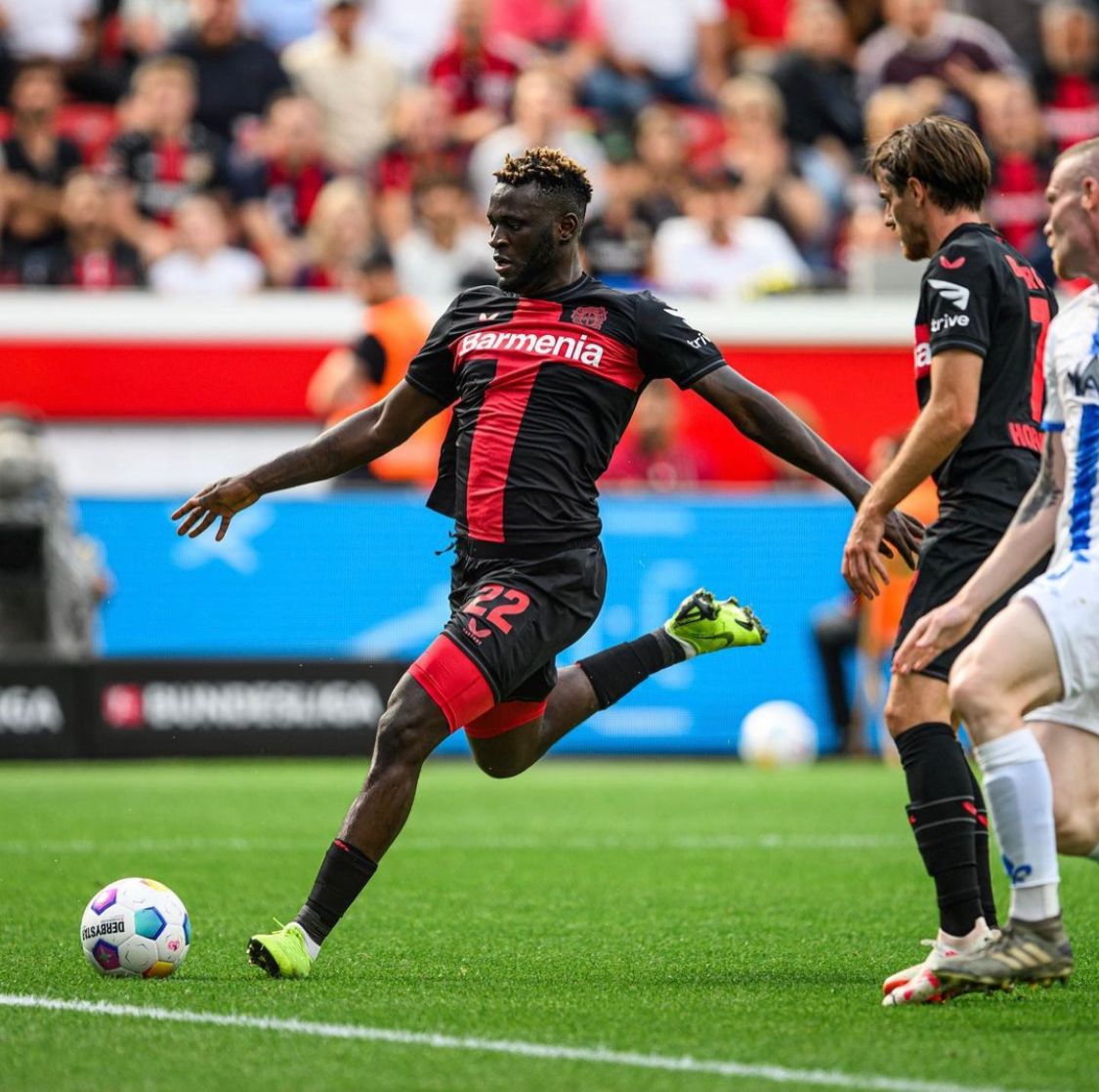 African footballers. Nigerian striker Victor Boniface has been nominated for the German Bundesliga rookie of the month of August award for his performance at Bayer Leverkusen.
The footballer just earned his first international invitation and will contest the award with Xavi Simons of RB Leipzig and Germany-born Nigerian goalkeeper, Noah Atubolu of Freiburg.
The former Union Saint Gilloloise forward continued his fantastic start to life in Germany as he scored twice and provided an assist in Leverkusen's 5-1 home win against Damstadt, last weekend.
How many goals has Victor Boniface scored?
Boniface has now scored four goals in three league games for Xabi Alonso tutored Bayer Leverkusen.
The German Bundesliga rookie award is set aside for players who must be younger than 23 on Matchday 1 of the new season and cannot have started a Bundesliga match in any previous campaign.
Also, players can have accumulated no more than 450 minutes of action before the start of the Bundesliga season in question. That means that youngsters who have only made brief appearances in their careers so far and who have not yet had the chance to fully showcase their talents, still have the opportunity to be named Rookie of the Month, presented by Sorare.
READ ABOUT HIS FELLOW NOMINEE HERE:Germany-born Nigerian goalkeeper Noah Atubolu nominated for German Bundesliga rookie of the month
The monthly winners receive one of the coveted Bundesliga Rookie trophies, before vying for the Rookie of the Season prize. As well as the fans (40%), Bundesliga clubs (30%) and a panel of Bundesliga experts (30%) are part of the voting process.
Victor Boniface will hopefully get his International bow for Nigeria when they face Sao Tome and Principe on Sunday September 10, 2023 at the Godswill Akpabio International Stadium, Uyo.
Fans can vote for any of the three nominees by clicking here.
The winner of the award will be announced on September 7.