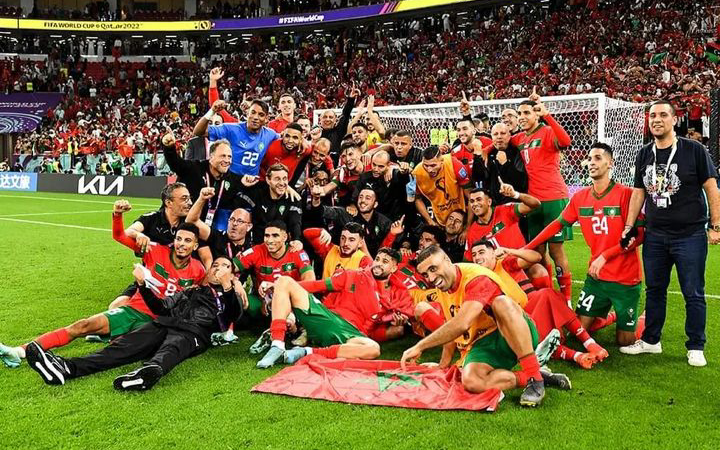 African footballers. Despite Morocco's 2-0 loss to France, Morocco makes history as the first African country to advance to a World Cup semi-final. They are also the third nation outside of Europe or South America to reach that far in the tournament (USA 1930 & South Korea 2002).
Morocco came into the match against France on an unbeaten streak, exceeding expectations by beating Belgium, Canada, Spain and Portugal and advancing to the World Cup semi-finals at Qatar 2022.
"This is football, that's how it works," said a Moroccan supporter after the 2-0 loss. "But we're really proud of the team. Moroccan football has totally changed now. This is not a loss, no way. We are the champions."
Morocco started the second half with a lot of chances against the French goal keeper. The pride of Africa played with renewed energy and enthusiasm, managing to keep the reigning champions on the defensive but still could not find a way to score.
Morocco's best opportunity to score came in the 43rd minute, when Jawad El Yamiq attempted a beautiful bicycle kick off a corner kick that seemed to surprise everyone except French keeper Hugo Lloris who pushed it away.
Fans have shared their support and praises to the team for making it far in the tournament.
"I'm a bit emotional but not disappointed," a fan said. "It's been amazing so far. We're super happy and super proud. They've made history. They're fighters. We're supporting them till the end, no matter what."
"Proud, proud, proud. That's how I'm feeling right now," another Moroccan supporter, said. "They made history, they're still a young team and now we have ambition for future world cups. We're not going to give up now. It's a change of a mindset, there's a winning mentality instilled in the players, the team and the country now. This will change our future generations."
Even with the loss, Morocco has one more World Cup game against Croatia for the third place position on Saturday. The final will take place on Sunday with France taking on Argentina who are seeking their first World Cup title.
Read also: 'Racist and dangerous': German news anchor compares Moroccan players to ISIS members
World Cup history! Salima Mukansanga to officiate FIFA World Cup 2022 in Qatar
African countries that qualified for the 2022 FIFA World Cup finals in Qatar
Source: Aljazeera