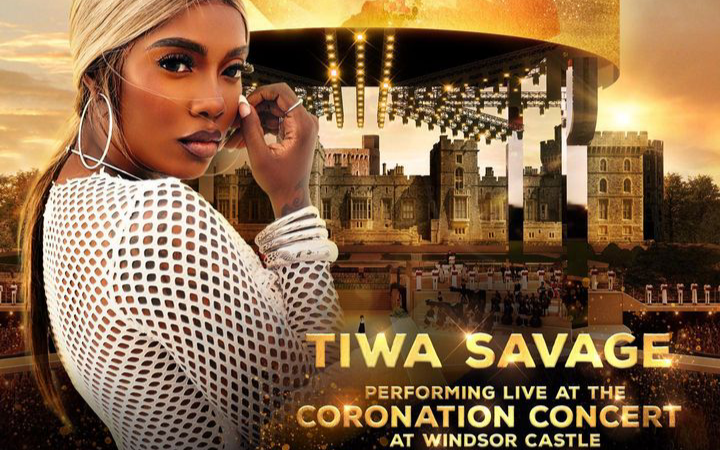 African music. Nigerian singer Tiwa Savage, is scheduled to perform at the coronation of the British monarch, King Charles III. The invitation to perform at the coronation is a remarkable achievement, making her the first Nigerian musician to receive this honour.
The historical event will be taking place on Saturday, May 6, 2023, at Westminster Abbey, London.
The Afrobeat queen will be part of a star studded line-up including the likes of Steve Winwood, Dj Pete Tong, Lang Lang, Lucy, Paloma Faith and Olly Murs, who will provide entertainment for guests during the coronation concert and big lunch on Sunday, May 7, 2023.
According to a statement released by the organizers, Tiwa Savage was chosen as one of the select few African artists to perform at the historic coronation concert.
"We are excited to announce that Tiwa Savage will be performing at the coronation concert alongside other world-class musicians. Tiwa Savage is an exceptional artiste with a unique blend of African and Western sounds. We are confident that her performance will add colour and excitement to the event."
Who is Tiwa Savage?
Tiwatope Savage (born 5 February 1980), known professionally as Tiwa Savage, is a Nigerian singer, songwriter, and actress who has been called the Queen of Afrobeats. Born in Isale Eko, she relocated to London at the age of 11 for her secondary education. Five years later, she began her music career doing backup vocals for artists such as George Michael and Mary J. Blige.
Savage sings in English and Yoruba and her music is a blend of Afrobeats, R&B, pop and hip-hop. She has contributed to the Nigerian music industry earning her several achievements. She has been involved in youth empowerment and breast cancer screening projects and has raised funds to build schools in Nigeria. Savage launched the We Are Tired charity foundation, an initiative aimed at providing legal support and representation to victims of sexual assault in Nigeria.
Read also:
Ghanaians in Germany, DJ Ajazz: The story behind every track in my debut EP 'Situation'
Talented Dj Ajazz to perform live on decks at the Vibe Tribe Fest After-party
DJ Ajazz urges Africans in Germany to make nominations for AFRONEWS – Ortel Mobile African Community in Germany Awards 2022
Source: africanews