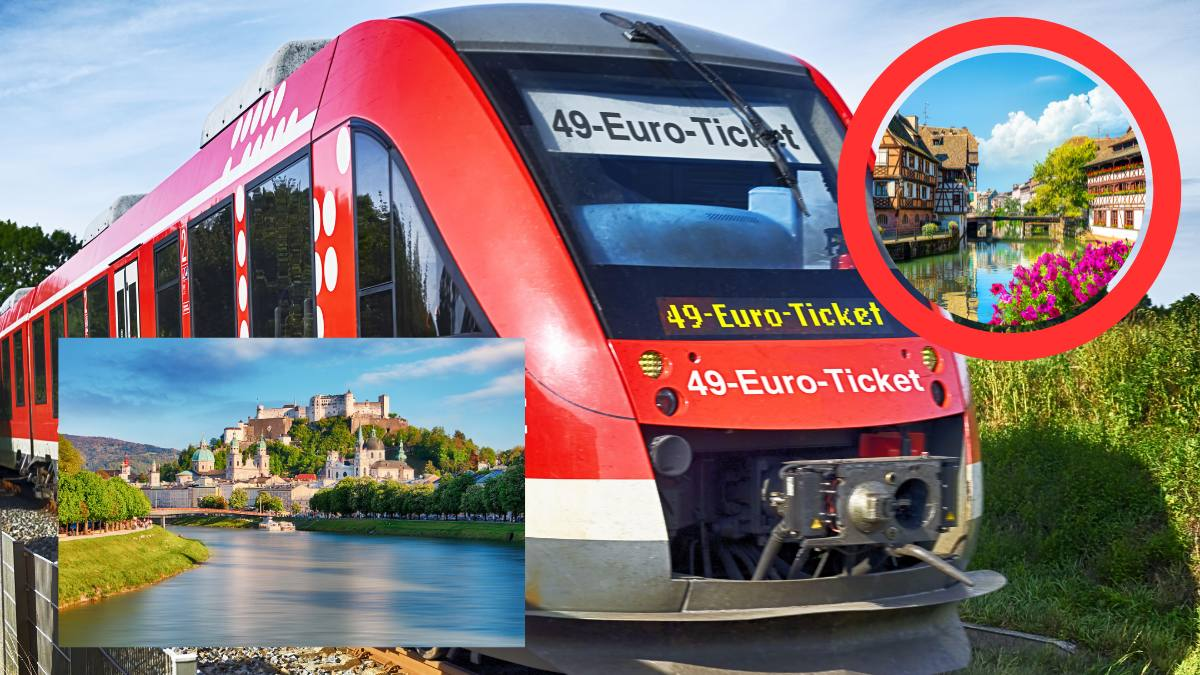 Germany news. Travel abroad with the € 49 ticket – The long-awaited Deutschlandticket comes into effect May 1, 2023. As the successor to the €9 ticket from summer 2022, the offer should help change traffic and encourage consumers to leave their cars at home more often.
But not only the way to work or local trips can be covered with this subscription in the future. Even those planning a trip abroad can sometimes benefit from the offer. Here are the countries neighbouring Germany you can travel to with the 49 euro ticket:
Travel abroad with the 49 euro ticket
The €9 ticket has already shown that it is possible to travel well and cheaply on the regional railway network. Ticket holders just need to be careful not to accidentally board a long-distance train.
A certain function of the train app can help avoid such a situation, which would be very expensive.
Anyone with a desire to travel but struggling with current flight prices will crave Germany's new pass just like commuters. 
Strasbourg, Salzburg or Luxembourg as a free extension of the Germany ticket
Boarding the train in Germany and getting off abroad – this is possible thanks to the so-called border tariff points. Fare limits for two state railways are usually not at actual state borders, but at railway stations. Thus, the German fare applies at the relevant station and therefore also the €49 ticket in the future. If there are regional links.
There are border stations in all neighbouring countries of Germany, in some even more. Some examples in this regard are the following:
Strasbourg (France) : Südwestdeutsche Landesverkehr regional train RB25 runs from Offenburg in Baden-Württemberg to the French city in Alsace. The last station at the German border is Kehl.
Salzburg (Austria) : From Munich Central Station you can reach the foothills of the Alps quickly and without having to change trains: it takes you just under two hours to reach the Austrian metropolis on the Bavarian regional train BRB RE5.
Tønder (Denmark) : Norddeutsche Eisenbahngesellschaft takes you far north to Denmark with a German fare, for example neg RB66. Namely from Niebüll (North Friesland) to the small Danish town of Tønder, not far from the German border.
Venlo (Netherlands) : It takes just six minutes to cross the Dutch border from Kaldenkirchen train station to the city on the Maas. The departure point of the RE13 is at the main train station in Hamm (Westphalia).
Luxembourg : Regional express transport RE5120 takes about two and a half hours from Koblenz via Trier to the city-state capital, only slightly longer than by car.
"The Germania ticket is valid throughout Germany in local transport and on all routes and to all stations for which Germania fare tickets are also valid," Deutsche Bahn also informs on its website. Please note that the rates only apply to traffic to and from Germany and do not apply to domestic traffic abroad.
Source: hna.de