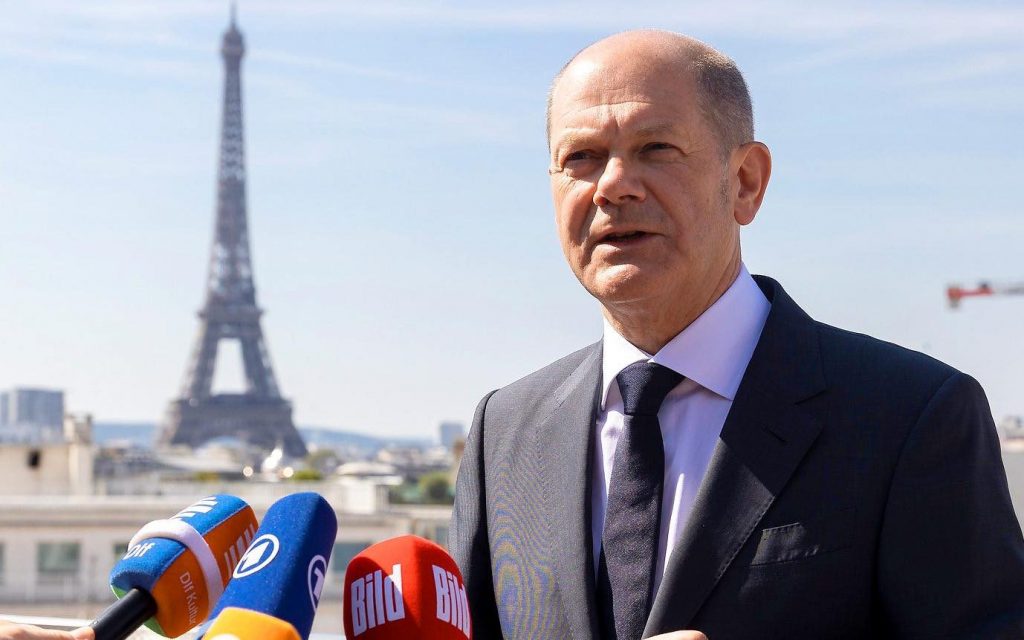 News in Germany. The government presented the third aid plan in Germany. After more than 19 hours of negotiations, the government coalitions agreed on the third aid packaged, worth 65 billion dollars. The details were announced at a press conference on Sunday at 11 a.m. The conference was opened by Olaf Scholz.
Third aid plan in Germany
Olaf Scholz opened the conference: "Our country is facing a difficult period".
The chancellor explained that the war in Ukraine is to blame for the situation, which is "shattering the order of peace in Europe." "Vladimir Putin is responsible for the trouble and destruction."
Scholz further emphasises German support for Ukraine.
"Europe and the whole world are feeling the effects," Scholz said. "Putin's Russia has violated its treaties. Russia is no longer a reliable energy supplier. This is part of the new reality."
The aid package 'is bigger than the first two combined'
Scholz promises that the winter will be endured and that the supply is certain. But now there is the issue of electricity and gas costs.
Germany's third bailout plan is about 65 billion euros and is much bigger than the first two combined. The Chancellor spoke about electricity prices saying that the government had agreed that random prizes will no longer stack or be removed. A maximum price will be set for electricity producers, which applies to energy producers outside the gas industry.
Excess profit tax for energy is coming. Taxed profits will go to the citizens, "so prices go down," Scholz said. Excess profits tax should "eliminate" windfall profits and increased network charges should be "softened".
The third aid plan in Germany – Pensioners – subsidy of 300 euros
Pensioners will receive a subsidy of 300 euros, as will students.
There will be a housing benefit reform and this will be the largest housing benefit reform in the history of the Federal Republic of Germany. he group of beneficiaries should increase to 2 million citizens who will be helping with heating costs.
For unemployment benefit recipients, estimated inflation should be used as a guide.
Germany: Energy bonus of 300 euros. Who can receive 600 euros
Scholz said that the child allowance will be increased by 18 euros in one step and the focus would be primarily on people with low incomes. With child benefit and supplement low income earners would have more than basic security.
Citizens who do not pay taxes would also benefit from this.
All income up to 2,000 euros per month should be exempt from tax from next year, this represents an exemption of more than one billion euros, according to Scholz. "This major tax cut is a necessary part of our reforms."
READ MORE: Germany: 300 euro energy bonus to be received in September
3,000 euro tax-free inflation bonus from employers
Third aid plan in Germany – Chancellor announces concerted action with social partners. "If the parties to collective bargaining, in the case of employers, make a payment to their employees in addition to their normal income due to the current development in order to meet the increased prices, they should be exempt from taxes and fees up to a sum of 3,000 euros," Scholz continued.
The measures will help "to get through this period together", concludes Scholz. Previous measures "were very popular," says Scholz, referring to the €9 ticket.
The federal government will therefore make available 1.5 billion for such a project, the Chancellor promises.
The ticket to Germany should cost 49 euros
According to the leader of the Greens, Nouripour, the ticket for all of Germany, similar to the one of 9 euros, will now cost 49 euros.
According to Minister Christian Lindner, the ticket for Germany will be available as a digital subscription.
sources: Focus.de