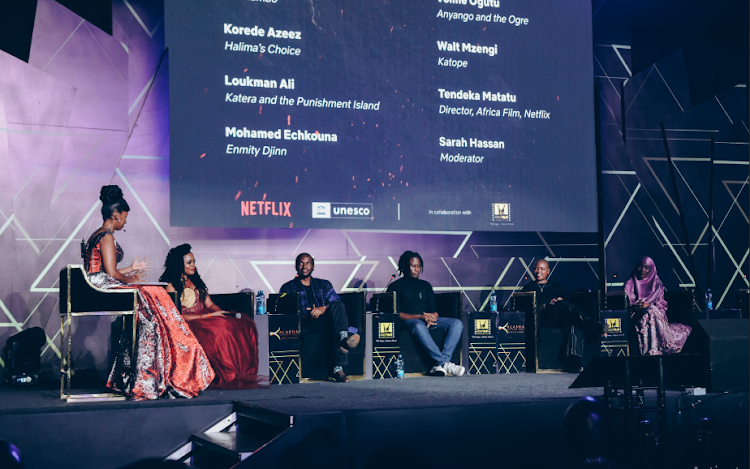 African news. The global premiere of the Netflix and UNESCO African Folktales re-imagined anthology was launched at a stunning event at Kenya's iconic building, KICC.
The collection of 6 African short films premiered at the Kalasha Film Festival in Nairobi, Kenya, while at the same time to a global audience via Netflix.
The African Folktales, Re-imagined short film collection features a variety of African on-screen talent in stories by emerging African storytellers such as Voline Ogutu from Kenya with Anyango and the Ogre; Mohamed Echkouna from Mauritania with Enmity Djinn; Walt Mzengi Corey from Tanzania with Katope; Korede Azeez from Nigeria with Zabin Halima (Halima's Choice); Loukman Ali from Uganda with Katera of the Punishment Island and Gcobisa Yako from South Africa with MaMlambo.
The short films are simply tales as old as time from across the African continent, reimagined and retold by a new generation of six storytellers – under the umbrella, of African Folktales.
READ MORE:

Kenyan director Wanuri Kahiu's film 'Look Both Ways' gets release date on Netflix

Netflix releases its first original Nigerian series "Blood Sisters", a suspense-heavy thriller
The anthology of six short films was launched as part of Netflix's partnership with UNESCO to support the next generation of storytellers.
The storytellers were provided with resources including a $90 000 budget and creative guidance by established filmmakers as mentors to bring their stories to life.
The emerging filmmakers were selected in 2021 following a call for submission that resulted in over 2000 applications from 13 countries in the sub-Saharan Africa region.
According to local media house KISS FM, each storyteller was partnered with a local production company and under the guidance of Netflix-appointed supervising producer, Steven Markovitz from Big World Cinema and industry mentors: Bongiwe Selane (mentor to Gcobisa); Jenna Bass (mentor to Korede); Pape Boye (mentor to Loukman); Femi Odugbemi (mentor to Mohamed); Leila Afua Djansi (mentor to Voline) and Tosh Gitonga (mentor to Walt) who provided guidance and nurtured the filmmakers on their journey to bring their stories to life.