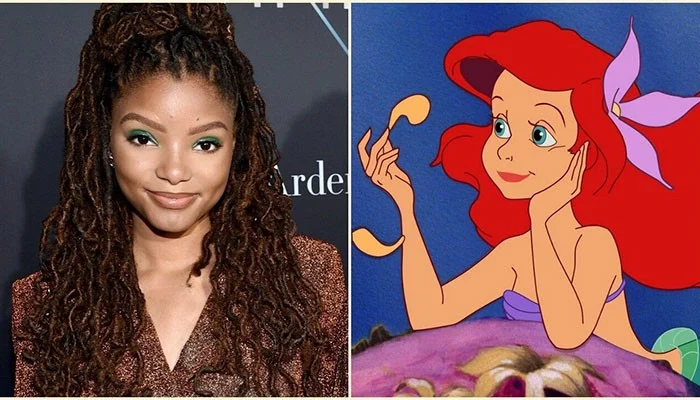 Disney launched a new trailer of their classic movie 'Little Mermaid' where the corporation caste black singer-songwriter, Halle Bailey of "Grownish", sparking outrage and a lot of racist comments.
Many felt that the casting of a black character would the change that is needed in the step towards representation but also it also came across as the tainting of a character that is loved and appreciated as being a white character but teaching certain lessons that can or could be grasped by others without the change in race.
She is a fictional character that little girls admire, learn lessons of how to deal with adversity and differences. So it is important that all little girls can see themselves in these characters. Many appreciate Disney for providing representation to so many black and brown girls all over the world!
The real question is really who is uncomfortable with the character being of a different race when many a time fictional characters are as a matter of fact fictional. They can be any race, any colour, any assumed gender, and can have any imagined set of biological or anatomical differences because they are created by the imagination.
One might argue that the 'The Little Mermaid' is a classic but also let's look at it in terms of what is the main reason children and older people love the Little Mermaid. It is because of the lessons we learn from the movie.
From caring about the environment, to care about animals and also the embracing of change or love of the ability for one to learn that it is okay to change your mind or that sometimes you can make a wrong decision and make it right. This, and the fact that we are in a world that's ever changing and part of that change is also embracing the same messages with the added value of representation of people from black and brown communities.
Representation means that little girls and boys who watch the movie feel they are a part of the world and that they matter, not just an afterthought or a token. By all means let integration not be people tolerating one group from the other but also accepting and changing to accommodate both sides, learn while the other party is learning.
READ ALSO: 'Not white enough'- Actress Rachel Zegler facing racist comments on new Disney Snow White role
What is Disney's Little Mermaid about?
The Little Mermaid is the beloved story of Ariel, a beautiful and spirited young mermaid with a thirst for adventure. The youngest of King Triton's daughters, and the most defiant, Ariel longs to find out more about the world beyond the sea, and while visiting the surface, falls for the dashing Prince Eric. While mermaids are forbidden to interact with humans, Ariel must follow her heart. She makes a deal with the evil sea witch, Ursula, which gives her a chance to experience life on land, but ultimately places her life – and her father's crown – in jeopardy.
The release date to the now very controversial movie is May 26, 2023 and the trailer has already garnered 18M views but in the last three days has had over 919k dislikes breaking an all time record for being one of the fastest disliked movie trailers in history.