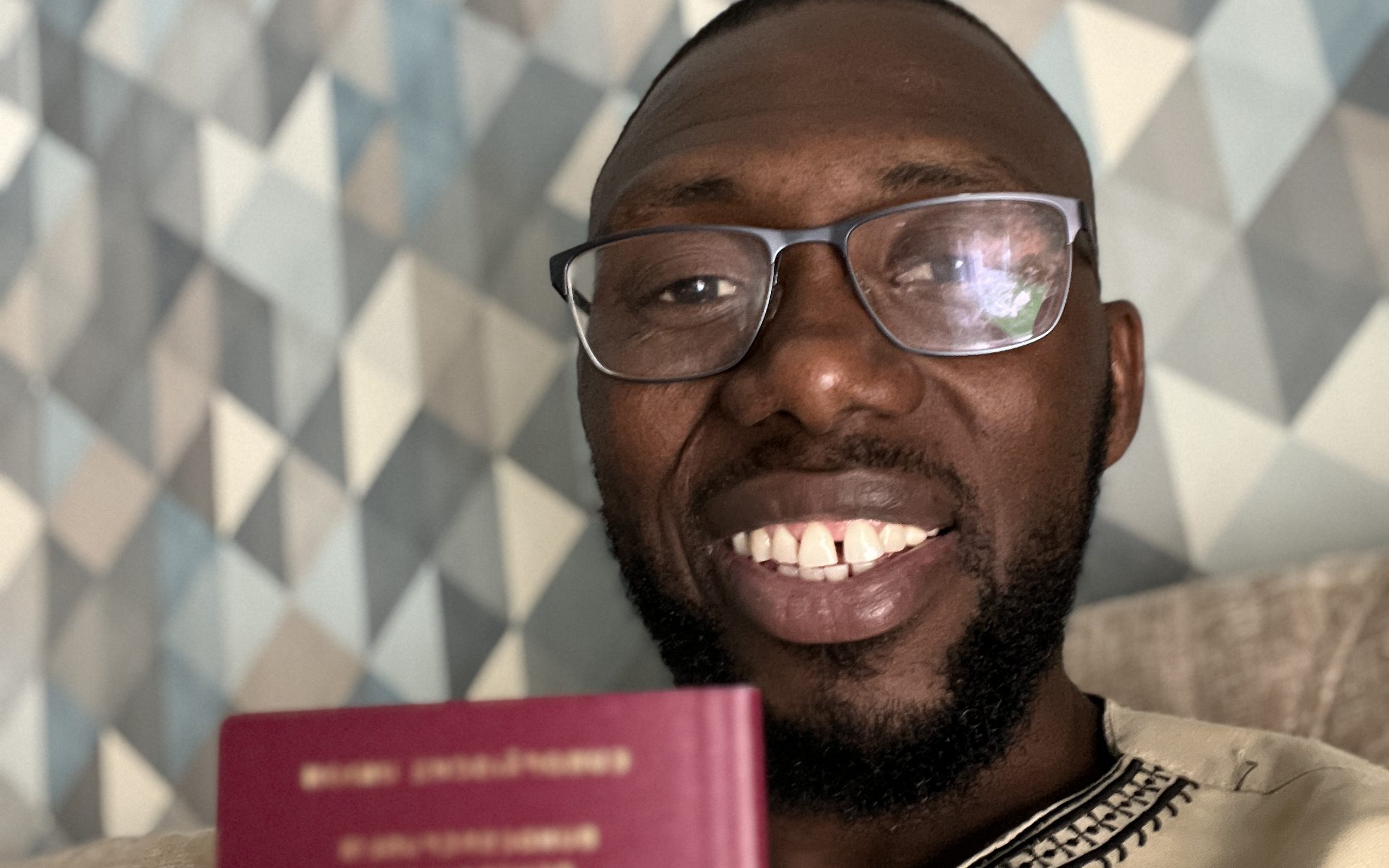 Africans in Germany. For Yusupha Kassama the journey to freedom and recognition has been one that has been long, trying and tiresome, but he refused to give up hope for a better future – one he shaped and moulded for himself. This is his story:
Yusupha was a certified teacher and a child right's activist in the Gambia where he taught in different schools in the country for almost 5 years. As a provincial classroom teacher he feIt like the kids in the provinces were more or less neglected – schools lacked basic teaching materials like chalk and textbooks.
What made you flee Gambia?
"I used to do radio programmes for a community radio. This was seen as a threat to the government in those days and I was warned to stop but I continued. This then led to me being targeted to be sent to prison but I thank God I managed to escape."
He left Gambia in 2012 for Europe and arrived in Italy in 2013 and began the journey to seeking asylum and unfortunately his asylum was rejected – according to the migration office, he did not have enough evidence to seek and be granted asylum.
They asked Yusupha Kassama to provide his teaching certificate as proof that we was indeed a teacher but he unfortunately did not have those documents with him at the time. To add insult to injury, he was also asked to abandon his living apartment because of the asylum rejection so he had no chance that to travel to Germany.
"I was asked to leave the camp. It was a very hard moment in those days and I was totally shocked and depressed but I still believed that's not the end of life."
Why did you move to Germany?
Yusupha told Afronews that he moved to Germany in 2015 and opted to seek asylum in Germany and amazingly his application was accepted in 2017. He was given a 3-year permit and started going to school to attend German language courses. In Germany he was able to show proof of being a teacher through his certificates.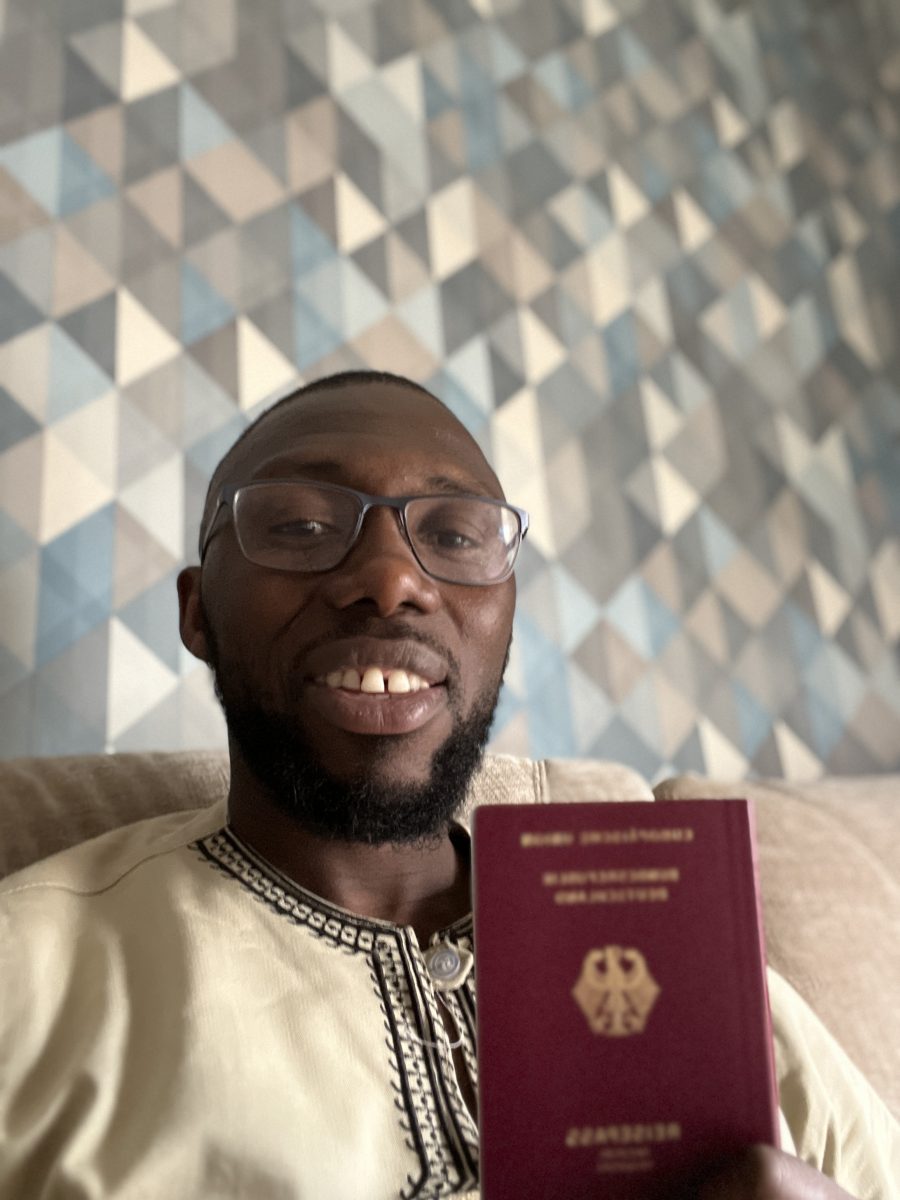 READ ALSO: How to fast-track your permanent residence permit in Germany

Here's how African refugees approaching their sixth year can get German citizenship
"Before my acceptance I was given a work permit and I worked voluntarily in one Kindergarten. This is because I was formerly a teacher and I though it would be possible to continue my teaching career. After 6 months of working in the kindergarten I decided to look for something else, but working with those kid's really helped in my integration."
From working at the kindergarten he moved on to work for SAP – a big software firm where here he helped the software developers in testing with devices like iPads ,androids and iPhone devices but this program lasted only 6 months.
Looking back to 2017 after completing his intensive German course, Yusupha Kassama got the B1 and Leben in Deutschland. He then applied for a job in a Pflegeheim as an assistant and his application was accepted and he immediately started working.
Despite the title making it look like the work was easy, it ended up being contradictory to this but he was thankful that he got the opportunity. Being able to help the old/elderly and having them accept, appreciate and thank him for the service made it worth it.
He still works part time at the hospital.
When did you acquire German citizenship?
"In 2022 I applied for permanent residence and got it in less than 6 months. This year I applied for citizenship and after fulfilling the requirements I was granted citizenship. During the handing over of the citizenship certificate from Einbürgerung office I was told that I am now a citizen. The feeling was amazing."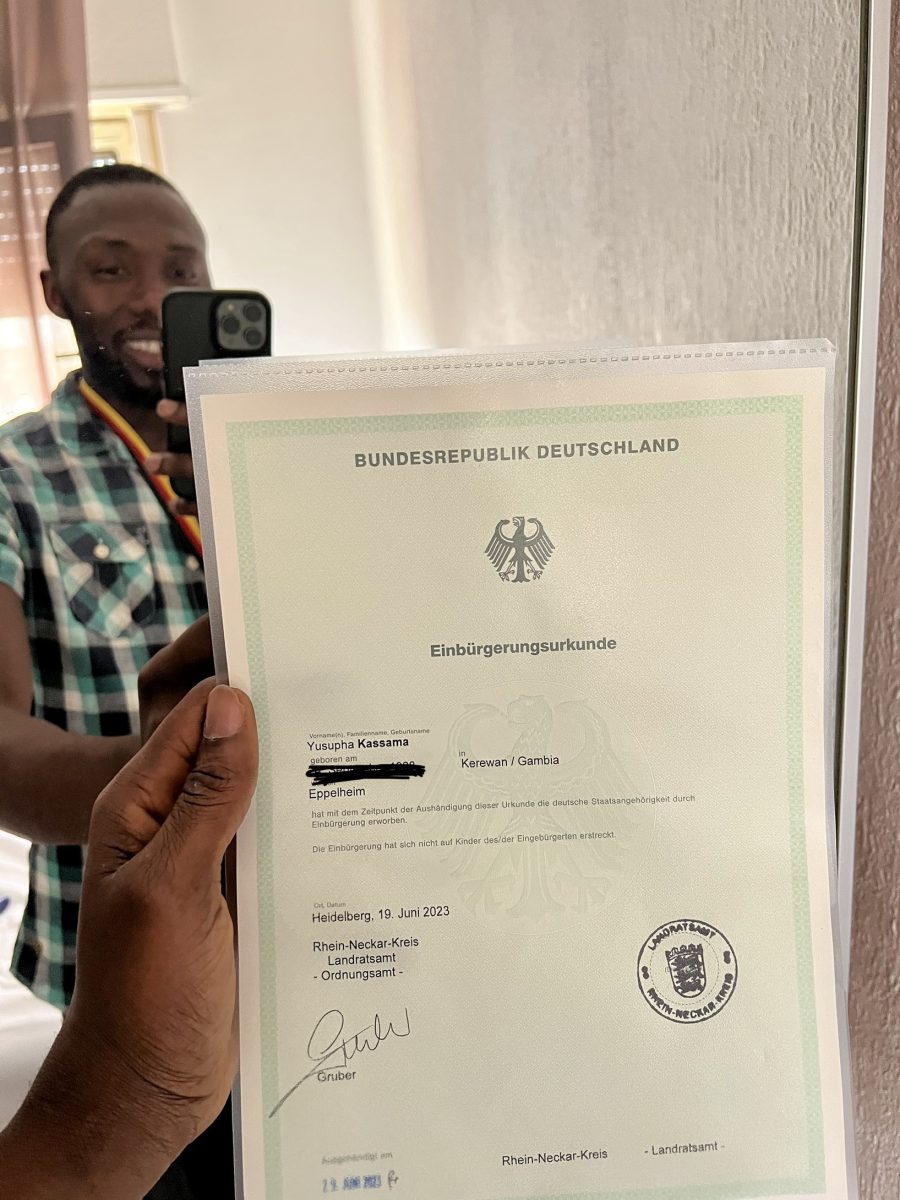 Mr. Kassama was allowed to hold on to his Gambian passport as well because his case was exceptional meaning he now had the privilege of holding dual citizenship. He thanks the Almighty God who made things possible.
He shares with Afronews that he is currently in Ausbildung as a Pflegefachmann but is almost done. " I am sure I will finish in September."
Yusupha Kassam shares his story because he wanted to prove to himself he can, but also to be able to be a living example to his fellow African brothers and sisters, that they should never give up, keep working hard, be law abiding and be determined.
"God bless you all. I wish you my Africa brothers and sisters great success!"
Are you an African living in Germany? If you are doing something interesting and would like to be featured on Afronews.de please send an email to: raddie@afronews.de.