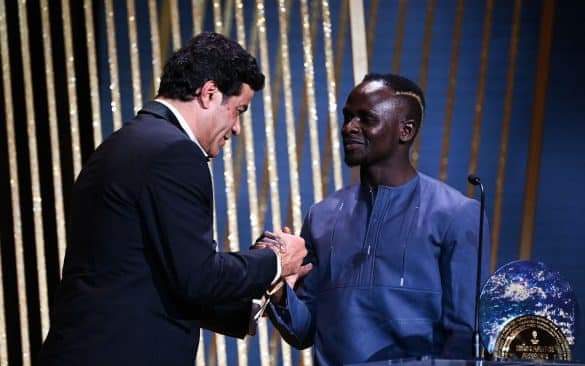 African Footballers. Senegalese footballer Sadio Mane wins Socrates Award. Senegalese and Bayern Munich international winger Sadio Mané, on Monday night received the inaugural Sócrates award in recognition of his charity work in his native Senegal.
The prize created this year, will commemorate the achievements off the field from individuals in football who give back to society and their community in a major way. It will award players on their efforts in helping to tackle social issues.
Upon accepting his award, Mané had the following to say: "I am very happy. Sometimes, I can come across a bit shy, but I am happy to do that to make people's lives better at home."
Mane, who is the reigning African Footballer of the Year, was also nominated for the Ballon d'Or. Scoring 23 goals in his final season as a Liverpool player while helping Senegal win their maiden Africa Cup of Nations title, and has since produced nine goals and an assist in 16 competitive appearances for Bayern.
He has transformed the lives of the people in his home village by building schools worth €270,000, and hospitals worth €530,000. He has also financed the building of a petrol station and 4G fibre optic cables. There are about 2,000 inhabitants in Bambali, with each family receiving €70 in cash monthly.
Read also: Why Senegalese footballer Sadio Mane rejected holding beer in group photo – IMAGE
Caf awards 2022: Mane, Mendy and Salah battle for player of the year award
AFCON Finals: Senegal win their first Africa Cup title on penalties