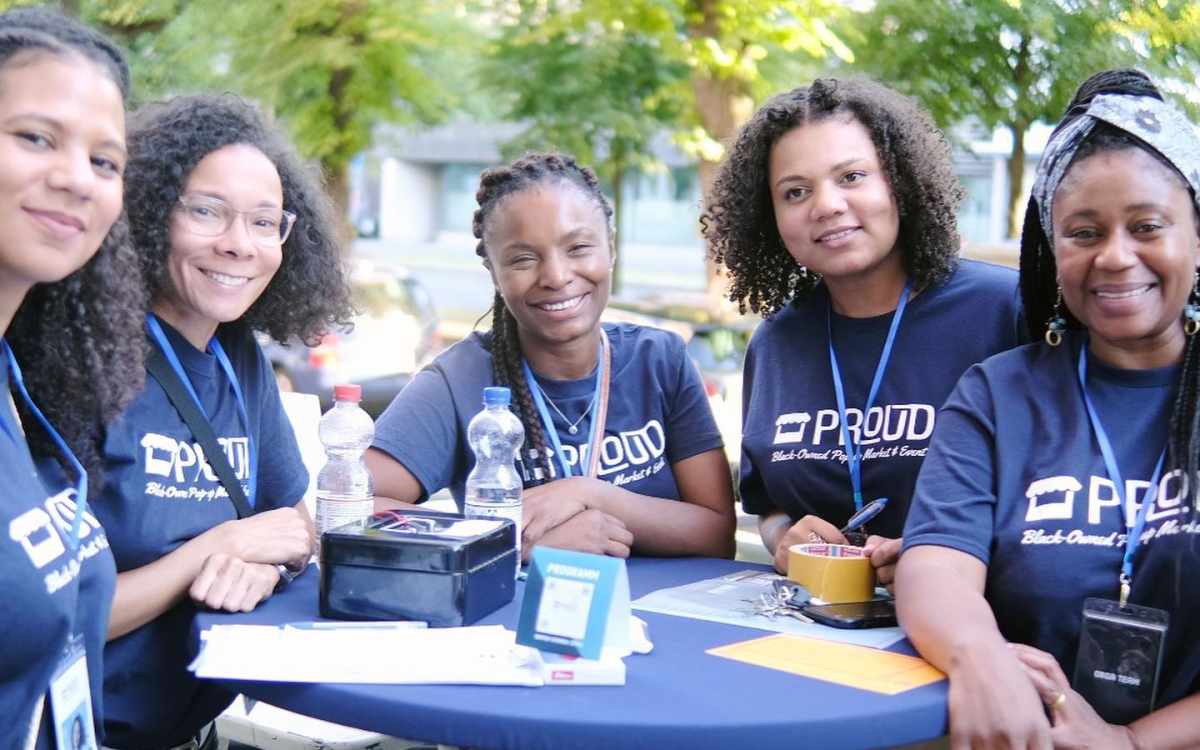 Africans in Germany. The PROUD event is inviting all to the 2nd edition of the PROUD Black-Owned Pop-Up Market & Event. The first pop-up market in NRW (2022) was a complete success with 900 visitors. This year the event will take place again.
The 2nd edition of the PROUD Black-Owned Pop-Up Market & Event, will take place from the 14th to 16th July 2023, in Cologne's Kunsthafen in Rhenania.
This unique event provides a platform for Black, Afro-diasporic entrepreneurs and artists to showcase their products, services, and talents. It aims to present a diverse image of Black and Afro-diasporic communities.
The opening day will feature an art exhibition and a talk on the future of Black businesses in Germany, with Simon Usifo. There will be poetry, a fashion show by L'Atelier OKAPII, live music performance by Varinia Akua, and winner of the 2022 Best African DJ in Germany, DJ Freegah. Read more: DJ Freegah wins Best African DJ in Germany at AFRONEWS Awards 2022
Those in attendance can buy a variety of products from the market, including medicinal herbs, vegan cosmetics, fashion, hair products, handmade lamps, and much more.
Book your tickets here.
Who will be the speakers at the event?
Yannick Jiongo – Founder & CEO at Black Momentum, Founder & CEO myAfroCity App
Lucy-Llonna Larbi – Co-Founder FoG-Germany, Initiator AiDiA Pitch Event
Simon Usifo – President & Managing Director at 72andSunny Amsterdam
Nely Daja – yoga trainer . Singer. songwriter. Artist. Musician from Cologne
Cyndi Hounouvi – Artist . Poet . Storyteller | Author of the poetry collection "17"
Dr. Pedro Mbavaidi
What is included in the Black-Owned Pop-Up Market & Event Program:
The program will include; Day one
| # | Topic | Speaker | Time | Hall |
| --- | --- | --- | --- | --- |
| 1 | inlet | PROUD Team | 17:00 – | Art harbor in Rhenania | Ground floor, main hall |
| 2 | Welcome & event opening | PROUD Team | 17:30 – | Art harbor in Rhenania | Ground floor, main hall |
| 3 | Art exhibition – artists collective | Emili – Resilient Roots Artworks, Carlos Carima, Rebecca Beatrice Duopou (BeArtRich), Curly | 17:30 – | Art harbor in Rhenania | Ground floor, main hall |
| 4 | Poetry Act mit Cyndi Hounouvi | Cyndi Hounouvi | 18:00 – 18:30 | Art harbor in Rhenania | Ground floor, main hall |
| 5 | Talk – The future of black companies in Germany | Simon Usifo, Yannick Jiongo | 18:30 – 19:30 | Art harbor in Rhenania | Ground floor, main hall |
| 6 | Fashion show by L'Atelier OKAPII | L'atelier OKAPII | 20:00 – 20:30 | Art harbor in Rhenania | Ground floor, main hall |
| 7 | LIVE-Music Act mit Varinia Akua | Virginia God | 20:30 – 21:00 | Art harbor in Rhenania | Ground floor, main hall |
| 8 | Afro Lounge Networking mit DJ Freegah | DJ Freegah | 21:00 – 22:00 | Art harbor in Rhenania | Ground floor, main hall |
| 9 | End | PROUD Team | – 22:00 | Art harbor in Rhenania | Ground floor, main hall |
Black-Owned Pop-Up Market & Event Program
Day two:
| # | Topic | Speaker | Time | Hall |
| --- | --- | --- | --- | --- |
| 1 | inlet | PROUD Team | 11:00 – | Art harbor in Rhenania | Ground floor, main hall |
| 2 | Workshop 1 – Find your purpose and discover your best life | Yannick Jiongo | 12:00 – 13:30 | Art harbor in Rhenania | 1st floor, workshop room |
| 3 | Workshop 2 – Brand/corporate positioning: how do I find my niche? | Lucy Llonna Larbi | 14:00 – 15:30 | Art harbor in Rhenania | 1st floor, workshop room |
| 4 | Workshop 3 – Career push through self-empowerment | Simon Usifo | 16:00 – 17:30 | Art harbor in Rhenania | 1st floor, workshop room |
| 5 | Dance act from Afrodance Trier | Afrodance Trier | 19:00 – 19:30 | Art harbor in Rhenania | Ground floor, main hall |
| 6 | LIVE-Music Act mit Molley | Molley | 19:30 – 20:00 | Art harbor in Rhenania | Ground floor, main hall |
| 7 | End | PROUD Team | – 22:00 | Art harbor in Rhenania | Ground floor, main hall |
Day three:
| # | Topic | Speaker | Time | Hall |
| --- | --- | --- | --- | --- |
| 1 | inlet | PROUD Team | 11:00 – | Art harbor in Rhenania | Ground floor, main hall |
| 2 | Workshop 4 – Holistic health is holistic wealth | Nely Daja | 12:00 – 13:30 | Art harbor in Rhenania | 1st floor, workshop room |
| 3 | Workshop 5 – Shaping the Business Mindset of the African Youth – for Black Children and Youth | Dr. Pedro Mbavaidi | 14:00 – 15:30 | Art harbor in Rhenania | 1st floor, workshop room |
| 4 | End | PROUD Team | – 18:00 | Art harbor in Rhenania | Ground floor, main hall |
For more information contact:
Email: Proud Event
Website: Proud Event
Facebook page: Proud Event