The Consul General of Nigeria in Frankfurt am Main, Germany, His Excellency Ambassador Wahab A. Akande, has backed the plans to host this year's Nollywood Film Festival Germany and its sister event Nollywood Europe Golden Awards (NFFG/NEGA).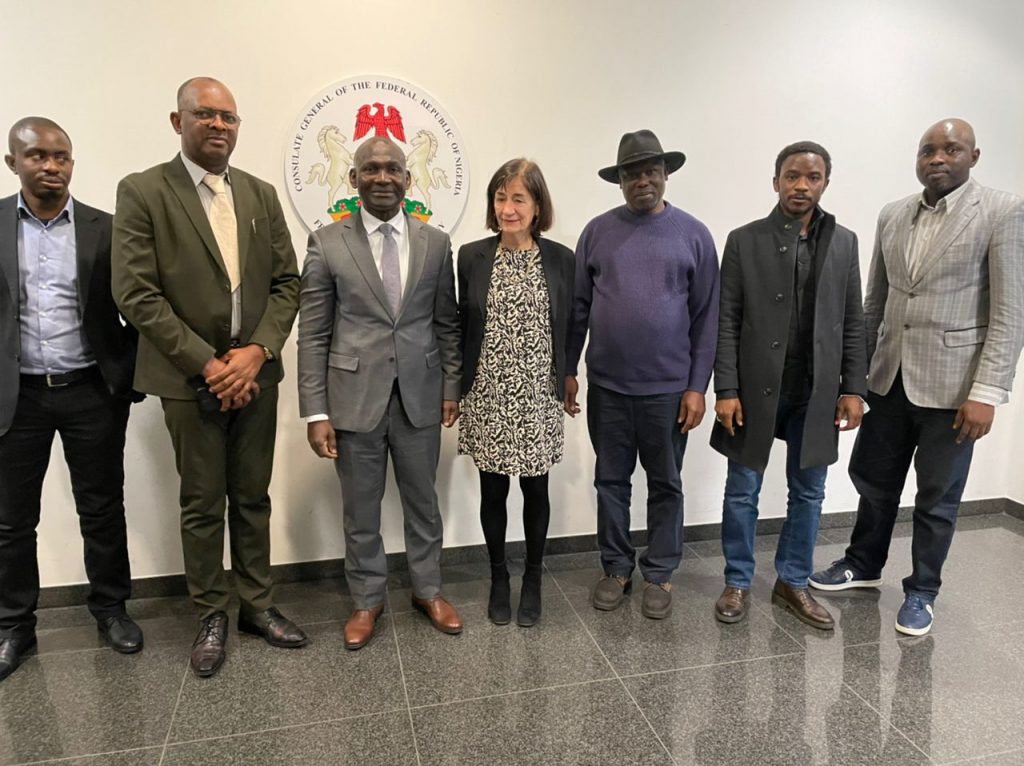 The Nigerian diplomat expressed his support for the event when the organisers and patrons of Frankfurt based Ehizoya Golden Entertainment led by Isaac Izoya Cultural Ambassador paid him a courtesy call on 7th January 2022.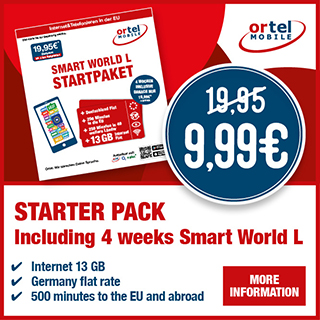 The meeting was to intimate Ambassador Akande of the grand plans for the 2022 edition of the festival, the first edition after the COVID 19 strike themed; Unlocking all possibilities.
The founder of Ehizoya Golden Entertainment Cultural Ambassador Isaac Izoya flanked by Patron, Engr. Imade Iyamu and head of International Relations Heidi Ivangs-Kariuki welcomed the new Consul to Frankfurt and presented a historical overview of the activities of the organization in promoting Nigeria's cultural products.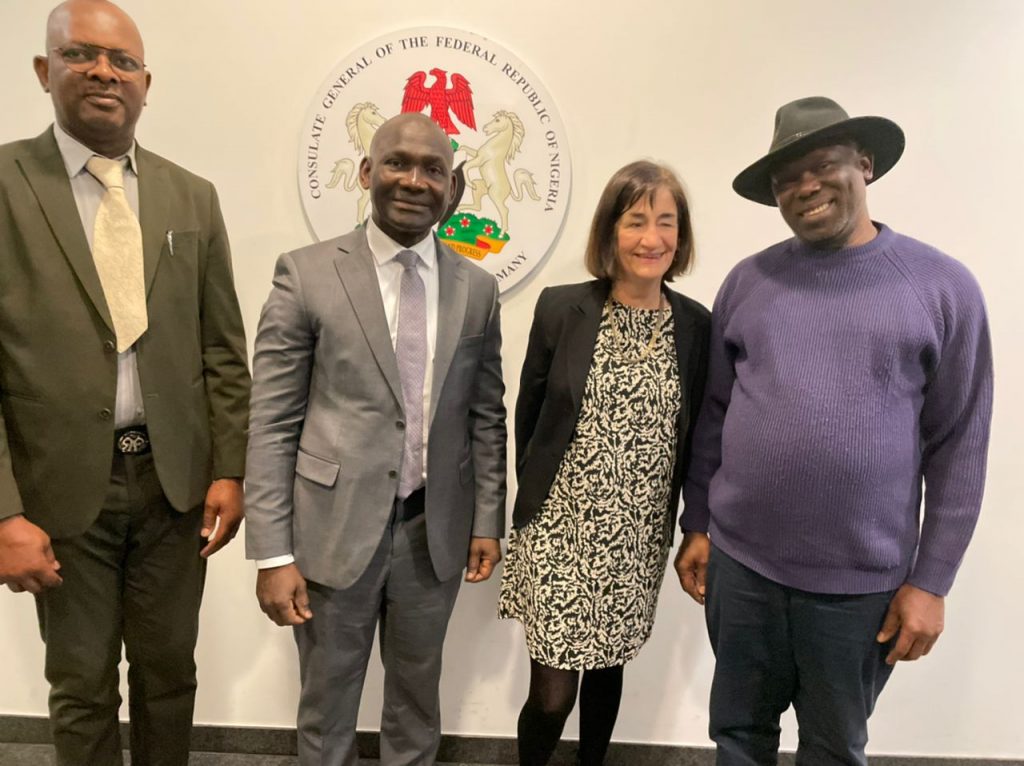 Izoya recalled the first shows in Berlin which brought Nollywood superstars Lancelot Imasuen, Ngozi Ezeonu and Empress Njamah to Germany to perform and feature and "The Sinners", the first Nollywood film ever produced in Germany in 2002.
Mr Izoya also talked about his other films like "Zero your mind", "Love in Berlin", "Home and Abroad", "Run..But You Can't Hide", "Mrs Adam", etc., as well as the comedy shows that eventually toured over 18 EU cities in eight European countries like Italy, Holland, France, Greece, Spain, Germany, Belgium and many others.
Mr Izoya explained how these films later gave birth to Nollywood Film Festival Germany – NFFG as well as Nollywood Europe Golden Awards (NEGA), which are platforms to showcase and reward excellence in the art of film-making.
He acknowledged the supportive role the Nigerian Embassy and Consulate have been playing in supporting his activities, adding that more of such support was expected especially in the upcoming 2022 event.
READ MORE: Nollywood Film Festival Germany winner of The Best African Festival In Germany at the African Community in Germany Awards (2021)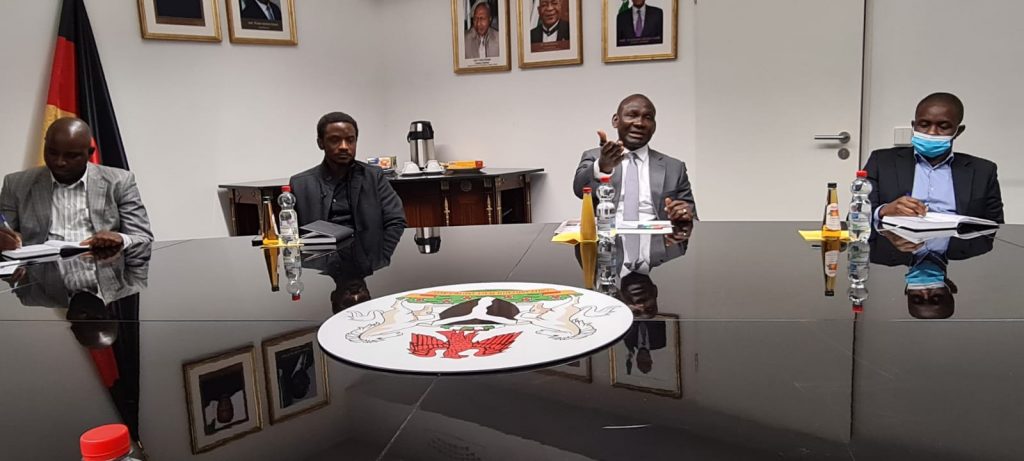 "There is no way I can forget Nigeria Embassy in Berlin and Consulate in Frankfurt am Main, Germany in all we have done in trying to use cultural activities to cleanse and project Nigeria's image here in Europe," Mr Izoya said. "I remember Ambassador Baba Wakil, I remember Ambassador Rimdap, I recall how your predecessor Ambassador John Ejinaka took our matter personal. In fact, let me here and now commend Nigeria Embassy in Berlin and the Consulate General in Frankfurt's interest in what we do. We came here today to intimate you of the big plans we have for NFFG/ NEGA 2022 so you can also take it personal and give us maximum support. Apart from being the first event after the global issues created by Covid-19, this event will be a bumper occasion featuring Nigeria's big artistes and comedians aside from the film shows. We are already being inundated with films from Nollywood filmmakers who wish to make use of our platform to showcase and premiere their new films come July 29th and 30th 2022. This edition is very commemorative because it coincides with the 20th anniversary of Ehizoya Golden Entertainment cultural expositions in Germany."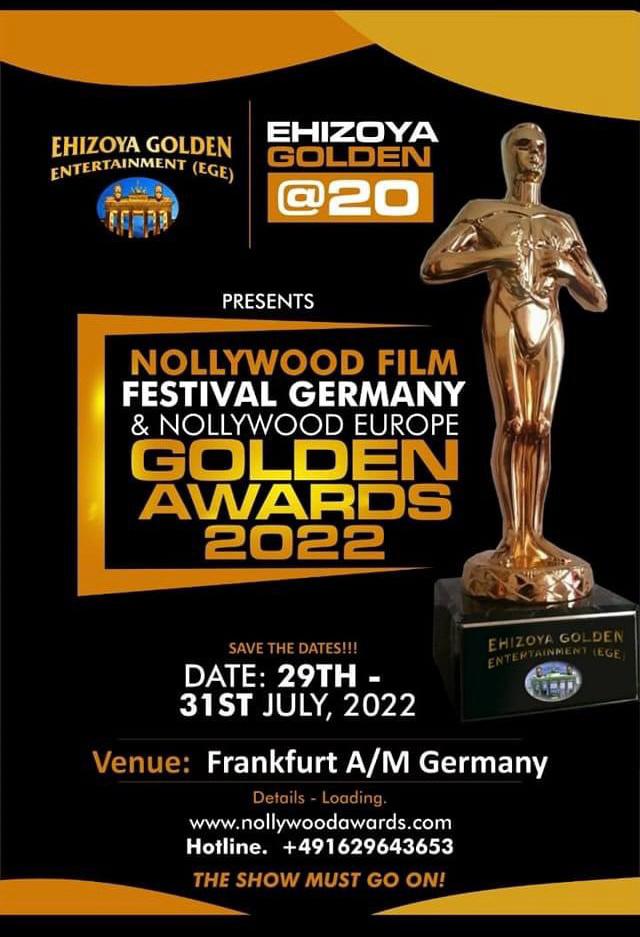 Ambassador Wahab Akande who was flanked by his lieutenants Head of Chancery Ismail Ahmad, head of Culture, Education and Information Solomon Enejoh and Valery Lapang, head of Economics, Trade and Investment took the floor and praised the activities of Ehizoya Golden Entertainment in the onerous task of laundering Nigeria's image abroad making use of the much cultural diversity Nigeria is blessed with notably films, music and comedy.
He also commended the organisers of the cultural events for their tenacity of purpose and holding onto a vision and mission for 20 years undeterred by the many challenges that confront it.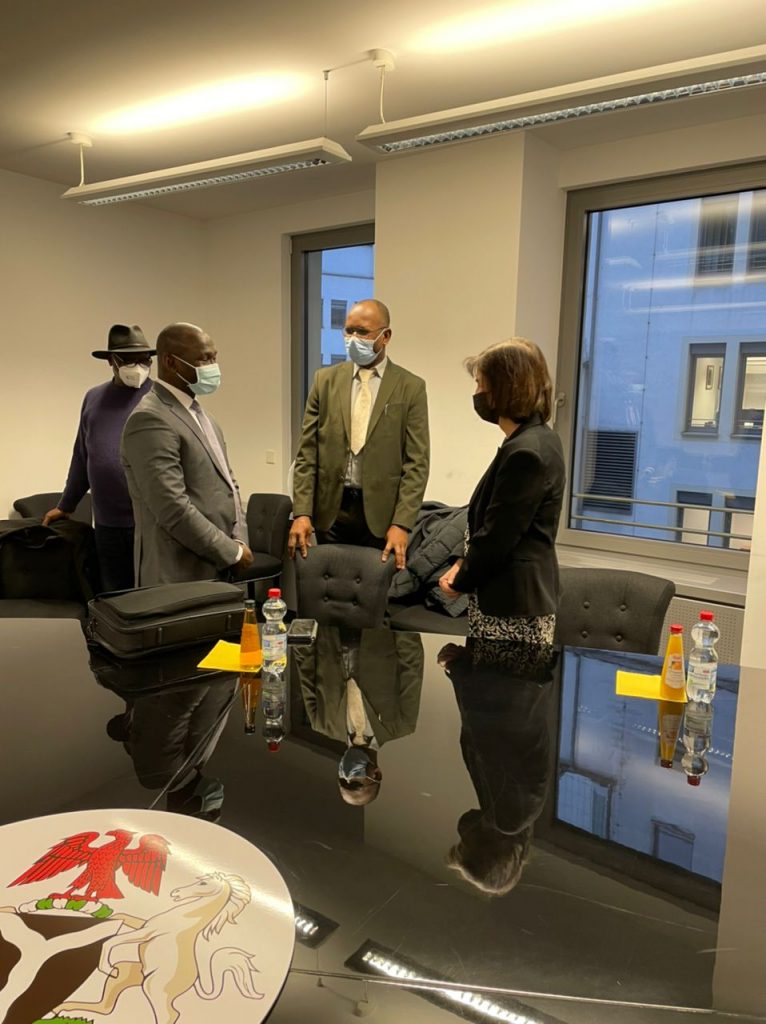 Ambassador Akande pledged his unalloyed support for anything capable of projecting Nigeria's positive image and interest, NFFG/NEGA inclusive.
He said a committee featuring Head of culture, Education and Information at the Consulate Solomon Enejoh and head of Economics, Trade and investment Valery Lapang will be put in place to liaise towards a very interesting event.
Nollywood Film Festival Germany was the winner of The Best African Festival In Germany at the AFRONEWS – Ortel Mobile African Community in Germany Awards (2021).
By Fred Iwenjiora