Kenyans in Germany should continue to be law abiding and work hard to excel in their professional fields, Kenya's new Ambassador to Germany H.E. Thomas Amolo has said.
In an exclusive interview with Afronews Germany, Ambassador Thomas Amolo reminded Kenyans in Germany of their great duty to remain Kenyans and help safeguard the country's name.
Kenyans living and working in Germany are the "real ambassadors of Kenya to Germany," he said. "The way you comport, the way you move, the way you articulate, the way you carry yourself is what people will come and say, 'I know Kenyans, they are good people'. I would ask my fellow Kenyans, let us abide by the rules, let us remember that it is rules that enabled small and big alike to thrive," Ambassador Amolo said.
Support Kenya to make it thrive
Describing Kenya as a "beautiful country", Ambassador Amolo said the country needed support of its citizens abroad to thrive. "If you don't support it, it will not thrive," he said.
Mr Amolo, who presented his Letter of Credence to the German President Frank-Walter Steinmeier on 11th March 2021, assured Kenyans in Germany of his support.
"I am here as your fellow Kenyan, to support you in your business, in your ability to make your life better, in your ability to make the lives of your people back home better, I am here with my team and I'll be able to support you, I work day and night tirelessly for you and for our people and you can count on my full and humble support to ensure that this is what happens."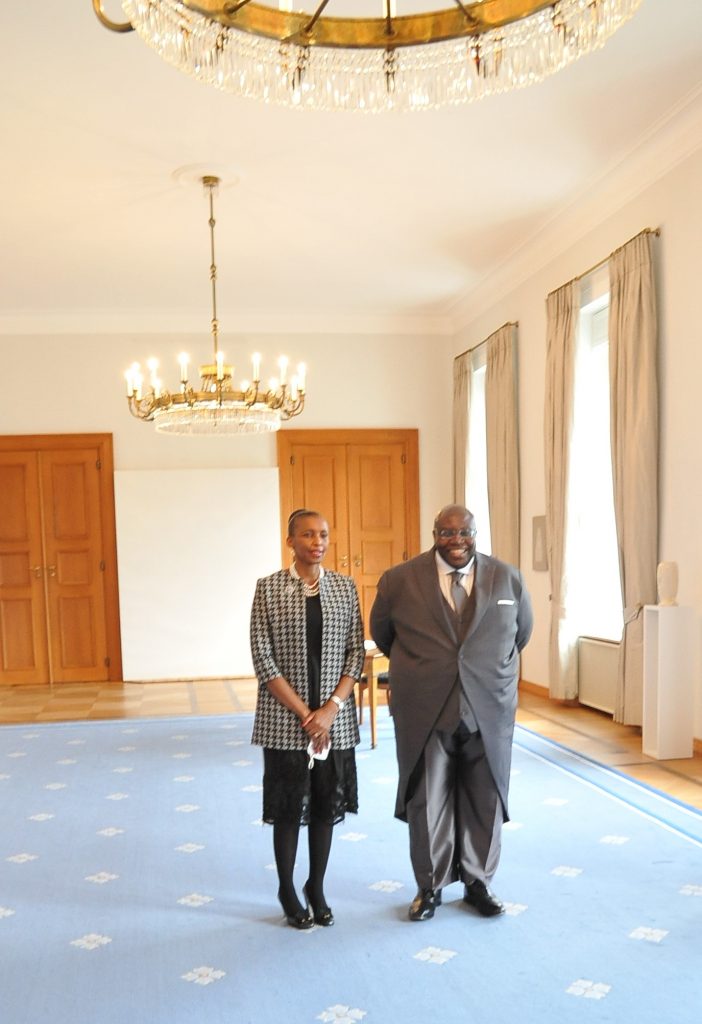 Ambassador Thomas Amolo encouraged all Kenyan professionals in Germany to strive to be the best. "You have to be the best in what you do, you have to become the best in your territory, you have to learn the language, and the language is not what you speak, it is how you comport, how you are able to mesh within the culture so that they understand you and you create a comfort level with the people."
Describing the family as "the most important thing" in a person's life, Ambassador Amolo advised Kenyans in Germany to take good care of their families both here and back home.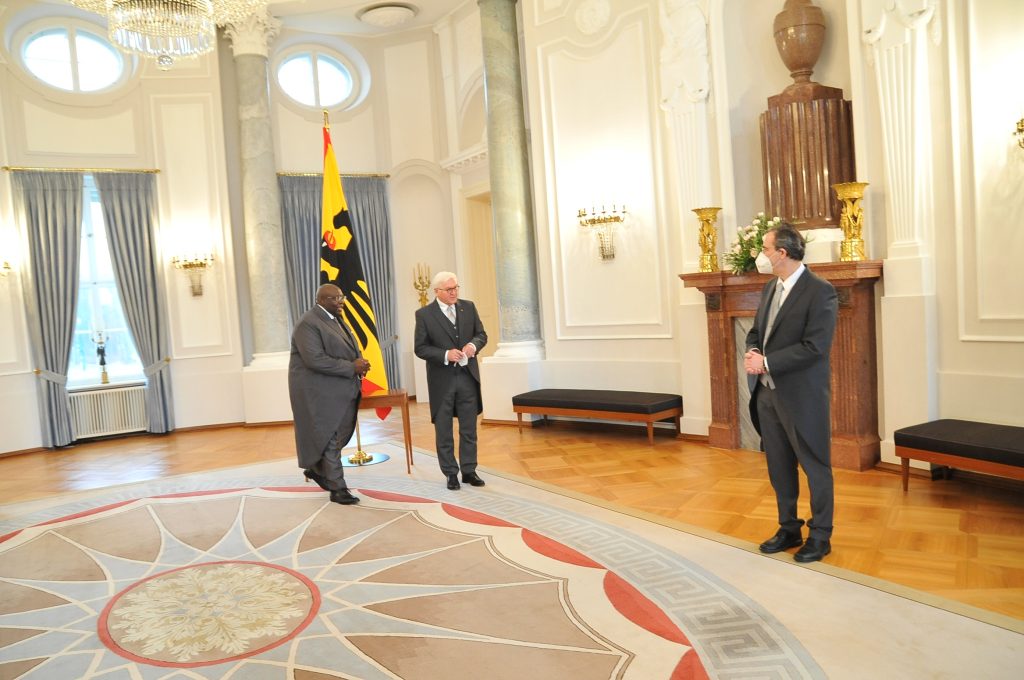 Kenya Embassy in Berlin is one of the few in Europe accredited to process Kenya's new e-passports. Addressing Kenyans in other EU countries planning to come to the Embassy in Berlin to apply for the e-passport, Ambassador Amolo said: "Because of Coronavirus we expended the use of the current passport to 31st December 2021, so with your old passport you can move around safely until the end of this year."
Due the COVID-19 restrictions, Kenya Embassy in Berlin is at the moment not allowing people to come and apply for or collect their passports.
Ambassador Thomas Amolo however revealed that they had made a request to the German government to allow the Embassy to provide Consular services to Kenyans in Germany. The German government is yet to respond to the request.
Ambassador Amolo: My door is wide open
In many countries in Europe, Africans have been complaining of having difficulties in meeting and expressing their views to their Ambassadors. Asked how he planned to address this issue, Ambassador Amolo said he was keen to meet and interact with Kenyans in all parts of Germany.
"People who want to contact me directly can do so by sending an email to: Ambassadoramolo@kenyaembassyberlin.de or to office@kenyaembassyberlin.de," he said. WhatsApp messages can also be sent to the Ambassador using this number: +49 171 166 4 222.
RELATED ARTICLE: Nigeria committed to breaking all gender barriers, says Nigerian Ambassador to Germany
Ambassador Thomas Amolo criticised ambassadors and other diplomats who keep off their citizens terming their behaviour "a lack of appreciation" of their job as diplomats.
"Your job abroad is not to keep yourself away from the people. You should see yourself as part of the society, part of the community and that has been my signature principle in my 30 years in diplomatic service," Mr Amolo said. "And what I intend to do which I've also done in other places, is hopefully once coronavirus restrictions are uplifted, I'll be visiting and if I can't, my colleagues will be visiting. So we want to demystify the job of an ambassador, we want to demystify the role of an Embassy, we want to make the people of Kenya understand that this is like their home, and they need to have access to it, as much as they can."
Ambassador Amolo is convinced that through engagement with Kenyans in Germany, the Embassy can enhance its ability to deliver to the diaspora in a more meaningful way.
"I'm very confident that should coronavirus reduce I'll be able to visit and meet them personally. You can count on me, I'll be reaching out to Kenyans," he said. He has already been holding virtual meetings with different Kenyan groups in Germany.
New Consular services for Kenyans in Germany
Ambassador Amolo revealed that plans were underway for the Kenya Embassy in Berlin to issue Kenyan IDs and marriage certificates in addition to the e-passports, a move that would save many from having to travel to Kenya to obtain the same documents.
Why German investors should invest in Kenya
Ambassador Amolo said there were many investment opportunities in Kenya for German investors in Agro-processing, tourism, road building, solar, chlorine production, etc. Currently there are more than 122 big German companies and businesses in Kenya.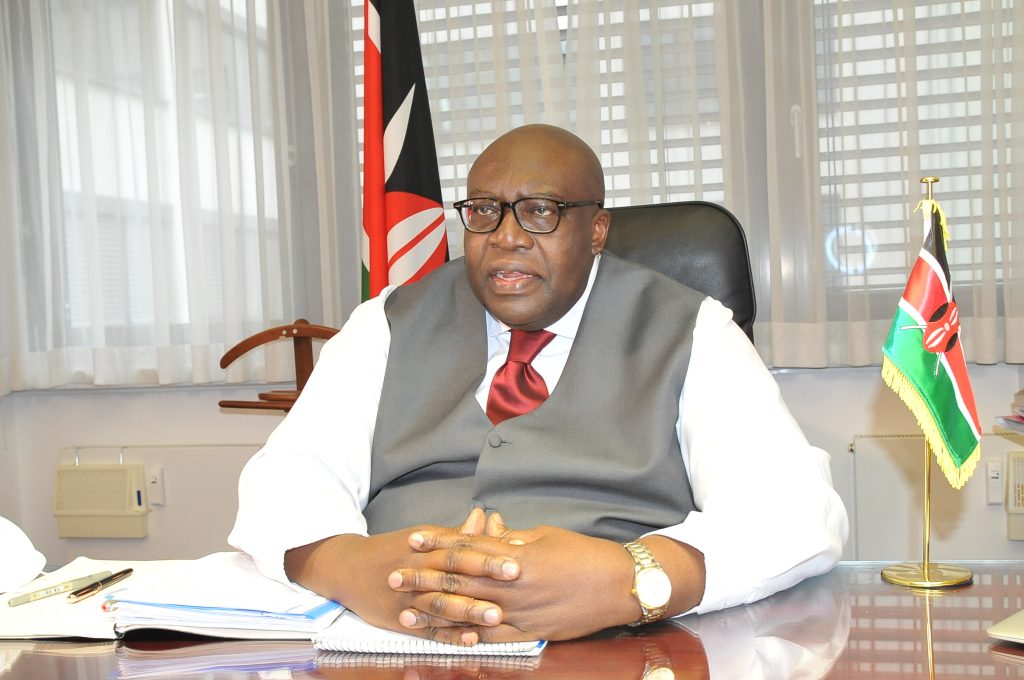 The Kenyan diplomat has been encouraging German investors planning to invest in Kenya to partner with Kenyan investors who know the law of the land and how the system works.
"Kenya is a springboard into the subregion – Uganda, Tanzania, Rwanda, Burundi, Ethiopia and so on. We also have a very good infrastructure, and with the infrastructure I don't only mean roads, I mean telephone, internet, cable, ability to travel anywhere within the continent of Africa, and we have the connectivity background, airways and so on. Also we have a highly educated group of Kenyans, a good number of them who even speak the language of the investor. If you go now to Kenya there is a group of Kenyans who speak German very fluently, that's what I would recommend to any German to invest in Kenya because of these capabilities."
Investments in Kenya are safe because it is a rules-based country, Ambassador Amolo said. This "means there is predictability in doing business. If there is a challenge there is a court of law that enforces the rules. Therefore any challenge in the business world can be adjudicated comfortably with good outcomes for the investors. All of these put together with a thriving democracy which you don't get as easily as you wish anywhere else, make Kenya a safe place to invest in," he said.
Ambassador Thomas Amolo holds a Bachelor of Arts Degree in Political Science and Post-Graduate Diploma – Diplomacy and International Relations from the University of Nairobi. He also holds a Diploma in International Economics/Diplomacy from Deutsche Stiftung fur Internacional Entwicklung, Berlin.
From 2013 to 2015 was Kenya's High Commissioner to Nigeria after serving as Kenya's High Commissioner to South Africa 2007 to 2013.
By Stephen Ogongo