The Lead Africa International Academy 2021 is giving a rare opportunity to young people of African descent in Germany to participate in the program via zoom on the 22-24 of November. Only 30 slots are available.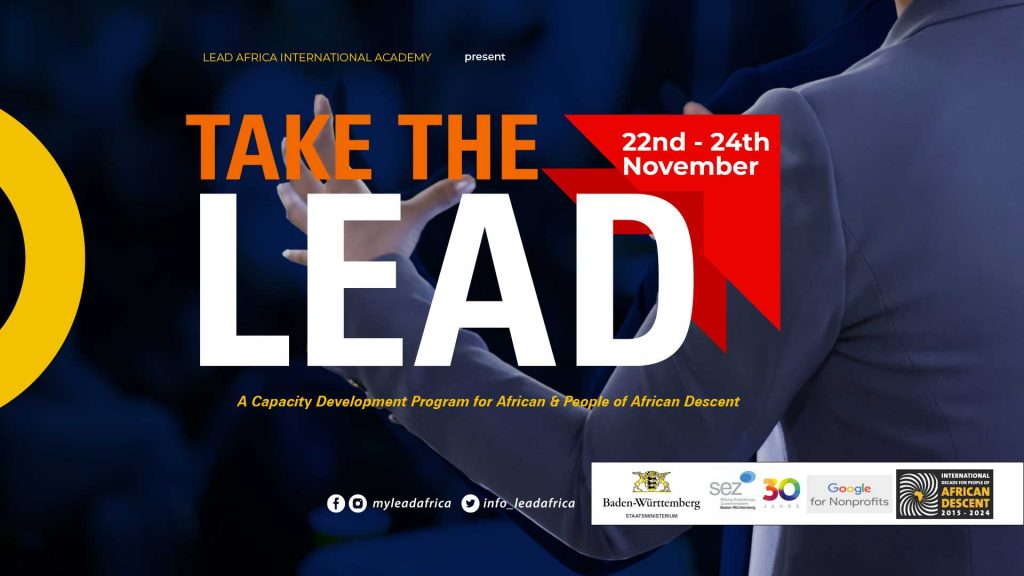 The Lead Africa International e.V is a German-based global non-governmental organisation dealing with development issues and solutions.
Lead Africa International Academy 2021 is a three-day capacity development program for African and people of African descent. The academy hopes to foster conversations with a close group of young resourceful minds.
The applicants would be selected from across different categories for equal opportunities and representation to be possible and successful applicants will receive a daily stipend of €40.
The Lead Academy 2021 initiative pursues two distinct but inter-twined goals. First, it aims at charting a new course of thinking among the focus group of the 2021 Academy on the maintenance of economic relevance and capacity development in a (post) Covid environment. It also seeks to provide a counter-narrative to the body of knowledge that have, unfortunately but dominantly, framed the imagination of the black body in Europe.
The proposed dialogue of this Academy aims at producing a complimenting new body of knowledge targeted at addressing the following questions:
Clarify the impact and growth they seek to achieve as they pursue their vision and mission.
Communicate and socialise their vision to attract and retain talent, support and collaborations
Adapt and customise best practice leadership practices from African and European (with focus on German)
Design a well structured development plan with clear performance drivers and metrics to track progress.
Modules Covered Include
Clarify the impact and growth they seek to achieve as they pursue their vision and mission.• Personal leadership – Identity and personal drive // Structured personal growth // Character and values
Organisational leadership – Clarity of Vision, Goals and Mission // Clear results , Metrics and Performance drivers // Attracting, Retaining and Developing talents.
Leadership lessons from Africa and its allies – Ubuntu – African leadership lessons // The reality of leading in Africa and the challenges of the continent // Lessons from allies – Germany and EU
What are the requirements?
Applicants must be between the ages of 18 and 35
Complete application form and submit by 10 November 2021.
*NOTE: Only shortlisted candidate will be contacted.
Submit a copy of your ID along with your application form
All sessions will hold via Zoom. Participants should therefore have good internet access.
Participants must fully participate in the sessions from 22 – 24 November 2021 and attend the G-PAD Forum on 25 and 26 November 2021.
Good command of English language
Who can apply?
This programme is targeted at, but not limited to, Africans and people of African descent who is between the ages of 18 and 35. Everyone is welcome, what matters is that you have a specific goal and want to succeed from where you are.
How long is the session?
The total duration for each day is six to eight hours.
How much would it cost?
Participation is free and there are no hidden costs
For more information:
Address: D – 72622 NT, Baden-Württemberg, Germany
Email: lead@myleadafrica.org
contact@myleadafrica.org
Phone line: +49 152 17148376
DEADLINE: 10 NOVEMBER 2021
Source: Lead African International Academy