Amoako Boafo, 35, is the outstanding painter behind Kim Jones latest Dior men's collection. The Afro-celebrity is known for his large oil portraits of friends and campaigners, whom he renders in thick, gestural strokes using his fingers, while using a brush to paint the clothes.
Jones first met Amoako while showing his pre=fall collection during Art Basel in Miami where the Ghanaian was working as an artist-in-residence at the Rubell Museum.
They were quickly introduced by Mera Rubell herself and this union led to Jones catching a flight to Accra, Ghana to see what magic Amoako was up to in his studio in Ghana.
The two sat down and began to discuss how they could merge art and fashion. Amoako's striking designs to his art had spurred the decision to inculcate them into the pieces of clothing.
Jones was inspired by Boafo's Black Diaspora series, which explores his identity and black masculinity. The artist's influence was ubiquitous, with Jones transposing the works on to clothes, in some cases hand-painting the portraits on to coats and knitwear or simply borrowing from the print or mood of a portrait.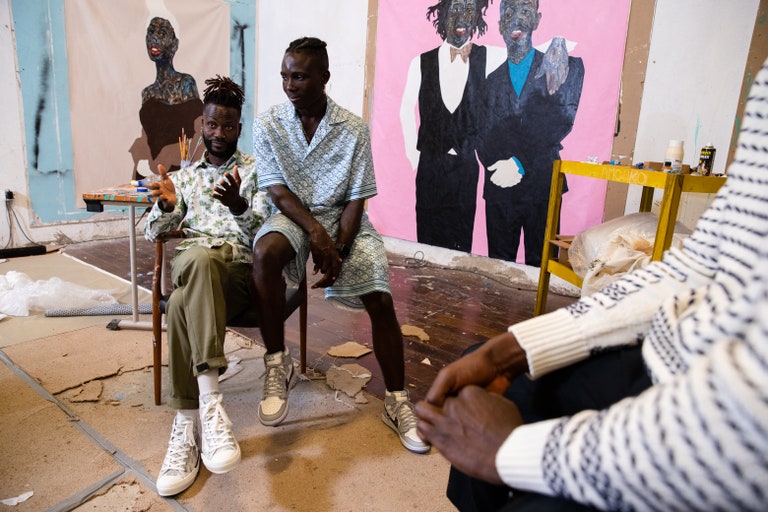 "My experience collaborating on the Dior collection has been mind-blowing," says Boafo. "But in many ways, the fashion and art worlds are similar.
They convey genuine messages about being, and self-worth, much of which aligns with why I create—to elevate individuals and to define oneself."
What is most striking about his art is that he portrays Black diasporic figures into the portraits types once reserved for princes and popes. Boafo says he is inspired by powerful Black emerging designers, creatives, curators, artists and musicians.
Some of is subjects remain anonymous while some are revealed subtly through the title of the works and some titles hit at who they are representing.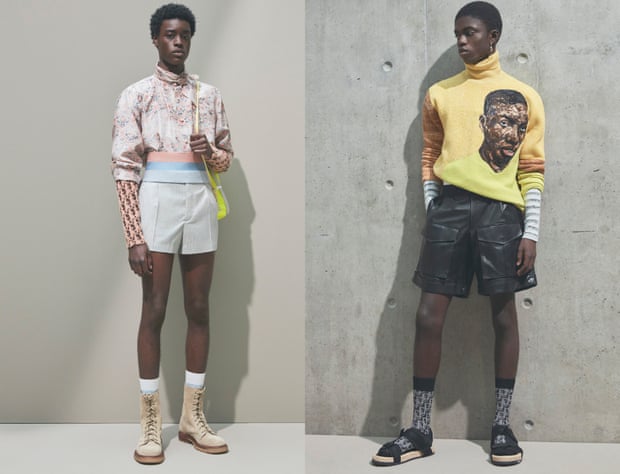 The Dior collection houses these characters embroidered across sweaters and some have carefully painted floral surroundings printed onto shirts too.
During this time of crisis a lot of consideration has had to be taken in to come up with new ideas as an artist and individuality has been paramount.
"In times of crisis, notions shift, and our role as artists must shift as well." And, if Jones is to be believed, so must fashion.
Source: Amoako Boafo, Vogue