A Ghanaian actress Rosemond Alade Brown who is better known as Akuapem Poloo nude photoshoot with son pictures posted online lead to social media uproar and later, her arrest. The pictures went viral on Social media depicting her with her underage son while she was posing in the nude.
According to media house Ghanaweb, Akuapem Poloo nude photoshoot pictures were picked up by operatives of Ghana's Criminal Investigations Department (CID) and was sent to the headquarters of the Domestic Violence and Victim Support Unit.
In the photo which was posted on Tuesday, June 30, in celebration of her son's birthday, the actress squatted in the nude in front of her son who was only in his underwear.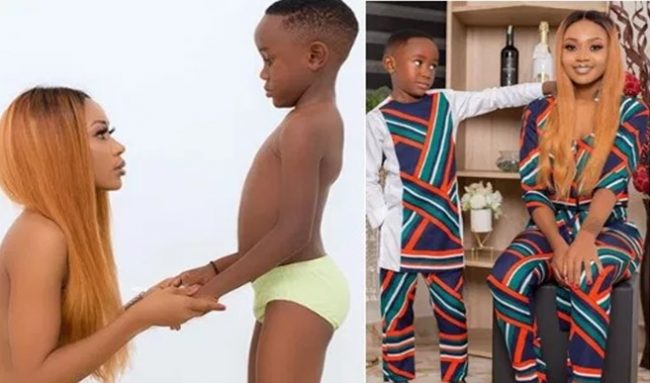 "I'm naked in front of you because this is how naked I was giving birth to you, so in case you find me naked lying somewhere don't pass by me but rather see me as your mom who brought you to life. Happy birthday to you @sonof_poloo"
This action cause social media uproar with people condemning the act and calling for action to be taken against such. The child right international petitioned the Ghanaian police criminal investigation department (CID) to look into the matter.
The unit released a statement that said that they as the child's rights organization deem the act as a violation of the welfare principle of the children's act and abuse of the child's rights to privacy and dignity.
Nollywood actor Uche Maduagwu reacts to artist D'Banj's rape allegation
The actress later apologized in a video posted online saying that the photoshoot was an artistic impression.
"As an artist, whatever I post is an artistic impression. I'm not trying to put porn on my page or playing porn with him. I am so sorry if I hurt anyone with my post this morning. I also want you to know that it wasn't made with a bad intention."
She added that the act was meant to teach the public to care for their parents irrespective of the state of their appearance.
"What I was saying was that, no matter how naked you see your parent, don't run away from them. Get close to them and cloth them."
Source: Akuapem Poloo