Viral Ghanaian dancing pallbearers nicknamed 'Dada Awu' who made more than a million dollars approximately, 919,000 euros, have donated almost € 230k to a Ukrainian charity and many Ghanaians do not agree with the decision. Here's what they had to say: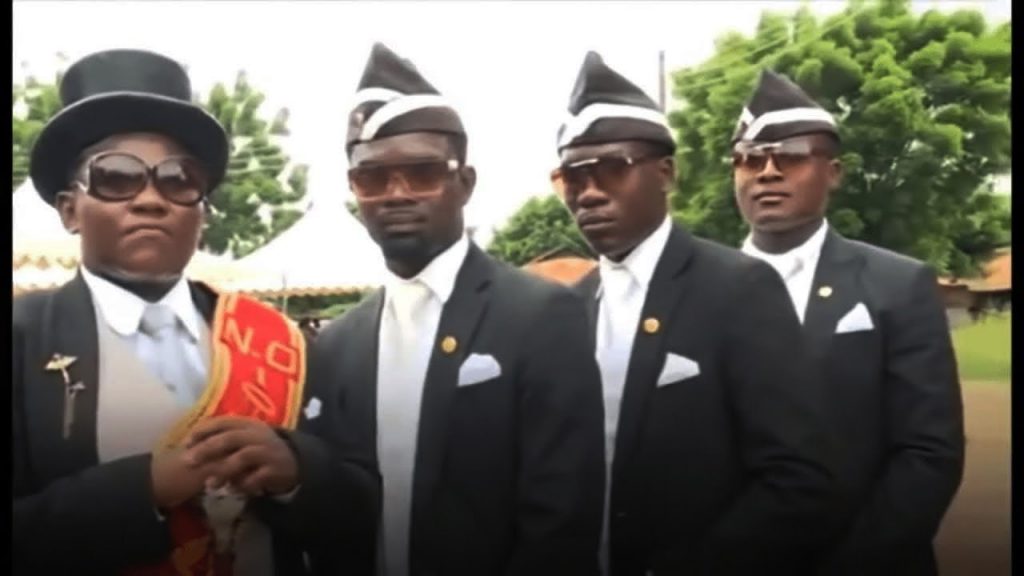 On April 7, the video meme was minted by the Dancing Pallbearers team and auctioned on NFT. Accordingly, they have sold their 10-second meme in one of the historic Non-Fungible Token (NFT) auctions.⁠
3F Music, home to a number of recording studios worldwide based in the Middle East, bought the Coffin Dance meme for $1,046,079.54 (327.00ETH) as the highest bidder on Saturday, April 9.⁠
Why the Ghanaian dancing pallbearers chose to donate to the Ukrainian charity?
The pallbearers then announced that they will be donating 25% of the sale of their meme to the Ukrainian Charitable Foundation to support Ukraine amidst its war against Russia ever since Putin's invasion.⁠
In a video posted by pulse.com.gh, Benjamin Aidoo, the leader of the pallbearer's group said " we will like to announce that we would transfer twenty-five per cent of the funds from the sale of our memes at the NFT auction to the Ukrainian Charitable Foundation".⁠
READ ALSO: Coronavirus: Ghana's Dancing pallbearers go viral becoming 2020 meme
What did Ghanaians online have to say about the decision to donate to a Ukranian Charity?
Many Ghanaians online did not agree with the decision and had a few words to say about the donation:
One user, 1isaacc said, "Could've invested that in Ghana."
Kb.7 said, "Even though they're mistreating Africans that are trying to escape Ukraine SMH"
Another user, Michi Koehn said he hoped the news was not true.
"After all the misery some Ghanaians are going through, couldn't donate to make the people better there?" said obu1kanobi.
"Bro help your own country rather than sponsoring the coloniser," said Chixtms and Plomo added, "I feel sorry for my people but nah some are just … Never mind."
Another user questioned whether Ukraine would do the same for Ghana.
Fvuzvn.mvlimbo said, "So for those condemning them. This is a business strategy to create awareness and publicity which will therefore spark more interest in their next sale . Which will rake millions. Sit down there and judge. After all it's still free Money for them ."
"I wish I hadn't seen this, now I'm more pissed. Why will you donate to another country when yours is at brink of disaster too."
"I'm guessing one condition was to give a percentage away to a charity chosen by their representatives. I doubt these guys actually wanted to give this money up…..Nft and crypto currency's are just another way of saying Su su… "