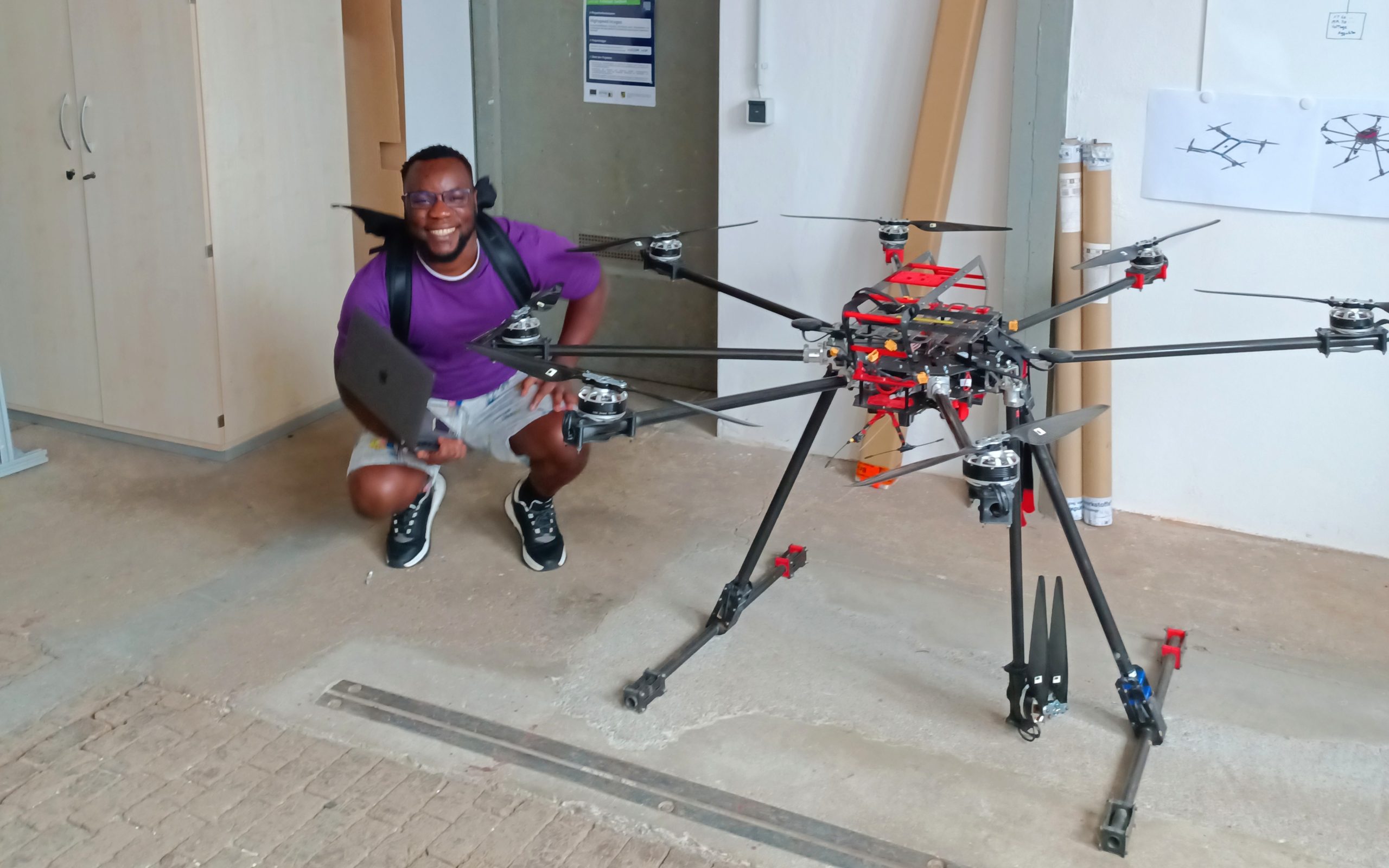 African Community Awards. AFRONEWS AWARDS 2023. Dr. Wilfried Hamilton Adoni has been nominated for the Best African Male Geo-spatial Analyst/Robotic Automation Specialist in Germany 2023 at the AFRONEWS Awards 2023.
Who is Dr. Wilfried Adoni?
Dr. Wilfried Adoni is an Ivorian Germany-based scientist with a Ph.D in computer Science and Applied Mathematics. He was an Associate Professor in Morocco and Lecturer in many African universities.
He is currently doing scientific research working on autonomous multi-drone systems between the Centre of Advanced Systems Understanding at Gortliz & The Helmholtz Institute Freiberg for Resource Technology.
By nature, Dr. Adoni is a fan of science. Before coming to Germany, he was already leading scientific projects on smart villages, smart agriculture, artificial intelligence, etc. To simply describe his work, Dr. Wilfried has the challenge to program intelligent drones that will perform complex missions. These drones communicate with each other to make decisions without the intervention of a human operator.
READ MORE ON HIM HERE: Meet Dr. Wilfried Adoni, a Germany-based Ivorian Tech guru and a master at drone mechanics
CONTACT DETAILS OF THE NOMINEE
Facebook: Wilfried Hamilton
LinkedIn: dr-hamilton yves wilfried adoni phd
Email: wilfried.adoni@uic.ac.ma, adoniwilfried@gmail.com
Telephone no: +49178902284
What are the AFRONEWS AWARDS?
The AFRONEWS AWARDS celebrate and recognise the outstanding achievements of Africans in different fields in Germany. They are a way of appreciating and encouraging Africans who have excelled in different fields and are making a positive contribution to the German society.
The Awards also recognise the good work done by African organisations/associations and businesses to promote a positive image of Africa and Africans, facilitate integration of Africans in Germany, promote business opportunities and international cooperation between Germany and African countries, and above all, make Germany and the world a better place for all of us.
How to sponsor the AFRONEWS Awards 2023 Gala Night
The Afronews Awards 2023 Gala Night is a high-level event that offers companies a variety of channels to increase their visibility amongst members of the African Community in Germany. To sponsor the event, please contact;
Stephen Ogongo,
Editor of Afronews Germany,
Tel/WhatsApp: +393333010654.
Email: editor@afronews.de
Or
Chris Black,
GMB Promotions
Email: gmbpromotions@musician.org
Tel/WhatsApp: +49 163 1254715
Sponsors of AFRONEWS Awards 2023
Ortel Mobile, Germany's leading prepaid sim cards provider for people with a migration background, is the major sponsor of the AFRONEWS AWARDS 2023.
The Awards are also sponsored by Taptap Send, an easy-to-use smartphone app that lets you send money to family and friends with just a few taps and a debit card.
The African Community in Germany Awards Gala Night 2023
The event will be held in Waiblingen, Stuttgart on 21st October 2023. The venue chosen for the Afronews Awards Gala Night 2023 is: Bürgerzentrum Waiblingen, Bürgerzentrum, An d. Talaue 4, 71334 Waiblingen, Stuttgart. The date is: 21st October 2023, from 17:30. Save the date!!
Booking to attend the AFRONEWS Awards Gala Night 2023
You are all encouraged to attend the Afronews Awards Gala Night to join us in celebrating achievers from our community.
Reservations are made on a first-come first-served basis. For further info on Reservations to attend the Awards Gala Night, please contact:
GMB Promotions
Email : gmbpromotions@musician.org
Tel/WhatsApp: +49 163 1254715