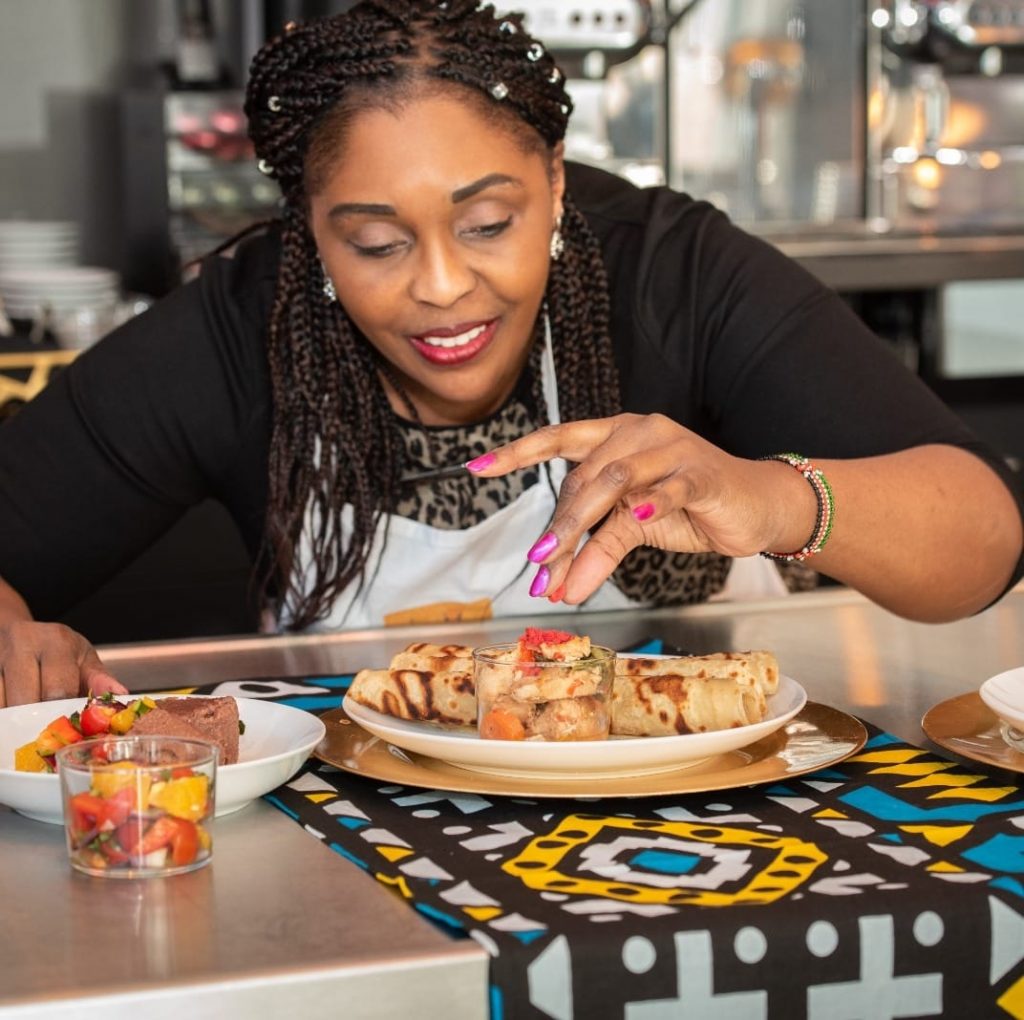 African Community Awards. African Community in Germany Awards 2022. My Ethnic Cooking and Catering (MEC) has been nominated for the Best African Gastronomy, Restaurant/Caterer Award at the AFRONEWS – Ortel Mobile African Community Awards 2022.
My Ethnic Cooking and Catering (MEC) is the first African cooking school in Germany which was founded in May 2019 by Gillian Lwangu Piroth.
Gillian is a Kenyan professional passionate about promoting African culture in Europe and, more specifically, through African cuisine. Gillian set up My Ethnic Cooking and Catering to introduce African cuisine to Germans and other nationalities.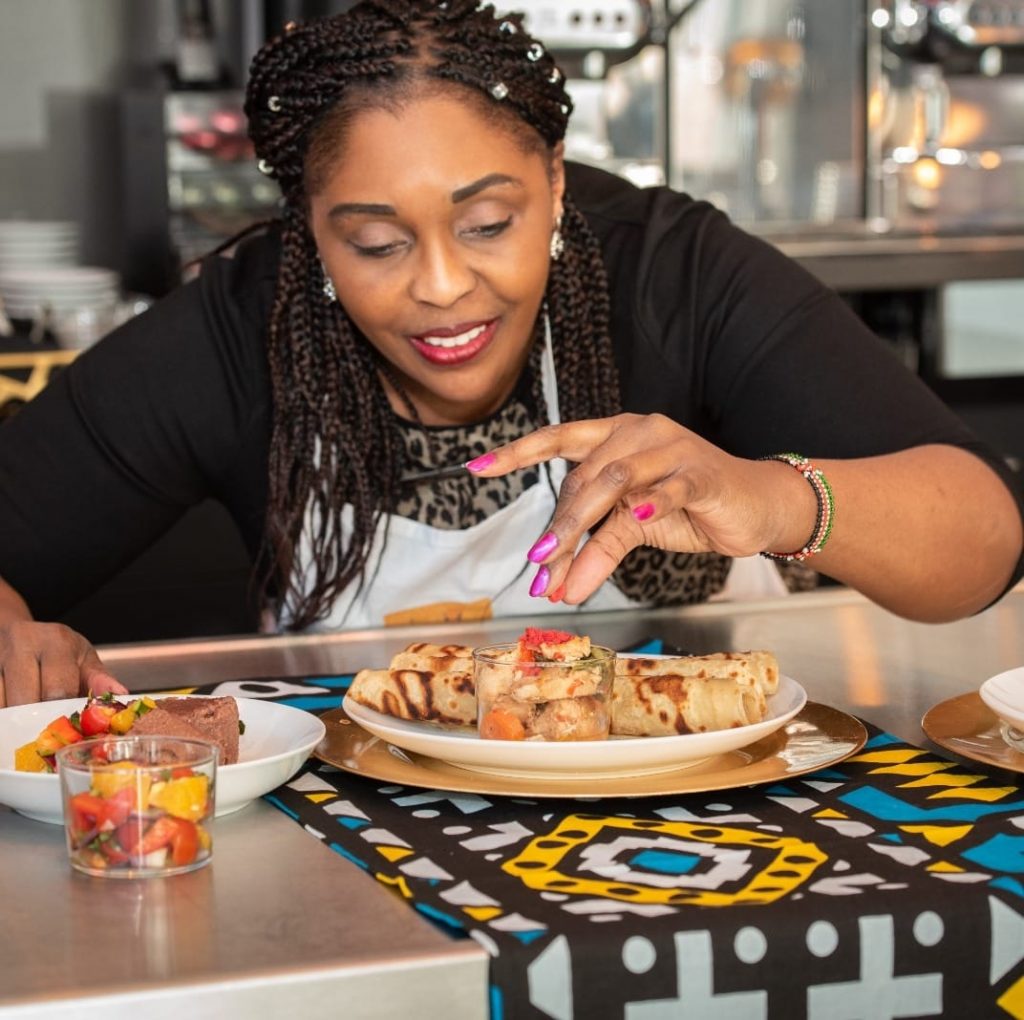 She was born and raised in Kenya before relocating to Germany almost 20 years ago and has more than seven years working experience in organising extraordinary African cooking events and also in preparing African dishes for exclusive events.
She has had great opportunities to hold Team Cooking events with international banks in Frankfurt and London. She's also an expert in private catering for family events, home cooking, and regular cooking classes that take place every Saturday in Germany.
It all started when she got an inquiry to do home catering in a family's home where their father was celebrating his 50th birthday. "Since this was pure coincidence and I didn't how much to charge I decided to brainstorm, work more on the project and turn it into a money-making machine," she recalls.
Gillian's main goal is to integrate African food culture as she also tackles issues of racism in Germany. She works in cooperation with Elizabeth Horlemann on the RaceThink dinner project.
"RaceThink dinner is a round table discussion on the matter of racism. Since racism discussions always start at our home dinner tables, we are giving the white people an opportunity to discuss, clarify and understand the impact of racism as we serve delicious Soul Food," Gillian says.
Together with her team members, they have a collective experience of 15 years plus in the African culinary business. They provide clients with exclusive African cooking classes, private Chef Services, and Event management services like never before offered in Germany.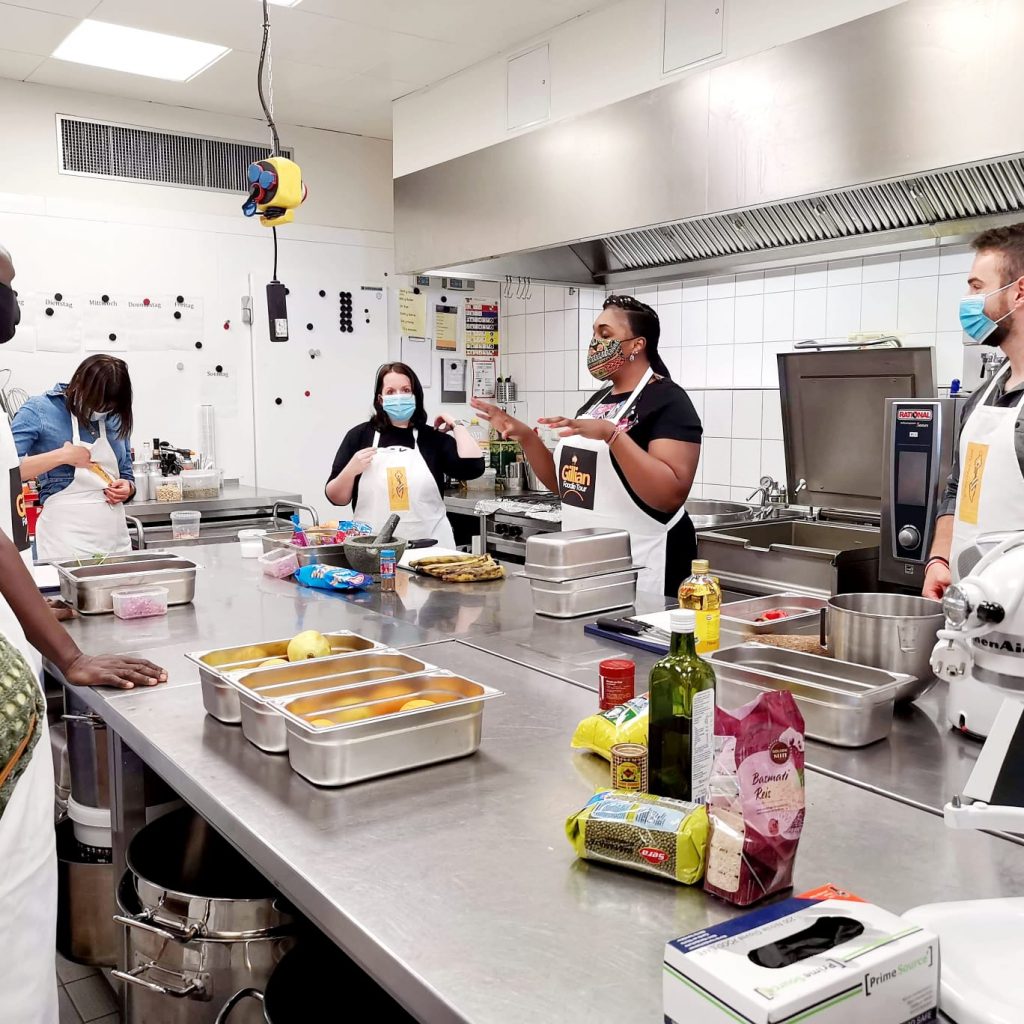 My Ethnic Cooking and Catering's flagship product is the online cooking classes. These classes are available for those who prefer to cook in the comfort of their own kitchens.
Participants learn to cook new dishes with step-by-step instruction with the help of a dedicated cooking instructor. They also communicate with their fellow participants, sharing learning as they progress together.
Gillian has successfully trained more than 300 participants through her cooking classes and in a bid to share her recipes globally, Gillian has authored a cooking book titled
"African Cooking Course Recipes" both in English and German, with 10 recipes from four countries across Africa. Her cookbook is available on Amazon: CLICK HERE
Gillian is a philanthropist and has given back to support projects in Kenya that serve underprivileged children. She has created a steady stream of donations by donating one Euro from each book sold to Tumaini e.V, a non-profit in Bamburi, Kenya.
Her advice to young people is to never give up on their dreams no matter what. "I have fulfilled my dreams after 20 years by never giving up and staying focused. You don't have to be the best but if you are passionate about something, you can always work on improving your passion," she says.
My Ethnic Cooking & Catering is now on Lieferando, taking orders and delivering fresh Kenyan foods to clients in Frankfurt and the environs.
CONTACT DETAILS OF THE NOMINEE:
Gillian Lwangu Piroth
Website: www.myafricancooking.com
Facebook: @MyEthnicCookingGermany
Instagram: @ethniquq
Email: contact@myethniccooking.com
Organised by the AFRONEWS, the newspaper for Africans in Germany, the African Community in Germany Awards celebrate and recognise outstanding achievements of Africans in different fields in Germany. They are a way of appreciating and encouraging Africans who have excelled in different fields and are making a positive contribution to the German society.
The Awards recognise the good work done by African organisations/associations and businesses to promote a positive image of Africa and Africans, facilitate integration of Africans in Germany, promote business opportunities and international cooperation between Germany and African countries.
What is My Ethnic Cooking and Catering (MEC)?
How to vote for your nominee
Public voting online for the official Award nominees is now open. The closing date for voting online is 17:00 on Monday, 12th September 2022.
To vote for your preferred nominee, click here
Sponsors of African Community in Germany Awards 2022
Ortel Mobile, Germany's leading prepaid sim cards provider for people with a migration background, is the major sponsor of the African Community in Germany Awards 2022.
The Awards are also sponsored by Taptap Send, an easy-to-use smartphone app that lets you send money to family and friends with just a few taps and a debit card, and Ria Money Transfer, a subsidiary of Euronet Worldwide, Inc. (NASDAQ: EEFT), a global leader in the money transfer industry.
How to sponsor African Community in Germany Awards 2022
The African Community in Germany Awards is a high-level event that offers companies a variety of channels to increase their visibility amongst members of the African Community in Germany.
For Sponsorship Opportunities please contact: Stephen Ogongo, Editor of AFRONEWS, Tel/WhatsApp: +393333010654. Email: editor@afronews.de
The African Community in Germany Awards Gala Night 2022
All winners will be announced and recognised at the African Community in Germany Awards Gala Night to be held on 22nd October 2022 from 5:30 PM at Bürgerzentrum Niederhöchstadt, Montgeronplatz 1, 65760 Eschborn.
The event will start at 17:30 and end at 23:45. An after-event party will follow until 05:00. CLICK HERE TO BOOK YOUR PLACE.
Reservations are made on a first-come first-served basis. For further info on Reservations to attend the Awards Gala Night, please contact: Gillian Piroth, Tel: +49 177 7800989. Mail: contact@myethniccooking.com