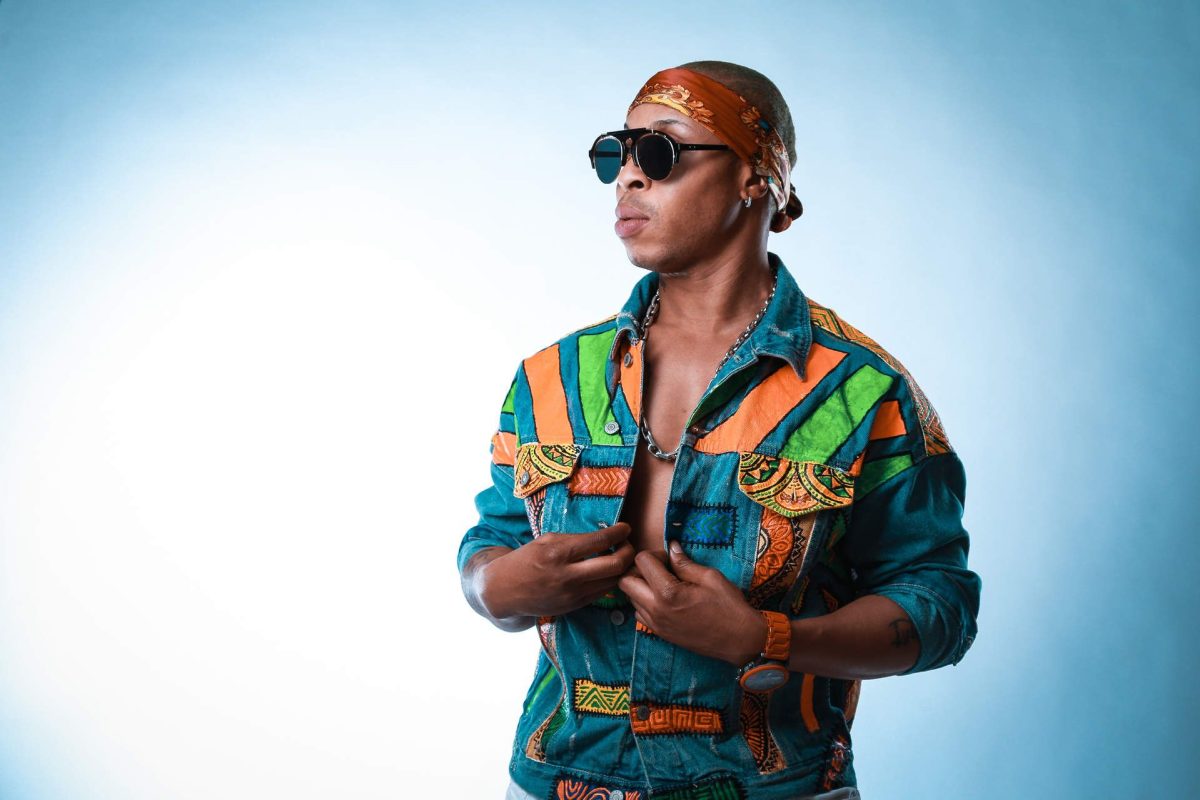 African community awards. AFRONEWS AWARDS 2023. Nigerian International singer Kellyfresh is set to entertain guests at the AFRONEWS Awards 2023 Gala Night in a stunning performance.
Talking about the prestigious Gala Night, Kellyfresh shared that he was very proud to see the African culture wave through the power of Afrobeats and encourages all to come in troves to the event in their best attires to impress for the special night.
"I'm overwhelmed for the invitation to be part of this great event which is an opportunity for me to showcase my talent and African culture through my music.Thank you for inviting me to the Afro News Awards night. I, Kellyfresh, Stuttgart's first son, the Afrobeat oracle no man can tackle will be there extra for the ladies looking forward to seeing you there lovers of Kellyfresh," said the Nigerian star.
Book your tickets now using this link: AFRONEWS. DON'T MISS OUT!
All you need to know about Kellyfresh
Kellyfresh is an amazing Nigerian international singer based in Stuttgart, Germany. Kellyfresh was signed to MMMY MUSIC on the 31st of July, 2016 and was accepted into the Nigerian music industry.
With songs like 'Putu Putu' and 'Anu Ntanta' have gained a lot of popularity and respect both home and abroad, especially at his home base in Stuttgart, Germany with his music and performances.
Kellyfresh is ready to give a taste of what is about to hit the Afro worlds with his scintillating stage energy.
CONTACT DETAILS FOR KELLYFRESH;
Facebook page: kellyfreshfanpage
Instagram page: kellyfreshofc
X: kellyfreshmmy
Sound cloud: kellyfresh
Apple music: kellyfresh
You are all encouraged to attend the Afronews Awards Gala Night to join us in celebrating achievers from our community.
Reservations are made on a first-come first-served basis. For further info on reservations to attend the Awards Gala Night, please contact:
For Tickets and Table Reservations:
Email : gmbpromotions@musician.org
Tel: +49 163 1254715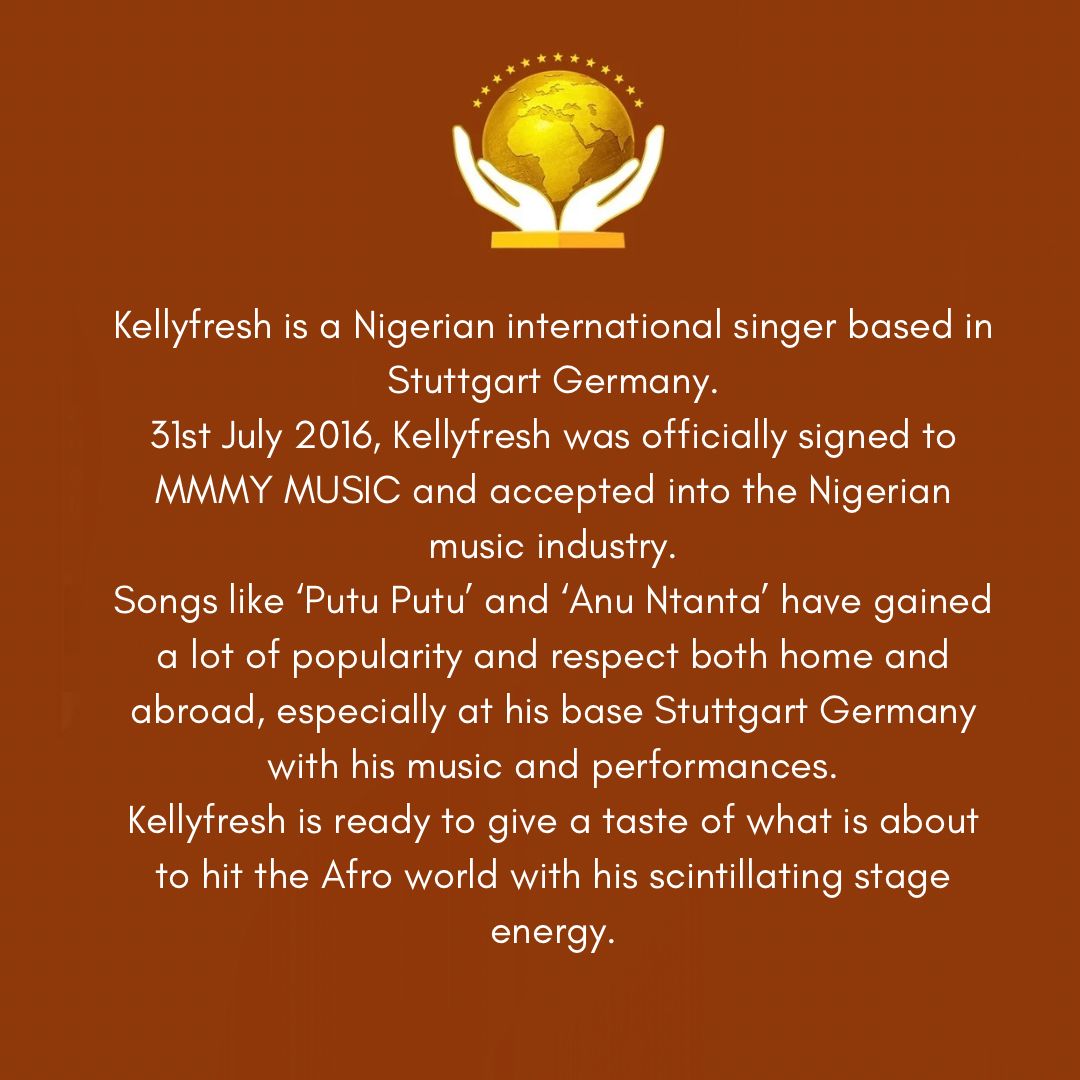 What are the AFRONEWS Awards?
The Afronews Awards celebrate and recognise the outstanding achievements of Africans in different fields in Germany. They are a way of appreciating and encouraging Africans who have excelled in different fields and are making a positive contribution to the German society.
The Awards also recognise the good work done by African organisations/associations and businesses to promote a positive image of Africa and Africans, facilitate integration of Africans in Germany, promote business opportunities and international cooperation between Germany and African countries, and above all, make Germany and the world a better place for all of us.
The Afronews Awards Gala Night 2023 is organised by Afronews, the newspaper for Africans in Germany in collaboration with GMB Promotions, founded and headed by Christopher Mendy alias Chris Black, the winner of the Best African Events Organiser 2022 Award at the last edition of Afronews Awards.
How to sponsor the AFRONEWS Awards 2023 Gala Night
The Afronews Awards 2023 Gala Night is a high-level event that offers companies a variety of channels to increase their visibility amongst members of the African Community in Germany. To sponsor the event, please contact;
Stephen Ogongo,
Editor of Afronews Germany,
Tel/WhatsApp: +393333010654.
Email: editor@afronews.de
Or
Chris Black,
GMB Promotions
Email: gmbpromotions@musician.org
Tel/WhatsApp: +49 163 1254715
Sponsors of AFRONEWS Awards 2023
Ortel Mobile, Germany's leading prepaid sim cards provider for people with a migration background, is the major sponsor of the AFRONEWS AWARDS 2023.
The Awards are also sponsored by Taptap Send, an easy-to-use smartphone app that lets you send money to family and friends with just a few taps and a debit card.
Booking to attend the AFRONEWS Awards Gala Night 2023
You are all encouraged to attend the Afronews Awards Gala Night to join us in celebrating achievers from our community.
Reservations are made on a first-come first-served basis. For further info on Reservations to attend the Awards Gala Night, please contact:
GMB Promotions
Email : gmbpromotions@musician.org
Tel/WhatsApp: +49 163 1254715