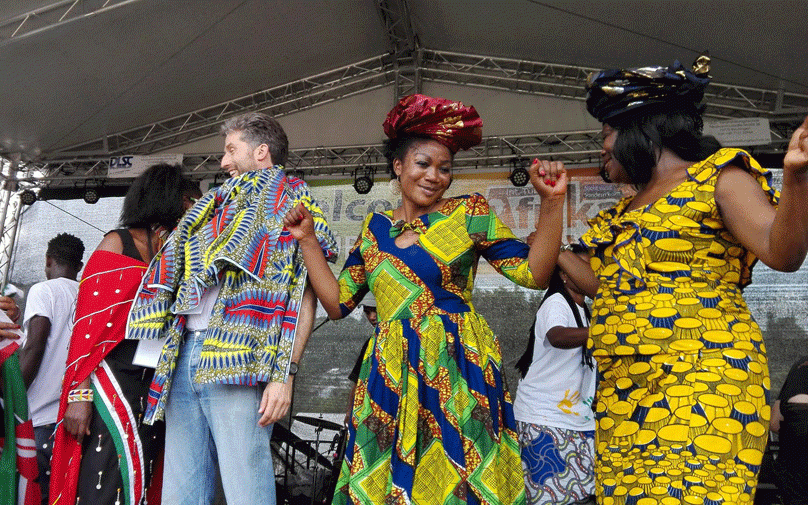 African community awards. AFRONEWS AWARDS 2023. Afrika Festival Tubingen has been nominated for Best African Festival in Germany at AFRONEWS Awards 2023.
What is Afrika Festival Tubingen?
The International Afrika Festival Tübingen is a platform that proudly celebrates African cultures.
Launched in 2007, the International Afrika Festival Tübingen is a cultural festival with a strong business bias.
Dr Susan Tatah, the founder of the Festival, has always been keen to ensure the festival markets African countries as tourist and investment destinations.
The appealing African cultural activities are used to attract people to the Festival in order to enable them to learn about Africa, Africans, their traditions, and above all, let them discover investment opportunities in African countries.
Convinced that foreigners can't effectively do business in Africa without proper knowledge of the continent and its cultures, Dr Tatah always makes sure the Afrika Festival Tübingen provides Germans a good platform to learn about African countries and their cultures.
The Festival is also a platform for Africans in Germany to gain more knowledge about their traditional and modern cultures and become proud of them.
The Festival has created networking opportunities for African and German businesspeople. It has made Germans appreciate African music to an extent that many German FM radio stations now continuously play African music.
The Afrika Festival Tübingen is indeed a perfect platform for integration of immigrants.
It creates a unique opportunity for Germans and Africans from all parts of Germany to come together and get immersed in African cultural activities.
At the Festival participants always have a chance of tasting and enjoying a variety of African dishes.
It brings together more than 10.000 visitors each year to the beautiful university Town of Tübingen.
The Afrika Festival Tübingen is supported by Mini Cultural Grants of Tübingen City Cultural Grants, and it has been attended by top German and African authorities, African Ambassadors in Germany and prominent African personalities.
CONTACT DETAILS OF THE NOMINEE
Facebook: Afrika Festival Tubingen
Website: Afrika Festival Tubingen
What are the AFRONEWS AWARDS?
The AFRONEWS AWARDS celebrate and recognise the outstanding achievements of Africans in different fields in Germany. They are a way of appreciating and encouraging Africans who have excelled in different fields and are making a positive contribution to the German society.
The Awards also recognise the good work done by African organisations/associations and businesses to promote a positive image of Africa and Africans, facilitate integration of Africans in Germany, promote business opportunities and international cooperation between Germany and African countries, and above all, make Germany and the world a better place for all of us.
How to vote for your nominee
Public voting online for the official Award nominees is officially open on the 7th August 2023 here: AFRONEWS Awards Germany (2023) – VOTING IS NOW OPEN!!
How to sponsor the AFRONEWS AWARDS 2023 Gala Night:
The Afronews Awards 2023 Gala Night is a high-level event that offers companies a variety of channels to increase their visibility amongst members of the African Community in Germany. To sponsor the event, please contact;
Stephen Ogongo,
Editor of Afronews Germany,
Tel/WhatsApp: +393333010654.
Email: editor@afronews.de
Or
Chris Black,
GMB Promotions
Email: gmbpromotions@musician.org
Tel/WhatsApp: +49 163 1254715
Sponsors of AFRONEWS Awards 2023
Ortel Mobile, Germany's leading prepaid sim cards provider for people with a migration background, is the major sponsor of the AFRONEWS AWARDS 2023.
The Awards are also sponsored by Taptap Send, an easy-to-use smartphone app that lets you send money to family and friends with just a few taps and a debit card.
The AFRONEWS Awards Gala Night 2023
The event will be held in Waiblingen, Stuttgart on 21st October 2023. The venue chosen for the Afronews Awards Gala Night 2023 is: Bürgerzentrum Waiblingen, Bürgerzentrum, An d. Talaue 4, 71334 Waiblingen, Stuttgart. The date is: 21st October 2023, from 17:30. Save the date!!
BOOKING TO ATTEND THE AWARDS GALA NIGHT
You are all encouraged to attend the Awards Gala Night. You can make reservations from this link:
Reservations are made on a first-come first-served basis. For further info on Reservations to attend the Awards Gala Night, please contact:
GMB Promotions
Email: gmbpromotions@musician.org
Tel/WhatsApp: +49 163 1254715