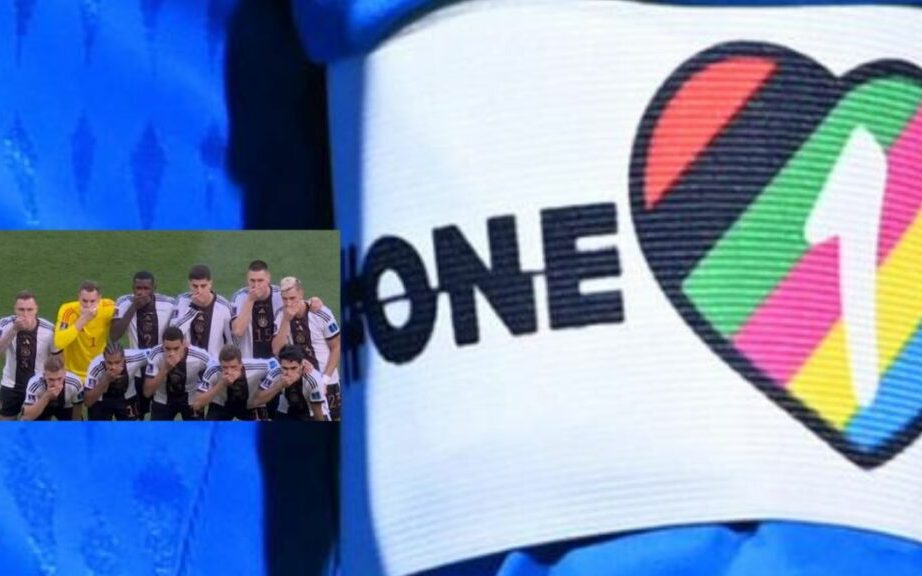 German footballers protest in Qatar. The German team protested FIFA's approach to the 2022 World Cup in Qatar. Before the match against Japan, players symbolically gag their mouths.
German footballers protest in Qatar
Just before the start of the match at Ar-Rayyan's Khalifa stadium, the players lined up for a group photo – gagging. The gesture was preceded by a heated discussion about the "One Love" wristband. FIFA has threatened sanctions against European national teams. At the "suggestion" of FIFA, Teams from England, Wales, Belgium, Denmark, Germany, the Netherlands and Switzerland, who had previously wanted to take part in the action, withdrew from the action.
DFB: "Banning armbands is like banning lips."
The German Football Association (DFB) has taken a stand on the action, stating that the "One Love" wristband has no political message. "Human rights are not negotiable. This should be obvious. Unfortunately, it still isn't. That's why this message is so important to us. Forbidding us to wear bandages is like forbidding us to use our mouths."
Federal Interior Minister Nancy Faeser donned the FIFA-banned armband while sitting in the stands next to FIFA president Gianni Infantino, German media reported.
The international players' association FIFPRO showed support for the German team via a tweet that read, "FIFPRO protests with the German national team against FIFA's decision to ban Manuel Neuer from wearing the 'One Love' armband."
Germany suffer 1-2 loss against Japan
Germany's national team suffered a painful defeat at the hands of Japan. Coach Hansi Flick's team lost 2-1 to Japan. Ilkay Gündogan scored for Germany in the 33rd minute, and in the second half the Japanese side scored in the second half by Ritsu Doan 75′ and Takuma Asano 83′.
Read also: Qatar 2022 World Cup: Tourist in violation of these laws face fines and prison sentences
World Cup history! Salima Mukansanga to officiate FIFA World Cup 2022 in Qatar
African countries that qualified for the 2022 FIFA World Cup finals in Qatar
Source: Tagesschau.de