It is a snowstorm non-stop in Germany – extreme weather conditions in much of the country continue on Monday.
The trucks are asked by the police not to drive on the highway, the first death occurred in NRW. It hasn't been snowing in Germany for years and the situation on motorways is "catastrophic".
Federal Transport Minister Andreas Scheuer (CSU) is advising everyone affected by the current snow chaos to stay home.
In North Rhine-Westphalia, public bus traffic has been disrupted in several cities and districts. These include Essen, Recklinghausen and Dortmund.
Ruhrbahn announced via Twitter that the buses will return to warehouses and that the weather will not allow a regular safe service.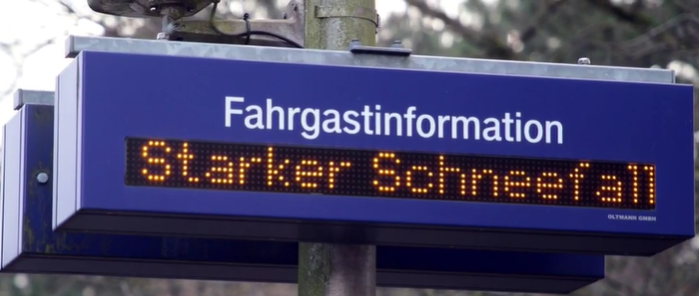 Due to the weather conditions in North Rhine-Westphalia, a total of 720 intervention service missions were carried out in 24 hours.
From 6 a.m. Sunday to 6 a.m. Monday, police were called to 507 accidents caused by bad weather causing the snowstorm in Germany.
The damage totals 1.7 million euros, a police spokesman said.
In addition to 37 people slightly injured, there was also a death. In Duisburg, a car veered off the road and into a river.

One person died in the center of Bielefeld due to the cold.
In Hesse it is not possible to drive on many streets.
Stopped trucks blocked several highways after heavy snowfall in northern and eastern Hesse. "The situation is catastrophic," a Fulda police spokesman said Monday morning.
In many areas, trucks and cars have been blocked in traffic for six hours and there is no traffic in any direction. A7 and A4 are particularly affected. "Everything around the Kirchheim triangle is blocked," the spokesman said.
Truck drivers should no longer use the highways. It is not yet possible to predict when the bands will be free again.
Due to the snowstorm, the courses are cancelled on Monday in some districts of Bavaria, Lower Saxony and Thuringia in Germany. The snowstorm has also stopped vaccination activity in some areas.
Berlin was also hit hard by the extreme weather on Sunday. The subway suffered, with delays and suspended races.

Weather forecast for Germany: up to -20 degrees on Thursday evening.
On Monday, the DWD meteorological service predicts occasional snowfalls from NRW and Hesse to Franconia and Brandenburg, Merkur.de reports.
It stays mostly dry on Tuesday. In Central Germany temperatures can reach -10 degrees, at night temperatures below -15 degrees are expected.
On Wednesday, temperatures are frozen in many places: the lowest values ​​on Thursday night are between -8 and -15 degrees, in the middle and in the east it can even drop to -20 degrees.
Source: Ziarulromanesc.de, Afronews.de