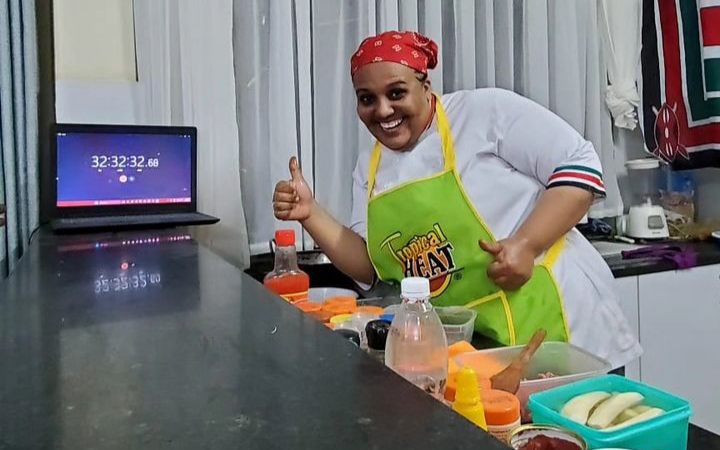 Kenyan chef Maliha Mohammed breaks Guinness world record for longest cooking time, supassing Nigerian chef Hilda baci.
Maliha who started her marathon on August 11 has unofficially surpassed Hilda Baci's record for the Guinness World Record longest cooking hours, completing 95 hours. Nigerian chef Hilda Baci was declared the Guinness World Record holder 2 months ago with a time of 93 hours and 11 minutes. We wrote about it here: Nigerian chef Hilda Baci breaks Guinness world record for longest cooking time
Chef Maliha Mohammed also shattered the longest home kitchen cooking record of 68 hours 30 minutes and 1 second, held by American chef Rickey Lumpkin.
She documented every step of the journey on her Instagram platform, taking a moment to express her gratitude to her supporters and shared the news of her achievement with a heartfelt message.
"Yes, we did it! New world record holder for the longest home kitchen cooking marathon in town! Shukran for the support!" she wrote.
Fans and supporters took to social media to celebrate her accomplishments and congratulatory messages. Here are some of them:
atia26 wrote:
"Congratulations @chefmalihamohammed_official. You have done Kenya proud"
dulo_ke wrote:
"Every Kenyan chef must be proud of you"
mmoja_mrembo wrote:
"Well done chef. Hongera kwa kazi safi na uvumilivu." (Congratulations for the job well done and your patience).
What are the rules of the marathon?
Stand while cooking, sitting is prohibited
Consumption of coffee, stimulants, or energy drinks to enhance energy and strength is strictly prohibited
Cook continuously without any sleep, working through the morning, afternoon, evening and night
Only 5 minutes of rest per hour, resulting in an hour long break every 12 hours.
All the food made is shared with the attendees at the venue free of charge; not sold.
Chef Maliha's cooking record is yet to been confirmed by the Guinness World Record.
Read more:
Here's how Hilda Baci prepared for her record breaking challenge
Tiwa Savage makes history, becomes first Nigerian musician invited to perform at British monarch coronation
Nigerians mourn veteran Nollywood star Saint Obi
Source: Tuko