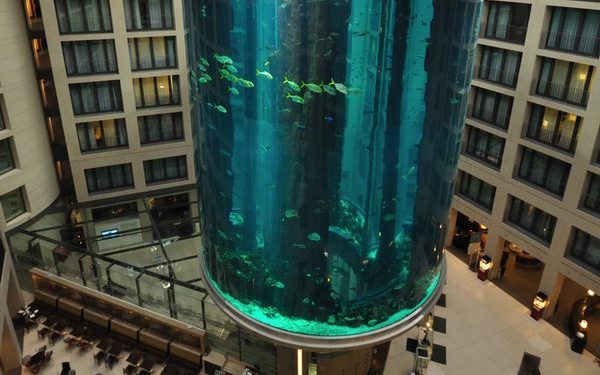 German news. Massive aquarium explodes in Berlin. An emergency call at around 6 am saw the authorities rushing to the Hotel Radisson Blu, where the popular six-story AquaDom exploded.
According to BILD, The pressure of the explosion shattered doors and windows, and debris was thrown onto the street. Flower pots in front of the hotel were washed across the street.
Two people have so far been reported injured by broken glass. The fire brigade together with hundreds of emergency services, are on site searching the ground floor with rescue dogs for other victims. The cause for the explosion is not yet clear, but a first hypothesis focuses on the wear of the material.
About one million litres of water flowed into the street, causing problems for morning traffic. "Dom Aquaree" (the real name) was located inside the Radisson Blu hotel in one of the popular tourist areas of Berlin, Mitte. The explosion of the aquarium was so intense that it was also detected by the city's seismographs.
The AquaDom is the world's largest free-standing cylindrical aquarium standing at 16 meters high and with a diameter of 11.5 meters. Tourists and visitors would pay 19 euros to take an elevator through the one million litre AquaDom and marvel at 1,500 fish from more than 100 different species.